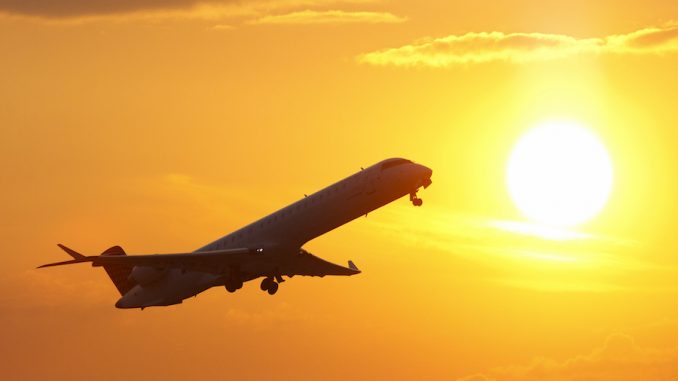 With Pittsburgh International Airport growing in size with the completion of a new terminal in 1992, it was an opportune time for new carriers to attempt to dislodge the hub presence that US Airways had built there during their Allegheny Airlines years. One of these carriers was an upstart low-cost carrier named AirTrain, who planned to start service in 1994.
The airline's launch was spearheaded by some airline employees of previous carriers, including Pan Am and Wings West, with the company wanting to provide a low-cost option for Pennsylvanians. The airline took hold of their first Douglas DC-9-30 in 1995 and commenced operations in early 1996.
Early routes for AirTrain prioritized service throughout the east coast, with the airline using the Douglas DC-9 to fly Pittsburgh-Philadelphia and Pittsburgh-Newark-Orlando. A second Douglas DC-9 was added in the early part of 1996 to supplement the existing service that was being offered.
AirTrain's livery featured a black and yellow livery, with a black cheatline leading to an all black nose cone. The tail showcased a train running across a black and yellow tail. The airline's name appeared on the lower fuselage behind the front door. While the airline wanted to go by AirTrain, the carrier switched its name to JetTrain when they announced service to Florida to avoid confusion with local Floridian carrier AirTran Airways.
However, the name change wasn't the only obstacle for the airline as JetTrain had hit another wall, a lack of demand and space. The Pittsburgh-Newark-Orlando service was dropped after just a few months before being replaced by a new service running between Boston, Philadelphia and Nashville.
Although the carrier attempted to make the new routes work and even added a third Douglas DC-9 to the fleet, operations were very limited due to the US Airways hub at Pittsburgh and Philadelphia, which took priority for politicians over JetTrain expansion.
The failure of JetTrain was also compounded by the increasing cost of jet fuel in the 1990s, with the Gulf War making the gas-guzzling Douglas DC-9 an expensive choice of aircraft to operate and maintain. With no footing and high operating costs, JetTrain lasted less than a year in service. The last commercial flight was flown in November 1996 before the company filed for bankruptcy.
The fleet of three aircraft that operated for JetTrain would be broken up and sold to different investors. Two aircraft, N8927E and N937ML, were taken hold of by Venezuelan carrier Aserca Airlines while the other, N977ML, would stay in the U.S. to be picked up by Express One International.
Currently, all three of the Douglas DC-9s that used to operate for JetTrain have been retired or broken up, with the Aserca jet being retired in the late 2000s in favor of more fuel-efficient McDonnell-Douglas MD-80s. With the aircraft retired or taken apart, any and all trace of JetTrain has since vanished.
Although Ian McMurtry was never originally an avgeek, he did enjoy watching US Airways aircraft across western Pennsylvania in the early 2000s. He lived along the Pennsylvania Railroad and took a liking to trains but a change of scenery in the mid-2000s saw him shift more of an interest into aviation. He would eventually express this passion by taking flying lessons in mid-Missouri and joining AirlineGeeks in 2013. Now living in Wichita, Kansas, Ian is in college majoring in aerospace engineering and minoring in business administration at Wichita State University.
Latest posts by Ian McMurtry (see all)