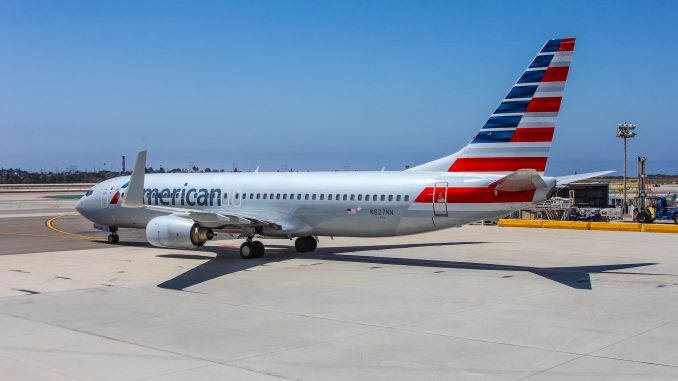 American Airlines is expecting to retire 45 of its old Boeing 737-800 aircraft by 2020. 12 aircraft are expected to be taken out of service next year and the remaining in 2020, according to a Bloomberg report. While airplanes are being taken out of service the fleet size is expected to remain relatively consistent as newer Boeing 737 MAX 8 will be delivered until 2021.
However, newer planes don't necessarily mean a better passenger experience for American Airlines passengers. While the aircraft will feature larger overhead bins and quieter cabins, one of the most important aspects of the passenger experience will be lacking.
Tighter Economy Experience
After backtracking on the plan to introduce 29-inch seat pitch in several rows of the MAX 8, American Airlines executives decided to set seat pitch at 30 inches throughout the entire main cabin exclusive of extra legroom branded seats.
This was achieved by utilizing every available inch of space on the aircraft. Seats are slimmer and considerably less comfortable to sit in for flights ranging several hours. Seat back entertainment has been removed and recline limited from four inches to two.
Furthermore, the lavatories have shrunk to comically small sizes and first class seating has been reduced.
American's Strategy?
The America West management that has ended up running American Airlines through the US Airways merger have yet again shown us their dedication to cutting costs and increasing the amount of revenue that can be squeezed from every plane.
They have a responsibility to their shareholders to make proper business decisions based on their view of the airline industry.
While American lags behind competitors in revenue, performance, and overall customer satisfaction the airline is attempting to become more competitive in areas that matter.
International premium cabin experiences are improving. American is among the most aggressive in expanding premium economy, a new revenue stream for airlines in the U.S. It has also developed solid Flagship lounges across the country.
The airline is clearly competing for the premium passenger, but in the midst of all that, the average flyer suffers.
As mentioned above, seats are shrinking and the flying experience continues to be most uncomfortable. Basic economy and its draconian fare rules continue to be expanded. Looking at all of this it would be expected that passengers would be fleeing, but that isn't happening.
The Rationale
It's maddening to see services that were once complimentary now have a price tag affixed.
It's been seen time and time again that passengers will put up with all sorts of cruel and unusual punishment for a cheap fare. All it takes is a quick look at Ryanair's astonishingly high-profit margins to verify this.
The coach experience is absolutely getting worse and with the retirement of the older 737-800s, it will continue to deteriorate with more 737 MAX 8s in the AA fleet but it seems like at the end of the day passengers don't seem to care much and as long as that attitude carries forward American will carry forward in further segmenting their market to attract high-value customers and cheapest value customers.

Hemal took his first flight at four years old and has been an avgeek since then. When he isn't working as an analyst he's frequently found outside watching planes fly overhead or flying in them. His favorite plane is the 747-8i which Lufthansa thankfully flies to EWR allowing for some great spotting. He firmly believes that the best way to fly between JFK and BOS is via DFW and is always willing to go for that extra elite qualifying mile.

Latest posts by Hemal Gosai (see all)