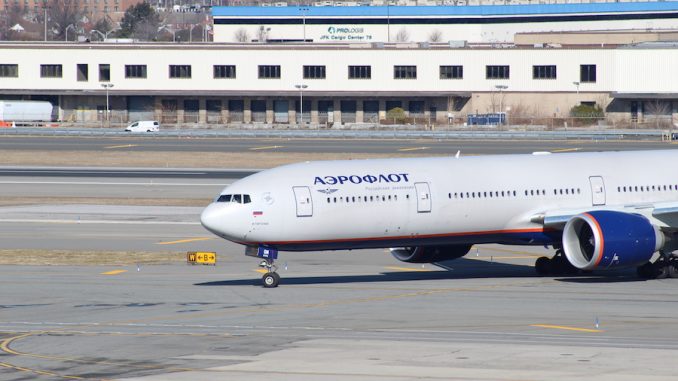 Russian airline Aeroflot had a group of stranded passengers deported to India, even though they were U.S. citizens according to a report in the publication Little India. The events occurred in January but became public now after a U.S. Department of Transportation complaint was filed against the airline.
Passengers Marc Fernandes, Shahana Islam, Sabiha Islam, Bakiul Islam and Anshul Agrawal were attempting to fly from New Delhi to New York. Their itinerary included a stopover in Moscow, which is where they became stranded when their connecting flight to New York was cancelled due to snow.
According to a complaint filed to the U.S. Department of Transportation, Aeroflot staff told the four Americans — who are of South Asian descent — there were no seats available on any other flights to New York. They also claim that they were denied transit visas, which made their prolonged stay in Moscow illegal.
Russian officials allegedly told them they would have them "deported" to India within 24 hours. The complaint states that the airline did not believe the group to be American citizens and rebooked them on to a flight back to India. Video filmed by one of the passengers shows an Aeroflot employee refusing to believe the passengers were U.S. citizens.
Aeroflot also supposedly threatened them with criminal deportation and heavy fines should they refuse to board the flight back to India voluntarily. A Facebook post by one of the passengers, Anshul Agrawal, provides a detailed account of the ordeal.
"Aeroflot staff steadfastly refused to allow American customers who were, or who were perceived to be, of South Asian descent to return to the United States, 'deporting' them instead to India — all while providing customers on the same flight who were perceived to be White Americans with transit visas and new connecting flights to America," the complaint said.
Even after contact was made with the U.S. embassy in Moscow, which confirmed that is illegal for an airline to deport U.S. citizens to a third country against their will, Aeroflot did not change course. The passengers eventually boarded a plane back to India.
But when they finally reached New Delhi, they were told they would have to wait for more than a week for the next Aeroflot flight to New York. They ended up spending thousands of dollars on new flight arrangements to the U.S.
In a statement to the UK's The Independent, Aeroflot said: "We clearly fell short of our customary high standards of service in this incident, which occurred more than two months ago. We contacted the passengers immediately afterwards to offer our apologies."
"However, our thorough internal investigation established that this was not a case of discrimination based on appearance, and we do not accept this characterisation in the complaint," the carrier added.
Adrian joined AirlineGeeks as a writer in 2017. He had always wanted to become a pilot and while he chose a different career path for now, his interest in aviation continues to grow every day. Adrian was fortunate to travel extensively for business in the past five years. As a result, he focuses his research and writing on passenger services and experiences on a variety of airlines. His favorite aircraft include the Airbus A350, A380, and the Embraer passenger jets.
Latest posts by Adrian Vannahme (see all)