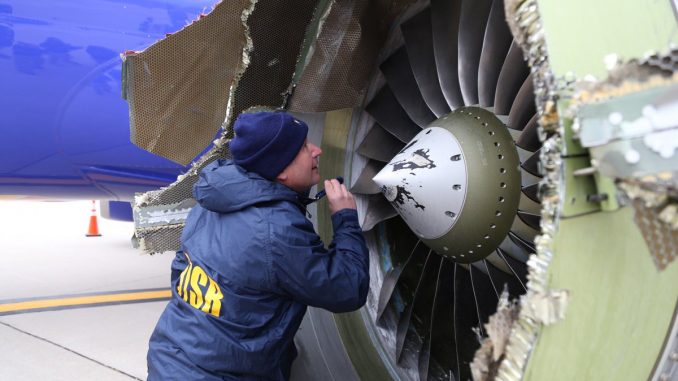 The East Coast's commercial aviation sector was hit with a heavy dose of bad luck early this week, featuring three back-to-back inflight mechanical incidents involving separate U.S. airlines.
In every case, however, the rigid and persistent nature of commercial aviation safety in the United States prevailed, despite the death of one passenger on Southwest flight 1380. Each of the incidents occurred within less than 500 miles of each other.
Southwest Flight 1380
Southwest flight 1380, a Boeing 737-700, was departing New York-LaGuardia for Dallas Love Field when it suffered an uncontained engine failure inflight. The NTSB later reported that one passenger had died after being transported to the hospital in critical condition.
The aircraft was climbing through 32,000 feet when its left-hand engine failed, forcing the crew to descend and prepare for an emergency landing in Philadelphia. Debris from the CFM56 engine caused significant damage to the jet, shattering a window.
Passengers can be seen calmly deplaning the Southwest plane that made an emergency landing in Philadelphia moments ago (Source: WPVI) pic.twitter.com/pA7QVzVHHW

— Brian Ries (@moneyries) April 17, 2018
This led to a decrease in oxygen pressure, thus prompting the use of oxygen masks.
Once on the ground, the aircraft was met by emergency personnel. Passengers were bussed back to the terminal, while one was taken to the hospital in critical condition.
The incident marks the first death in U.S. commercial aviation since 2009.
In a statement, the airline said, "Southwest Airlines Co. (NYSE: LUV) confirms an accident involving Southwest Airlines Flight 1380. The flight made an emergency diversion to Philadelphia International Airport (PHL) earlier today after the Crew reported issues with the number one engine which resulted in damage to the fuselage."
The NTSB is currently investigating the incident and has sent a go team to the site.
United Flight 1559
A United flight bound for West Palm Beach from Newark reported issues with the Boeing 737-800's elevators on Monday night. The flight crew initiated a descent and quickly diverted to Dover Air Force Base.
87 passengers and six crew members were onboard this flight, which was operated by N35236, an 18-year-old 737-800.
Some visuals surfacing from the #UA1559 incident. Passengers are still at Dover Air Force Base. United says they are working on getting them on their way to @PBI_Airport.

Credit: Instagram/Zlata Thoughts pic.twitter.com/gNmDGP1I7T

— Jeffrey Cook (@JeffreyCook) April 17, 2018
Delaware is the only state in the U.S. without commercial air service after Frontier ended its flights to Wilmington in 2015. The aircraft landed safely on the base's runway 01 around 7:20 p.m. on Monday, and a new airplane was ferried in around 1 a.m. local time.
"Our maintenance team is inspecting the aircraft and we are working to get our customers to Palm Beach as soon as possible," a United spokesperson told Delaware Online.
Delta Flight 5507, Operated by ExpressJet
Flight 5507 departed New York's LaGuardia airport at approximately 11:00 a.m, soon after Southwest flight 1380. when it lost a wheel on one of its main landing gear sets. The CRJ-700, operated by ExpressJet, diverted to Washington Dulles International Airport near Washington, D.C.
The Richmond-bound aircraft declared an emergency and was met by emergency personnel after landing safely at Dulles. The aircraft, registered as N744EV, was unable to taxi to the gate under its own power, and passengers were transported to the terminal.
46 passengers and six crew members were onboard the regional jet. An ExpressJet spokesperson was not immediately available to comment on the incident.
Despite this string of incidents on the East Coast, commercial aviation in the U.S. continues to be the safest mode of transportation. 2017 was the safest year in commercial aviation, according to aviation safety consulting firm To70. No passenger-carrying jets crashed anywhere in the world in 2017.
Ryan founded AirlineGeeks.com back in February 2013 (actually, it was called Aviation Official, but we've changed a bit since then). From being on the yoke of a Piper Navajo, to visiting about Delta's operations center in Atlanta, Ryan has done it all. in 2016, along with American Airlines, Ryan masterminded AAviationDay at more than 10 locations around the world. The smell of jet fumes in the morning along with the countless number of passionate airline employees keep him enthralled in the industry, always seeking more. You can find him helping out travelers at Reagan National Airport near Washington, D.C. when he's not doing something for AirlineGeeks.
Latest posts by Ryan Ewing (see all)