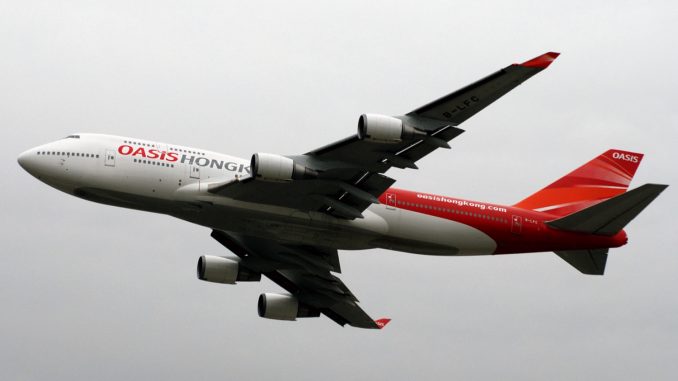 Despite the increasing demand of flights to Asia and the overall positive view on new low-cost carriers appearing in the Asian market, Hong Kong was one city that on the outside of that trend, as its airport struggled to attract new low-cost airlines to make Hong Kong a hub or focus city. Although a thriving economic hub and popular tourist destination, low-cost airlines couldn't effectively compete.
This issue spawned from the duo of Dragonair and Cathay Pacific building up a fierce competition that made getting into the market difficult. Fortunately, as Hong Kong was looking into increasing competition, some former executives of Dragonair decided to branch out and start their own long-haul low-cost carrier.
The newly-formed airline would be called Oasis Hong Kong, with early plans calling for the carrier to operate routes from Hong Kong to Vancouver and London. The airline took hold of a Boeing 747-400 and would start operations in Oct. 2006. Oasis Hong Kong originally branded itself as a low-cost carrier, offering a much lower ticket cost than their competitor, Cathay Pacific, while also adding various amenities that would attract the business traveler or those wanting a first class experience.
While the carrier claimed to be breaking even monetarily for their first few months of operation, troubles were starting to plague the airline. The low-cost long-haul model was plagued by the airline operating fuel-guzzling Boeing 747s while the price of fuel was skyrocketing and the world economy was slowing.
Despite the issues that the airline could not control, Oasis Hong Kong continued to provide high-quality service at discounted rates. The carrier would take home various awards for excellence in service in their first year of operation as the airline made itself known for being a low-cost carrier with exceptional service.
However, despite raving reviews, Oasis Hong Kong struggled to attract a crowd. The airline would shut down after just 18 months of operation, citing a lack of funding to continue. The airline's four Boeing 747-400s were grounded and affected passengers offered discounted airfare on Cathay Pacific to get to their destinations. In it's few months of operation, the airline accumulated over HK$1 billion in debt while showing no ability to improve as fuel prices continued to climb.
The fallout of the bankruptcy of Oasis Hong Kong was originally small, with the airline only operating two routes. However, press in the local area were concerned that this meant that Hong Kong would fail to attract a low-cost carrier to start operations in the city.
Fortunately, this proved to be false as both HK Express and Hong Kong Airlines would find success in the local market, with the latter even starting long-haul operations to offer low-cost operations to Vancouver, San Francisco, and Los Angeles. Although this time, the airlines were able to take advantage of new fuel-efficient aircraft to drive their low-cost business model, as opposed to the inefficient 747s.

Ian has been an avgeek since 2004 when he started spotting US Airways Express planes at Johnstown Airport in Johnstown, Pennsylvania. He now lives in Wichita and enjoys spotting planes in Kansas City and Wichita as well as those flying at high altitudes over his home. He is a pilot with more than 40 hours of experience behind a Cessna 172, Diamond DA-20, and Piper PA-28. He flies Southwest Airlines on most of his domestic flights and Icelandair when flying to Europe. Ian's route map spans from Iceland and Alaska in the north to St. Maarten in the south. He is a student at Wichita State University, where he will study aerospace and mechanical engineering.

Latest posts by Ian McMurtry (see all)