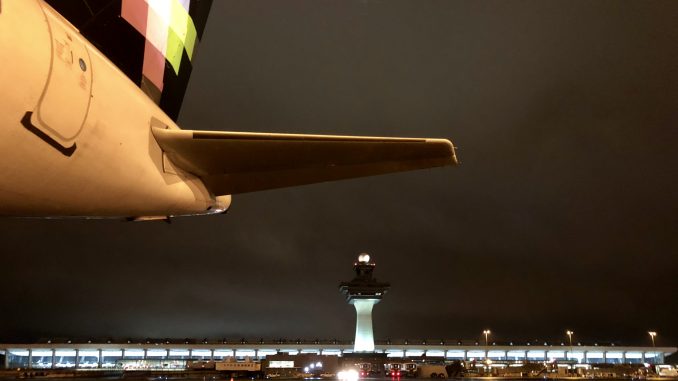 At 1:30 p.m. local time in San Jose, Costa Rica, a Volaris Costa Rica Airbus A319 aircraft, registration N504VL, departed from Juan Santamaría International Airport. Although it would take nearly 8 hours to get there with a stop in San Salvador in nearby El Salvador, the flight would arrive at Washington Dulles International Airport around 11:00 p.m.
Its arrival in Washington marked the first international low-cost airline to serve Dulles Airport and the opening of only the third destination for the newly-formed Volaris Costa Rica, a subsidiary of Mexican low-cost-carrier Volaris, in the United States after Los Angeles and New York. The arrival of the flight began a new chapter for Dulles, as the airport has been fighting the notion that it's too expensive for low-cost airlines to make a profit.
The flight from Costa Rica by way of El Salvador was greeted with the traditional inaugural hallmarks. A water cannon salute as it pulled into the gate, airline officials, distinguished guests from the airline and airport making speeches at the gate, a diplomatic contingent from the embassies of Costa Rica and El Salvador, goodie bags for inbound and outbound passengers and even cupcakes with green, blue and purple frosting, the colors of Volaris.
Enduring cloudy and rainy weather along the entirety of its route, the Airbus A319 operating as Q64082 made its way across the Caribbean Sea, flying between Mexico and Cuba, entering U.S. airspace near the Florida Keys and, after a deviation for weather around the southern tip of the Florida panhandle, made its way up the East Coast for an early arrival into Dulles 4 hours after it left El Salvador.
Despite being quarantined during the walk to U.S. Customs and Immigration, the arrivals from Q64082 were given goodie bags while in the sterile zone from the aircraft to passport control. Departing passengers on the return flight, Q64083, were also given the goodie bags, but also were present for the speeches made by the Volaris Costa Rica and Metropolitan Washington Area Airport officials.
"The National Capital Region is home to the second largest population of Salvadoran immigrants in the United States, making San Salvador the region's fifth largest market for origin and destination travel," according to Jerome L. Davis, executive vice president and chief revenue officer for the Metropolitan Washington Airports Authority. "As the region's gateway to the world, Dulles International is proud to add Volaris as its first international low-cost carrier—and the region's first serving Central America."
"We are very pleased to inaugurate another route from Central America this year, as we had announced. Having a Volaris Costa Rica station in the U.S. capital region opens up new horizons and strengthens our commitment to offer competitive rates to new destinations," said Fernando Naranjo, General Manager of Volaris Costa Rica. "We are confident that the exchange between the large Central American community that resides in both Washington, D.C., and Virginia, will increase considerably and they can also enjoy the tourist and cultural attractions of the area."
Also in attendance were elected officials from Washington, D.C. and the Commonwealth of Virginia, as both the Mayor of the District of Columbia Muriel Bowser and the newly-elected Governor of Virginia Ralph Northam made the trek to the Northern Virginia airport for a ceremony on Tuesday night to celebrate the arrival of Volaris Costa Rica.
"We are proud to celebrate the launch of a new direct international flight to Virginia and our nation's capital region—these direct flights will take tourism, trade and economic development between the Commonwealth and Central America to new heights," said Virginia Gov. Ralph Northam. "We look forward to the opportunity for countries on both sides to increase connections and strengthen our important relationships."
"These flights represent new opportunities to connect families and cultures, to welcome more visitors and commerce opportunities to the District, and to build on the strong international ties we have built over the years," said District of Columbia Mayor Muriel Bowser. "Today, we celebrate the start of a new connection between our nation's capital and El Salvador's—one that is going to benefit thousands of District residents."
The new service by Volaris Costa Rica operates on a twice-weekly basis on Monday and Wednesdays with the returns departing just before 2 a.m. on Tuesday and Thursdays. The flights depart San Jose at 1:30 p.m. in the afternoon with a 1 hour and 45-minute stopover in San Salvador to pick up additional passengers, as well as transport passengers between San Jose and San Salvador. Total time from San Jose to Washington is just over 8 hours with a scheduled arrival of 11:35 p.m.
The return flight, Q64083, departs Dulles at 1:52 a.m. with a 5 hour and 2-minute overnight flight to San Salvador. Once it lands, the aircraft spends an hour on the ground deplaning terminating in El Salvador and enplaning passengers for the 1 hour and 35-minute hop down to Costa Rica arriving at 7:35 a.m., 2 hours behind Washington, for a total trip time of 7 hours and 43-minutes.
The arrival of Volaris Costa Rica was just the beginning for Dulles, as it is primed to receive an additional low-cost-carrier in August, Primera Air. The European low-cost transatlantic airline will begin service between Washington Dulles and London's Stansted Airport with its Airbus A321neo aircraft and will be the first low-cost carrier to connect Dulles with a European city.
The addition of these two carriers to Dulles signifies a shift in the traditional thinking that Dulles is a no-go airport for low-cost carriers looking to cut expenses and favoring nearby Baltimore-Washington International Airport (BWI) in Maryland, as airlines such as WOW air, Condor and Spirit Airlines have done. The airport suffered a huge loss recently when Silver Airways closed its base at Dulles, taking away countless flights on its Saab 340 turboprop airport to rural regions surrounding Northern Virginia.
While Dulles has always been a popular airport for major international carriers, due to the proximity of the nation's capital and wealthy Fairfax County in Virginia, the airport wants more low-cost-carriers to serve both the growing millennial population in the region. With thousands of young people moving to Washington for school or post-grad work in one of the many government agencies, non-governmental organizations or other fields of employment, the region is ripe for low-cost service.
With a decrease in the cost per enplanement closer to that of BWI and Washington Reagan National Airport, the airport is slowly seeing an increase in low-cost-carriers. Before Volaris Costa Rica, the airport's only ultra-low-cost carrier was Denver-based Frontier Airlines, which has had success at the airport with service to five year-round destinations and two seasonal destinations. By the end of the summer with the inclusion of Volaris Costa Rica and Primera Air, that number increases to three.
Although Volaris Costa Rica is starting off small with two flights per week from Central America to Washington, Tuesday night's event was the turning point for the airport in its quest to attract more low-cost carriers. Both the airline and airport had cause for celebration, which was exemplified in the huge show of support from local, international and diplomatic officials, all gathering to promote the new service.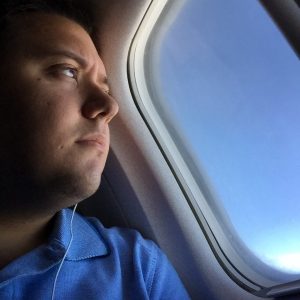 Tom has been flying for as long as he can remember. His first flight memory was on a Song Airlines 757 flying from LaGuardia to Orlando. Back then, he was afraid to fly because he thought you needed to jump off the plane in order to get off. Some years later, Tom is now a seasoned traveler, often flying to places just for the fun of it. Most of the time, he'll never leave the airport on his trips. If he's not at home or at work as a Line Service Technician at Long Island MacArthur Airport, he's off flying somewhere, but only for the day.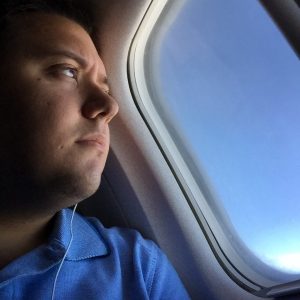 Latest posts by Thomas Pallini (see all)