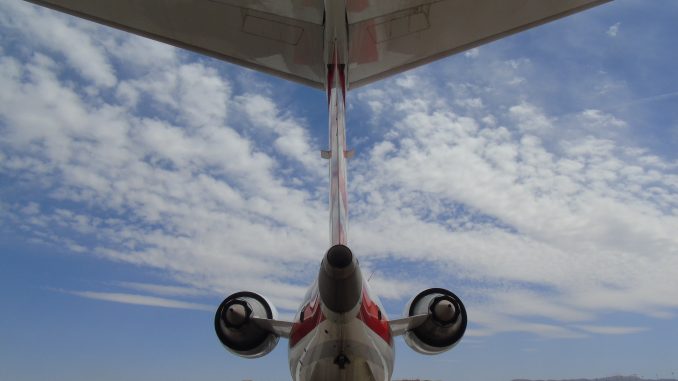 Regional airlines are the backbone of the current hub-and-spoke system employed by the world's major airlines. For many pilots, their first foray into the airline world is through a regional airline. However, few people know what goes on behind-the-scenes of these airlines. Fortunately for us, Mesa Airlines was kind enough to give AirlineGeeks a look at their day-to-day operations.
Mesa Airlines is a regional airline based in Phoenix, Ariz., just blocks from Phoenix Sky Harbor Airport, where it operates numerous routes throughout the Southwest for American Eagle in addition to its hub in Dallas, as well as its hubs in Houston and Washington for United Express. The airline operates a mixed fleet of CRJ-900s, CRJ-700s, E-175s and a sole CRJ-200 throughout the country and neighboring Canada, Mexico and The Bahamas.
The nearly 30-year old airline has its corporate headquarters and its main training center in Phoenix, all within a few miles of each other and within an earshot of the airport, constantly reminding employees about the real-world operations of the airline and of the beauty of flight that is made possible through the work they do.
Mesa Airlines' Corporate Headquarters
Located just north of the airport at Three Gateway Tower, a bright blue building with direct views of Sky Harbor Airport, is Mesa Airlines' corporate headquarters. The airline maintains a relatively low profile here with many passersby unaware that an entire airline is managed inside.
However, despite its low profile, the airline has space on three floors in the building. Within them contain the entire Mesa nationwide operation across two airlines and multiple fleet types. Our journey began on the 7th floor of the building, home to Mesa's main administrative offices and its System Operations Control center (SOC).
I've never visited the corporate offices of an airline before, so I did not know what to expect. Walking into the lobby, I noticed that the airline had commission vintage posters for its hub cities. Phoenix and Dallas are the hubs for Mesa's American Eagle operation, which it serves using its CRJ-900s, while Washington and Houston are the hubs for the airline's United Express operation, which employs the CRJ-700 and E-175.
Most of the company's Vice Presidents are on this floor, with their offices encased in glass rooms which foster a sense of openness between the higher-ups and regular employees. For the most part, though, there are no walls to divide any of the airline's divisions. Walking through the office, you can see from one end to the other unobstructed.
Most of the company's divisions such as communications and marketing, human resources, staff travel, purchasing, finance and others are located on this floor. This is very much the heart and soul of the airline but is the part that is unseen to the common traveler.
It's not uncommon for Mesa's managers and directors to wear multiple hats in order to keep costs down. After all, the airline relies on contracts from its major airline partners for its operations. Combining job titles and areas of responsibility is one of the ways the airline remains relatively low-cost, which it passes on to its partner airlines when submitting bids to fly new routes or a new aircraft.
As you'll see throughout the tour, Mesa likes to promote its history. Starting in Farmington, NM, the airline began serving the Southwest region over 30 years ago. Since then, it has flown for major airlines such as America West Airlines, US Airways, American Airlines and United Airlines.
Even though most of them have no direct impact on the airline's daily flight operations, as that's reserved for those in the SOC, employees working here are reminded of the real-world implications of their work in real time through a monitor that displays the movement of every airborne Mesa aircraft in the United States and neighboring countries.
While employees of a large company may not always get to see the end result of their work, the screen is a reminder that the work they do contributes, in no small way, to the transportation of thousands of people across the country on a daily basis, connecting communities and providing jobs to aspiring pilots, flight attendants and mechanics, amongst others.
Mesa Airlines' System Operations Control
On the other side of the 7th floor is the most restricted part of the building due to its strategic importance to the airline. Requiring a Mesa key card to enter a door marked "Restricted Area," the room takes up a quarter of the entire 7th floor. Inside is the Systems Operations Control, which houses the departments that deal with the airline's moving parts.
Inside this space, very much the nerve center of the airline, the most vital aspects of the airline's flight operations are managed. Flight dispatch, crew scheduling, maintenance control and route planning are all within its walls. Essentially, the entire nationwide flight operations for Mesa Airlines are controlled from this room on the 7th floor.
Entering the room, there's an immediate difference from the administrative world just on the other side of the door. Whereas the main offices were quiet, aside from a few conversations, the SOC was roaring. The airline was being hit with storms in Texas that were affecting two of its hubs, Dallas and Houston, making for a very lively SOC. When irregular operations, or IRROPS, are in effect, its all hands on deck for these guys.
Storms cause uncontrollable delays and cancellations, which have ramifications on crew duty periods and rest times, which require both the dispatch departments and crew scheduling departments to coordinate and work harder to make sure the operation runs effectively despite the weather. Flight routers also have to plan new routes around weather and maintenance has to continue documenting mechanical issues, as well.
If a flight crew is close to timing out, special considerations will be made by crew scheduling in conjunction with the stations to get them in the air as quickly as possible. Sometimes the airline will call a station and assign new gates for flights so that crews are directly adjacent to their next flights or have reserve flight attendants prep the aircraft for an immediate departure when the crew arrives.
If that's not possible, reserve crews will be put into action so that a delay or cancellation is prevented. Large television monitors above crew scheduling show the duty times of its active crews and show if a crew is close to exceeding their limit. The board is a visual reminder so that nobody is caught off guard when a crew is close to timing out, as federal regulations are strict regarding fatigue.
Interdepartmental communication is vital, which is why there are very few boundaries between each department and the entire operation is visible from any part of the SOC. There are also very few offices, except for a few that are encased in glass and reserved for the department heads. Everything else is open, allowing open dialogue and communication.
When not worrying about crippling storms in Texas, crew scheduling does just what its name implies, scheduling flight crews. The people in this department plan multi-day trips, assign flight crews, keep an eye on duty times and make sure that delays are kept to a minimum when it comes to flight crew availability.
Flight dispatchers follow the progress of flights from gate to gate. The airline has around 40 dispatchers on staff working 10-hour shifts. Due to the limited range of the aircraft it flies, the airline seldom flies overnight flights, so the night shift can be quiet. Phoenix also has the advantage of being 3 hours behind the airline's Washington hub and 1 hour behind the Dallas and Houston hubs, allowing the workload to gradually ease as the night settles in on Arizona.
Since Mesa is split between American Eagle and United Express, so are its dispatchers. Dispatchers are assigned either the E175 or the CRJ-200, -700 and -900. This way, no one dispatcher is overloaded with aircraft in different parts of the country. Additionally, each partner airline has different procedures that Mesa has to abide by, so segregating dispatchers also helps to avoid confusion.
Regional airlines are often split between multiple major airlines. For example, ExpressJet flies for United and Delta, Compass flies for American and Delta and SkyWest flies for United, Delta, American and Alaska. Mesa has it easier as one of the smaller regionals with only two fleet types, the CRJs and E-Jets, and only two partner airlines, United and American.
Route planners plan and assign routes for Mesa's flights. While routes remain standard for most short-haul routes, longer flights require more route planning due to weather and other considerations, such as fuel. Because of the weather in Texas, normal routes may not be available to these aircraft, making their job all the more important.
Lastly, maintenance control monitors and record any write-ups on the aircraft sent in by pilots once a flight is completed. This includes Minimum Equipment List (MELs) items, broken systems and general maintenance issues. I was surprised to learn that only the captain can send in write-ups, not first officers. Maintenance then relays this information to the airline's mechanics so that the problem can be addressed.
The Executive Offices
Taking the elevator up to the 11th floor, we arrived at Mesa's executive offices. Here is where the top executives such as the CEO, President, General Counsel and other higher-ups work.
The office has pretty much the same layout as the 7th floor, except that Mesa only owns half of the space and there are a great deal more model airplanes here both hanging from the ceiling and on the desks of many of the airlines' employees.
The executive level also has unobstructed views to Sky Harbor Airport less than a mile away, allowing those who work on the floor to keep an eye on Mesa's own operations at Terminal 4's B concourse, the pre-dominantly regional section of the American Airlines dominated terminal, and watch countless of aircraft land on runway 8/26.
The major meetings for the airline take place in the main boardroom located on this floor. Most of the airline's furniture is made from airplane parts and the conference table is two aluminum leading edges taken from an aircraft.
In addition to the executive offices, pilot recruiting is also located on this floor. Since most pilots are scattered across the country, it would be too expensive to fly them all to Phoenix to hold interviews. To limit expenses and streamline the interview process, most interviews are done over the internet either via Skype or another program. The airline uses a small conference room with a Mesa Airlines backdrop for the interviews.
The Maintenance Hangar
Less than a five-minute drive from the company's headquarters is the airline's main maintenance hangar on the north side of Sky Harbor Airport. The hangar is small, only able to fit one or two of the airline's CRJ aircraft and most likely none of the E-175s that the airline operates.
Here, routine maintenance is performed on the aircraft. Write-ups, MELs, broken seats and other minor issues are dealt with here. It was very quiet during our visit as most aircraft are flying during the day. We were lucky, however, that an American Eagle CRJ-900 had just pulled up.
Once they arrive here, most aircraft need to be given time to cool down due to the extreme heat in Phoenix. Onboard the American Eagle CRJ-900, a mechanic was going over the cockpit to make sure there were no issues. In the cabin, all of the seat cushions were removed for seat inspection and the shades were down in order to limit the heat.
At the facility were 4 Mesa aircraft, 2 American Eagle CRJ-900s, a CRJ-200 and a United Express E-175. The E-175s are typically serviced at the maintenance facilities in Houston and Washington but this aircraft is visiting Phoenix for nearly a month. During its visit, new pilots training on aircraft systems at the airline's nearby training center can practice flows and systems on the actual plane, as well as get reminded of what they're working towards.
While the number of aircraft was low during the visit, the number of planes that visit the hangar at night once flying is done for the day can reach up to 15. The maintenance crew has a day shift and a night shift to service the aircraft. In addition to the hangar, some maintenance is done on the other side of the runway at Terminal 4 while the planes are at the gates.
Despite being one of Mesa's smaller maintenance facilities, it is the airline's main maintenance base due to its location in Phoenix. In addition to the Phoenix hangar, the airline maintains maintenance facilities at each of its hubs in Dallas, Houston and Washington, as well as a few more throughout the country in Louisville, El Paso, Tucson and an additional maintenance base in Houston at Hobby Airport.
During my visit, the airline was in the process or organizing an event to recognize Aviation Maintenance Technician Day. To show their appreciation for the maintenance staff who largely work behind the scenes, away from public view, but are still a key part of any airline's operation, the airline plans to distribute gift bags with cooldown towels and buy lunch or dinner depending on the shift.
The last stop on the maintenance hangar visit was saying hello to the smallest member of the Mesa fleet, an ex-SkyWest Airlines CRJ-200 nicknamed "Casper" due to its all-white paint job. The aircraft is used as a spare plane and is the sole CRJ-200 in the airline's fleet.
Mesa Airlines' Training Center
While most of Mesa's Phoenix operation is located north of the airport, the airline's training center for new hire pilots and flight attendants is located in a business park just south of the airport, having just opened in November 2017. Pulling up to the one-story building, you wouldn't expect that it would be training the newest generation of Mesa pilots and flight attendants, but that's exactly its function.
All new hires go here for their initial classroom training. Inspirational quotes and colorful classroom signage line the halls of the training center, creating a friendly training environment for what is sure to be a jam-packed next few weeks for new hires.
For pilots, that means initial indoctrination training to learn about the company's policies and procedures, similar to an orientation at a new company, then moving on to initial systems training and ground school. Some pilots that come to Mesa have never been in the cockpit of a jet before, so this is all new to them.
Systems and flow training are perhaps the most important. While the airline doesn't have any simulators on site, it does have paper replicas of the cockpits of its CRJ and E-Jet aircraft called "paper tigers." In small classrooms, an instructor and new first officer will sit at a paper tiger and go through flows. FAA oral exams are also given at these makeshift cockpits to test a candidate's knowledge on systems.
In addition, new first officers are given posters replicas of the cockpits that they will one day call their office in order to practice during their downtime in their hotel rooms. Desktops are also set up in the center with a CAE program comparable to a flight simulator to test flows in different phases of flight. Muscle memory is key here, as one should be able to, well, flow through a procedure without having to think about it, as time is of the essence in aviation. As Mesa likes to put it, minutes matter.
Once initial training is complete, around a month-long process, pilots then get sent to either CAE or Flight Safety to do their simulator training and get their type ratings. Once that is complete, it's onto the real thing for their initial operating experience (IOE) on an actual Mesa jet flying either an American Eagle or United Express route.
For Phoenix-based CRJ-900 pilots, they'll take their first flight less than a mile from where their training began. Close enough so that a new hire might catch a glimpse of the takeoff as he's walking in the door of the training center for the first time, reminded that he's closer than ever to his dream of flying a jet for an airline.
Pilots also get their pick at which aircraft they want to fly for Mesa. Despite Mesa having the new E-Jet, the airline says that the preference between E-Jet and CRJ is only split 55 to 45 percent in favor of the E-Jet. It balances the desire to fly the shiny new E-Jets with differences in incentives between the E-Jet and the CRJs, including base selection. Overall, the airline says that it has no issue with favoritism over a specific aircraft.
For flight attendants, arriving for the first time at the training center means the start of around 3 weeks of training to include learning about the airline, its policies and procedures and how to be a Mesa Airlines flight attendant. Class sizes range depending on the number of hires that Mesa takes in, which changes due to demand and other factors but can be anywhere from 20-50 trainees.
All cabin training is done in-house, as well as the airline has its own trainer CRJ-900 in the training center. When you first walk in, it's the first that you see. The trainer was purchased from a Russian boneyard and transported to Phoenix by the airline to train its flight attendants.
In addition to a full-size cabin, the trainer comes equipped with lights, emergency exit doors and has the cockpit still attached, save for the avionics. Emergency procedures are taught here, including evacuations (as noted by the cushioned pads on the floor below the doors). Each emergency item that you'll find in a galley from flashlights to fire extinguishers is also on display for the flight attendants to get acclimated with.
Surprisingly, the CRJ series aircraft aren't equipped with any evacuation slides, as they are so close to the ground, and because of that, the aircraft does not have any form of rafts in the event of a water landing. For this reason, CRJs can't fly more than 50 miles from land. Try to think of any extended overwater flights with a CRJ, I couldn't think of any.
However, as not all flight attendants will go on to serve solely the CRJ-900, there is a mock E-175 galley and full-size E-175 evacuation slide set up to practice emergency evacuations. It was very hard to resist the temptation to go down the slide.
During our tour, a class of flight attendants was practicing the Heimlich Maneuver on a practice dummy in case its necessary during a flight. It was a stark reminder that flight attendants are there for much more than to serve drinks and remind you to put away your phone. Having a knowledgeable flight attendant can be the difference between life and death, especially if the nearest doctor is 36,000 feet below you.
Both initial pilot and flight attendant training is done in one of the training center's 14 classrooms. The center has 7 main classrooms, some built for large classes and capable of holding 70 people if necessary and others for smaller classes. The other 7 range from small classrooms built for a handful of people and a more intimate learning experience between student(s) and instructor.
In additions to the classroom and full-sized CRJ-900 fuselage, the training center also contains the entire paper maintenance records for all of its aircraft, a snack area and breakroom for its employees, a fitting room for employee uniforms, offices for the instructors and a small administrative contingent. As the airline doesn't employ any reservations or customer service agents, the training center mainly caters to pilots and flight attendants.
The airline also strived to maintain the roots to its past in the building's interior design. Throughout the building, old Mesa logos and previous Mesa destination signage hang on the walls of its many rooms, reminding all of its storied past and prosperity through adversity. Mesa employees also heavily contributed to the design, with small additions to the center coming directly from employee input.
The airline paid tribute to its founders Larry and Janie Risley who started the airline in Farmington, New Mexico in the 1980s by dedicated a room to them with an informational placard about their history forming the airline. Mesa also has a few planes with tail numbers that end in "LR" for Larry Risley.
The Changing Role of the Regional Airline
With major airlines wanting more from their regional partners, the term "regional" is quickly becoming outdated. Just as the term "commuter airline" died when most U.S. regional airlines stopped flying turboprop aircraft such as the Saab 340 and Embraer E-120, regional will probably give way to a new term to describe these airlines that are flying larger aircraft and longer routes than ever.
For Mesa, this includes its nearly 3-and-a-half-hour seasonal flight from Phoenix to Edmonton, Canada on its CRJ-900 aircraft on behalf of American Eagle and its 3-hour flight from Houston to Nassau, Bahamas on its E-175 aircraft on behalf of United Express. The airline will even be flying the newest service from Houston to Havana, Cuba, operating daily service to complement United's current Saturday-only mainline service from its Latin America gateway.
However, Mesa doesn't mind the extra flights and believes its product can sometimes be more comfortable, especially its CRJ-900s. The longer legs mean more flexibility and options for travelers and more exposure to the regional aspect of the industry.
As for the pilot shortage, Mesa is feeling the effects just as every regional carrier is. Since the airline's marketing department doesn't have to worry about selling tickets or advertising the brand to potential customers, it focuses all its marketing on attracting pilots to come to the company. However, as regional airlines continue to extend their bounds, some pilots are finding themselves wanting to stay there longer.
The expansion has largely been driven by new and advanced regional aircraft such as the E-Jet, capable of flying medium range routes. As aircraft, in general, continue to evolve and more fuel-efficient technology is incorporated into them, regional aircraft will do the same and the mission of regional airlines will continue to change.
The major airlines have shown that they want to use regional airlines for all their worth, even using them to connect some major cities on routes such as New York-Dallas, Chicago-New York and Los Angeles-Seattle. Who knows what new routes we'll see regional airlines flying.
As for Mesa, the Southwest born-and-bred airline will continue to fly across the nation in the liveries of two of the country's largest airlines transporting thousands of passengers every day.
Special thanks to Mesa Airlines for showing AirlineGeeks around their Phoenix facilities. For all the future pilots out there, hopefully this article gave some insight as to what a regional airline looks like on the inside.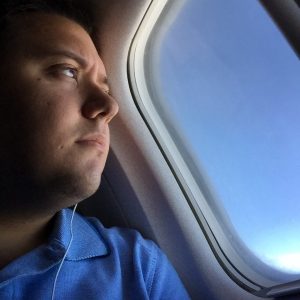 Tom has been flying for as long as he can remember. His first flight memory was on a Song Airlines 757 flying from LaGuardia to Orlando. Back then, he was afraid to fly because he thought you needed to jump off the plane in order to get off. Some years later, Tom is now a seasoned traveler, often flying to places just for the fun of it. Most of the time, he'll never leave the airport on his trips. If he's not at home or at work as a Line Service Technician at Long Island MacArthur Airport, he's off flying somewhere, but only for the day.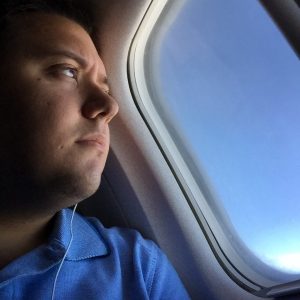 Latest posts by Thomas Pallini (see all)