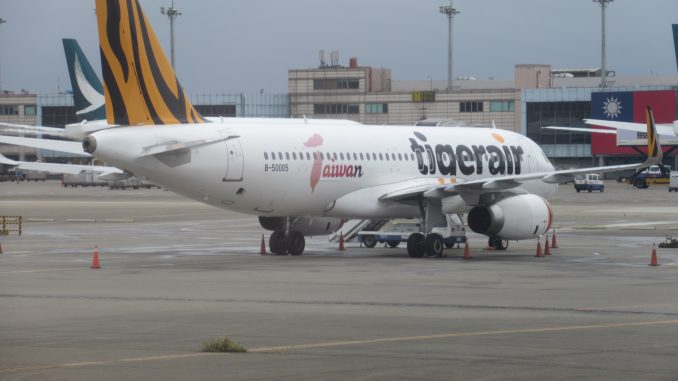 I'm a big fan of low-cost carriers (LCC's) in Asia. Usually, the cabins are bland and uninteresting, but the attractive buy-on-board meals and funny cartoon characters make the journey quite unique. Also for the aviation geek, the airline-branded souvenirs are much cheaper than on conventional airlines.
Tigerair Taiwan is a pretty new low-cost carrier based at Taiwan's Taoyuan Airport in Taipei. The airline is owned by Taiwan's China Airlines and operates a fleet of eleven A320 aircraft. It is currently the only low-cost carrier in Taiwan ever since Transasia Airways and its low-cost subsidiary, V Air, ceased operations in 2016.
A majority of the airline's destinations are in Japan, given the popularity of travel to Japan from Taiwan, but the airline also flies to destinations in Thailand, South Korea, and Mainland China. Tigerair alone operates 19 routes across 14 destinations between Taiwan and Japan.
This is a full review of my experience flying Tigerair Taiwan. It wasn't that great of an experience compared to my previous Asian LCC experiences with Jetstar, Peach and Vanilla Air, but the airline has the most extensive network for reaching smaller cities in Japan from Taiwan.
Low Fares?
I chose the Fukuoka route for this trip. This route is pretty unique because for a long time it was only served by Taiwanese airlines, China Airlines, EVA Air and Tigerair Taiwan. Only recently this year have Japanese airlines entered the market. Vanilla Air launched service back in March this year and very soon, affordable luxury carrier, StarFlyer, will be entering the international market.
According to the Japan National Tourism Organization, 1.6 million Taiwanese visited Japan in just the first four months of 2018. Tourism numbers from Taiwan have increased almost nine percent year-on-year. It only makes senses that Japanese airlines are now also tapping into this increasing customer demand.
After doing some searches, I found that Tigerair Taiwan had the best schedule and the cheapest fares online. My round-trip fare was approximately 230 USD without the add-ons. It wasn't an extremely cheap fare, but it was reasonable. I find the fares on Jetstar to be the cheapest for flying to Japan, having once booked a round-trip flight to Nagoya for around 120 USD.
Arriving in Taipei a few weeks before my flight on Tigerair Taiwan, I found out that you could grab slightly cheaper Tigerair Taiwan fares at an annual travel fair in Taipei. Instead of finding promotional fares online, many locals were actually queueing for cheap fares inside a large convention center.
Basically, you take a number and wait your turn to have a reservation agent at a computer terminal book a discounted fare on the airline for you. There is a chart listing out the destinations and the discount fare. I don't think the fares were that much cheaper once you add on the hidden taxes and booking fees, but I found that throngs of people were eager to take time out of their day to attend the fair.
Early Morning Queueing
This flight to Fukuoka departs at six in the morning, so I left the city very early to get to the airport about 22 miles away. Tigerair Taiwan doesn't offer online check-in either, so getting to the airport early is a must. With the airport express train not running in the early morning, I budgeted around 4 hours of time before my flight for taking the airport bus from the city bus terminal.
Arriving at the airport, I was greeted by long queues and a lack of direction. It wasn't a madhouse or anything like that, but there were only two check-in lines for three different flights departing for Japan. Also, there was no differentiation as to what each line was for. One line was noticeably shorter, while the other line had a long queue of people.
My flight was listed on a signboard for the longer line, but the other line had no signboard at all. Because I wasn't in a rush, I approached one of the agents to see what the other line was for. The agent looked pretty tired and just pointed me to the longer line without any explanation. I found the line ridiculous and decided I would just chance it with the shorter line.
It turns out both lines were the same. It was kind of surprising that no check-in agents bothered explaining that, but with so many passengers and baggage to process within a two-hour time frame, I don't blame them for not lifting their heads up to see the growing queue.
Size Matters
I've flown on several low-cost carriers in Asia and in most cases, the carry-on baggage is included with the fare. A carry-on bag and a personal item are included with the fare on Tigerair Taiwan and the limit for both is 10 kg.
I knew a cabin bag wasn't going to cut it for my flight back though with all the goods I was bringing back from Japan, so I purchased some check-in allowance for my large check-in bag. Tigerair allows passengers to purchase check-in baggage when booking online. Check-in baggage on the airline is charged by weight, not by piece. I purchased around 20 kg, which meant I could check-in as many bags as I wanted as long as they all weighed 20kg or less.
At the airport, Tigerair Taiwan has their agents lurking and trying to find outside-of-policy carry-on bags. Because everyone was waiting in a single long queue, one agent made the process really difficult asking every single passenger on the flight to put their carry-on bag into a sizer before letting them proceed ahead to the check-in counter. I found the process quite ridiculous and amusing, but I ended up frustrated and angry at the end.
Waiting in the queue with my cabin bag for the flight back, I was pounced upon by that agent for my bag being out of policy. I was told that I would have to check in my cabin bag. I was able to argue my way out since the sizer did technically fit, but the whole experience was tacky and annoying.
After putting my bag in the sizer, I waited in line again for a few more minutes and proceeded to the counter. This time, the counter agent repeated the same exact thing the first agent in line said saying she would also like to see my cabin bag in the sizer.
Apparently, she didn't see the cabin bag in the sizer and wanted me to go through the process again. This is apparently when I got into a heated argument with the agent.
Later at the gate, a different agent accosted my friend's duty-free shopping bag, explaining that he could only bring only two cabin bags and that his shopping bag counted as a third bag. With no space to put it anywhere, we just nodded our heads amusingly at her astute observation.
The Cabin
Tigerair Taiwan flies all-economy class Airbus A320 aircraft with 180 seats on all their routes. Seat selection for regular seats start at around 7 USD, but like a majority of travelers, I left the possibility of getting a window seat to fate.
There are three categories of seats on Tigerair Taiwan. "Tigercomfort" encompasses the first row and emergency exit rows and offer extra legroom. "Tigerquicker" seats are located near the front rows of the plane, and the rest of the seats are designated "Tigerbuddy" seats.
There are no priority boarding privileges, and everyone boards at the same time.
The airline doesn't use slimline leather seats like most other low-cost carriers in Asia, so the black leather seats were actually quite comfortable and plush. The legroom is pretty tight and definitely not suitable for someone taller than six feet.
Most of the travelers on my flight were holiday-goers. Despite charges for checking in baggage, the overhead compartments were quite empty on the flight to Fukuoka. Coming back, the overhead bin spaces were taken right away.
Tigerair Taiwan does actually have a cute mascot, "Kuroro," which is apparently not a tiger but a black cartoon cat. Kuroro dons most of the airline's promotional material from the airline's website to the seat headrest covers. There are also several Kuroro souvenirs for sale onboard as well.
No Outside Food
Tigerair Taiwan offers a buy-onboard gourmet menu like Australia's Tigerair. It also has the same name, "Tigerbites." It is a market-inspired menu that includes local Taiwanese snacks and beverages. Some of the items worth mentioning are the Shredded Chicken with Rice, Braised Beef Cheeks, and the Braised Pork Chop.
A rep at Tigerair Taiwan recommended I try the Braised Pork Chop on my trip. I checked the prices beforehand and found it quite pricey. Since it wasn't highly-acclaimed like Air Asia's Nasi Lemak or Peach's Wagyu Beef Salad, I decided to just bring a bag of chips onboard.
It turned out to be a big no-no on this airline though. The airline doesn't allow outside food, and if you bother to look they do put it in small print in their Tigerbites menu. The flight attendants enforce the rule strictly.
I wasn't really surprised at this policy given their inflated prices, but every LCC has their rules. Most LCCs in Japan are okay with outside food brought onboard and I didn't really see the harm in bringing outside food. But I guess this is Tigerair Taiwan's strategy for earning your money. A lot of their flights from Taipei depart at the crack of dawn when there aren't really any food outlets open. With the long journey from the city to the airport and the lack of food outlets early in the morning, it really forces customers to have to buy onboard to stay sane.
Luckily for those into local beer, the beer selection is pretty awesome reflecting the different destinations they serve, and it was very cheap as well at around 2 USD. Alcoholic beverages are much cheaper onboard Asian carriers for some reason.
Final Thoughts
I'm not a really big fan of this airline. The check-in process was a big hassle with long lines and agents lurking around trying to find outside-of-policy carry-on bags. There is no organization at their home airport and the agents are either tired or busy nitpicking on traveler's carry-on bags.
Customer service-wise, I think this airline can improve. I have no issues with an airline trying to make money, but treating passengers like rule-breakers and trying to intimidate them is a little overboard. Also, it makes sense to offer a check-in option online if you plan to put four different flights to Japan in a single queue.
If you're ever in Taiwan and looking to fly to destinations in Japan, you may want to give the carrier a go. It's convenient for not having to transit in Narita, however with a premium low-cost carrier, StarFlyer, entering the international market later this year, Tigerair may need to step up its game. StarFlyer offers personal entertainment systems, free meals, free checked bags, and fares comparable to that of low-cost carriers.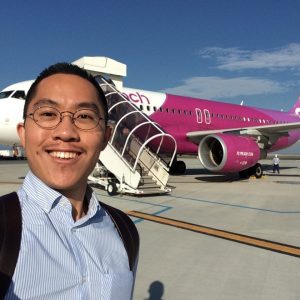 Most people hate long flights or overnight layovers, but Albert loves them. The airport and flying parts of traveling are the biggest highlights of any trip for him – as this avgeek always gets a thrill from sampling different airline cabin products and checking out regional developments happening at local U.S. airports. He's flown on almost every major carrier in the U.S. and Asia Pacific, and he hopes to try out the new A350s soon.

Albert recently completed his undergraduate studies in Business Accounting at USC in Los Angeles and he is currently recruiting for a corporate analyst position at one of the U.S. legacy carriers. During his college years, he interned at LAX for Los Angeles World Airports working behind-the-scenes (and on the ramp) in public relations and accounting. Outside of writing for AirlineGeeks, he enjoys trekking the Hollywood hills, visiting new hotspots throughout SoCal, and doing the occasional weekender on Spirit Airlines.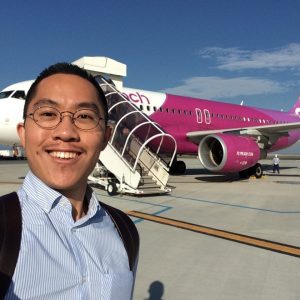 Latest posts by Albert Kuan (see all)