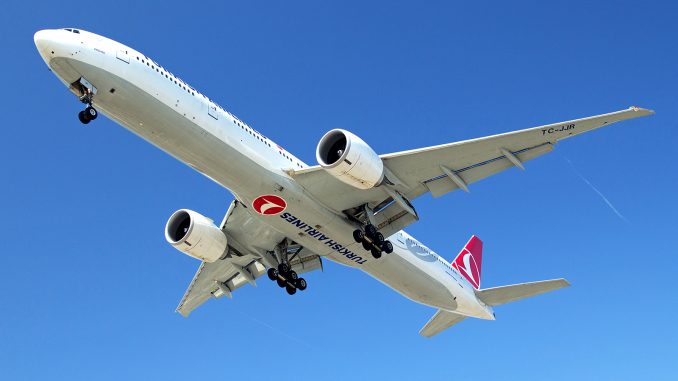 Turkish Airlines is looking to grow and plans to do so using Istanbul's new airport. According to CEO Bilal Eksi, Turkish Airlines will use the new airport's increased handling capacity to expand its network coverage in Asia and North America. The airline is currently restricted due to capacity constraints at Istanbul's Ataturk Airport and hopes to target India, China, Canada, and South America once it makes the move to the new airport.
"Each day, our marketing people are looking for the new destinations. Of course, some of them are in Europe or Africa, but our main market is India, second is China, and the third is Canda," said Eksi in an interview with Business Travel News.
"For South America, we have an aircraft problem because our range is not capable to reach some destinations, but India and China are very important markets for us and we look forward to some commercial cooperation with those countries' airlines."
Turkish anticipates delivery of 25 Boeing 787-9s and 25 Airbus A350-900s, which will assist in their expansion strategy to South America. Turkish Airlines has showed strong growth potential over the past few years, despite being affected with internal conflicts and disputes in neighboring Syria.
The airline was grounding aircraft, closing routes, and was faced with regional security concerns in the UAE and Qatar. Still, the carrier has been able to turn itself around, surpassing its annual takings from previous years and showing a growth of 9.3 percent. The airline has also been shifting its capacity from weaker to stronger markets and cites workforce camaraderie as to why the carrier has been able to grow.
According to Eksi, there was one trade union who rejected a 4 percent wage increase and instead settled with a 2.5 percent increase.
Another key factor to the airline's growth is their ability to rely on sixth-freedom flows. Like Dubai, Abu Dhabi, and Doha, Istanbul serves a connecting point for global travel, making up almost half of Turkish Airlines' traffic.
Lastly, the carrier has established itself as a strong player in markets where other carriers shy away from, like Africa. Aviation insiders were skeptical when the carrier announced that it was going to start flights Mogadishu in Somalia, due to the unrest in the country, but the carrier later said the Istanbul-Mogadishu route is one of their most profitable.
In 2011, the carrier flew to 14 cities in Africa and by the end of 2017 expanded the network to 52 routes from Istanbul across Africa.
Istanbul's new airport is currently slated to open on Oct. 29 of this year, Turkey's Republic Day, and operations will transition from Ataturk Airport on Oct. 30.
Turkish Airlines plans to move its commercial passenger operations to the new airport on one swoop and will slowly move over its charter, business jet, and cargo operations as time progresses.
So far, the carrier has stated that it is looking at starting possible routes to Sydney and Mexico City this year.
An "AvGeek" for most of his life, Akhil has always been drawn to aviation. If there is an opportunity to read about an airline, fly on a new airplane, or talk to anyone about aviation, he is on it. Akhil has been on over 20 different kinds of aircraft, his favorite being the MD-80. Additionally, he has visited 5 continents and plans to knock out the remaining two (Africa and Antarctica) soon. Based in Dallas, Akhil graduated from Texas A&M University with a degree in Management Information Systems and currently works in consulting. His dream is to become an airline executive.
Latest posts by Akhil Dewan (see all)