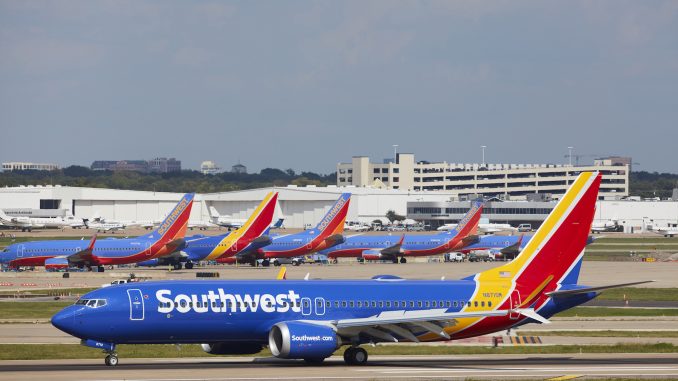 As the battle between ultra-low-cost carriers and legacy carriers in the United States continues, few have taken time to pause and reflect on how Southwest Airlines, the largest domestic airline based on passengers flown in the U.S. in 2017, continues to thrive. This five-part series will discuss the overall state of the airline, as well as some of the key selling points that continue to make the airline a favorite for both leisure and business travelers alike. 
Flying is something we love to complain about. Pesky baggage fees, miserable legroom, and appalling service belong to the never-ending list of complaints leveled against airlines. With the introduction of basic economy — a heavenly infusion of draconian baggage and cancellation policies into an already jammed economy cabin — the future of flying, for economy passengers at least, is not looking particularly bright.
Yet, airlines are making more money than ever. Even after one of the worst PR fiascoes of our time, United Airlines reported its greatest revenue and passenger numbers to date. Stuffing over 150 economy seats in the Boeing 737 MAX hardly disturbed the industry leadership of American Airlines.
The reason behind this is fairly straightforward: people will and have to fly, whether they like it or not. Leveraging this harsh reality, the three legacy airlines, American, United, and Delta, are able to squeeze every last dollar from the passenger without losing their customer base.
The Growth in Customer Segmentation
As Delta executive Paul Jacobson pleasantly states, "Customer segmentation, to me, is one of the hallmarks of what's different about the industry this time." CEO Ed Bastian appears to agree with him, stating "You have to find a way to create differentiation in consumer minds, and you have to give them choice."
As much as customer segmentation allows airlines to offer customers what they deserve for what they pay, it destroys the travel experience. The underlying argument of CEOs across the industry is that if their airline needs to stay profitable and the customer wants cheap fares, the passenger experience has to be compromised.
Statistics seem to prove this inverse relationship. The period between 2011 and 2017 is understood by many as a period of growth for the airline industry. The number of passengers grew as steadily as the economy, and oil prices were indeed favorable to this growth. During this period, the total industry operating revenue increased by 15 percent. In the same time frame, economy seats shrunk almost as fast, and baggage fee revenue soared twice as much.
In what some may term as a failure of capitalism, there seems to be a divergence between financial performance and customer experience, even to the point of mutual exclusivity. At the time of writing this piece, American CEO Doug Parker refused to admit to flying on the airline's controversial economy product on the 737 MAX.
However, reverting to the heyday of the flying experience only means draining your life's savings for an economy class experience lasting four to six hours. In an era where both airlines and governments want more people to fly–albeit for different reasons–regressing to elitism is not the sharpest of decisions.
The two opposing arguments now are as follows: on the one hand, the proliferation of revenues, route networks, and passengers is not reflective of the degenerating flying experience. On the other hand, if Americans are compelled to fly frequently and at a low cost, the airlines have no choice but to cut corners in terms of service.
Where do we strike the balance between these two extremes? Is it even possible?
Enter Southwest.
The Airline From Texas
On January 25, 2018, the Dallas-based colossus celebrated its 45th straight year of profitability, and its 24th in FORTUNE Magazine's World's Most Admired Companies. It received endless critical acclaim over the years for its in-flight service. Its baggage and cancellation policies remain the only one of its kind in the U.S., in that no other airline waives baggage and cancellation fees for its lowest fare class.
Yet, Southwest has been a low-cost carrier for all its history. As a matter of fact, it is the only airline, let alone low-cost airline, to have competed with the three legacy carriers and actually beat them at their own game. While American, United, and Delta all filed bankruptcies throughout the 2000s, Southwest became the largest domestic airline in the US by market share.
Did Southwest compromise on its quality, then? No, says a 2018 report by The Points Guy. The airline emerged number one in customer satisfaction and size of route network. Southwest also bagged the number six position in TripAdvisor's Best Airlines of the Year. Its baggage and cancellation policies are unmatched, even by leading full-service airlines in Asia and the Middle East.
What does this mean? Is Southwest exempt from the aforementioned inverse relationship? How did this happen?
From this point, many would envision that this article will transform into a Southwest-sponsored story on a travel blog, and that is understandable. Most write-ups like this focus almost entirely on either the travel experience or the financial performance of airlines. There appears to be a severe dearth of articles attempting to draw connections between the customer experience and the financial health of an airline.
The "Southwest Story" does exactly that. In the process of looking at the curious case of a customer-friendly budget airline, this five-part analysis will raise a few understated yet central questions with far-reaching implications in the U.S. airline industry. Southwest Airlines is just a facade in a quest we ought to engage in, but, thanks to the dismal state of flying today, are too dispirited to.
Our guest authors are contributors to AirlineGeeks.com who like to write, but don't necessarily have the time to be a full-time writer. Want to be a guest writer? Contact
[email protected]
for more information.
Want to join the team full time? Look for more information at the very bottom of the website.
Latest posts by Guest Author (see all)