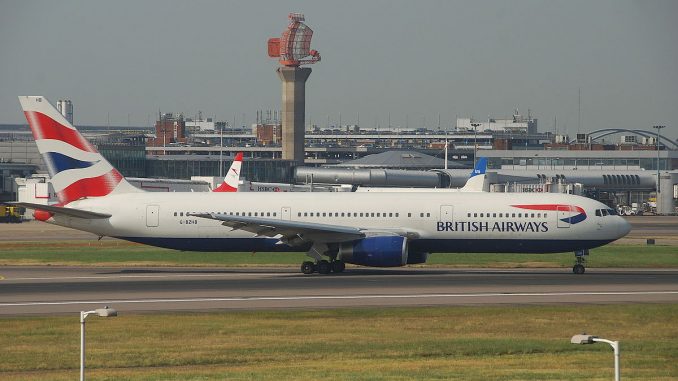 British Airways has announced that it is planning to end operations with its Boeing 767-300 aircraft in Q4 2018.
The carrier has been operating the Boeing 767 for 28 years and currently has five remaining Boeing 767 aircraft in its fleet, with an additional aircraft being operated in its OpenSkies fleet.
While the aircraft had primarily been used on short-haul European routes to destinations such as Amsterdam, Rome, Istanbul, and Stockholm, the carrier has also operated the aircraft on domestic services within the United Kingdom.
The carrier's Boeing 767 aircraft were operated in a two-class configuration, with British Airways' signature Club Europe and Euro Traveller cabins seating 244 passengers.
On top of that, British Airways also operated the similar, yet smaller, Boeing 757-200 aircraft for some time until the aircraft was retired in 2010 and transitioned to British Airways subsidiary OpenSkies in a 'private jet' configuration.
Over the years, many airlines have slowly started to retire many of their Boeing 767s, including American, United, and Delta.
While the 767s have served as somewhat of a workhorse for these airlines, the lack of modern amenities within the aircraft and the introduction of newer, more fuel-efficient jets has caused airlines to re-evaluate their operation.
In British Airways' case, the carrier has started to introduce aircraft such as the Boeing 777-300ER, Boeing 787-8, and even the Airbus A320neo to take over some of the routes that were operated by the Boeing 767.
The fate of the soon-to-be-retired Boeing 767s is currently unknown, a British Airways spokesman told Air Transport World.
An "AvGeek" for most of his life, Akhil has always been drawn to aviation. If there is an opportunity to read about an airline, fly on a new airplane, or talk to anyone about aviation, he is on it. Akhil has been on over 20 different kinds of aircraft, his favorite being the MD-80. Additionally, he has visited 5 continents and plans to knock out the remaining two (Africa and Antarctica) soon. Based in Dallas, Akhil graduated from Texas A&M University with a degree in Management Information Systems and currently works in consulting. His dream is to become an airline executive.
Latest posts by Akhil Dewan (see all)