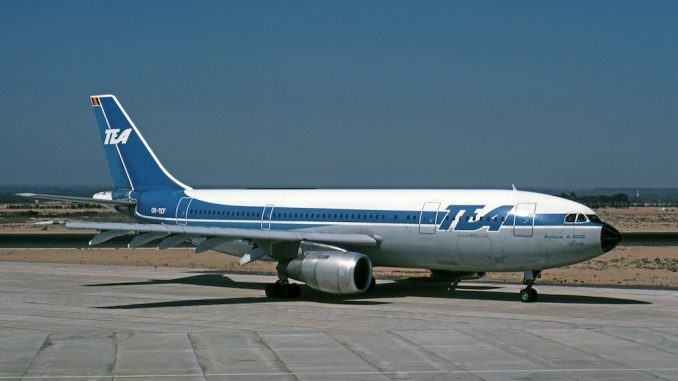 With the demand for leisure destinations increasing in the mid to late 1900s carriers were popping up in hopes of attracting their share of the market value. One of the carriers to appear from this rise in demand was Brussels-based Trans European Airlines, abbreviated as TEA. The airline was launched in 1971 at a joint venture between Belgian businessman George Gutelman and the Belgian leisure company TIFA. The airline would officially start service as a charter company in May 1971 with two Boeing 720s.
TEA would make use of the Belgian leisure routes by flying to popular destinations such as the Canary Islands and the Mediterranean. Although the airline was a small charter carrier, that wouldn't stop them from making waves in the early 1970s when the airline became the first to ever order an Airbus aircraft, committing for one Airbus A300B1. The aircraft would be delivered to TEA in November 1974 and would be one of two Airbus A300B1s built and the only used for customer use.
Since the leisure market is always shifting demand it was common for Trans European to lease their aircraft out to airlines for specific seasons. The airline would lease out their aircraft to North African and the Middle East carriers with Air Algerie, Kabo Air, El Al Israel Airlines, seasonal Hajj flights taking a brunt of the charter usage.
Alongside the leasing of aircraft, TEA would also launch their own maintenance branch to allow themselves to keep all Trans European maintenance in house. The airline would create TEAMCO, or the Trans European Airlines Maintenance Company, and would use a set of hangars near their headquarters on the northern end of Brussels Airport in Zaventem to do their fleet maintenance. The airline would also accept work from outside carriers, with a few smaller European brands flying aircraft into Brussels for maintenance.
The airline would hint at Boeing 737 operations in the future with the airline bringing in various Boeing 737-200s on short-term leases during peak seasons but it would take till the mid-1980s for the airline to fully commit to owning the aircraft long term. TEA would take hold of their first Boeing 737-200 in 1983 and would add 9 more of the older Boeing 737 type before the end of the decade. Trans European would also make a move to add the Boeing 737-300 to the fleet, ordering 17 aircraft with deliveries starting in 1988. As a result, the fleet of Boeing 707s and 720s would be phased out.
The massive fleet expansion would signal a large brand expansion for Trans European Airlines as the airline attempted to break out of Belgium. The carrier would overhaul their image to include the European Union stars on the tail and reduce the Belgian flag from the top of the tail to only appearing next to the aircraft's registration.
This rebranding was part of a TEA's expansion plans that saw the airline launch four sister carriers alongside the main branch's own expansion. The airline worked to simultaneously launched TEA UK, TEA Switzerland, TEA France, and TEA Italy with all four brands being airborne between 1989 and 1991. All carriers would take between one and three Boeing 737s to start and work alongside domestic travel brands to make themselves successful.
But the expansion didn't stop at airlines, with TEA expanding their airport presence as well. The airline would launch their own airline catering brand in 1991 titled TEA Catering. The carrier would also expand inside the terminal, adding TEA Tax Free Shops to airports that were heavily serviced by TEA and its sister brands. The brand was also looking into launching some overseas branches, with flights to North America being a priority.
But this massive expansion would take a toll on the mainline carrier and with the price of fuel increasing in the late 1980s and early 1990s the carrier couldn't take the losses. The Belgian Trans European Airlines carrier would be the first in a domino effect of TEA brands to fall, immediately taking the shops, TEAMCO and TEA Belgium brands into bankruptcy in 1991. The airline's sister carriers would be spun off, but would slowly collapse in the after effects.
The first of the smaller brands to collapse would be TEA UK, which was marked as a total failure. The airline lasted just three months after TEA Belgium faltered after failing to attract customers when comparing themselves to larger British carriers like AirTours and Monarch Airlines. The carrier had operated seven Boeing 737-200s and 737-300s in their two years of service, most of which were brought in seasonally.
TEA France would last three years after TEA UK before their own failures would catch up to them. The airline operated a mix of four Boeing 737-300s and two Airbus A310s before succumbing to their debts in 1994. TEA Italy would follow two years later with their fleet of four Boeing 737-300s and one McDonnell-Douglas MD-80 being grounded in 1996.
The last remaining TEA brand would last till 1997 with TEA Switzerland continuing to fly the brand name and never actually claiming bankruptcy. The Geneva-based branch would be bought in 1998 by rapidly expanding EasyJet, who rebranded the airline into EasyJet Switzerland. EasyJet Switzerland would continue to operate the only five-year-old fleet of nine Boeing 737-300s until 2010, when they were phased out in favor of Airbus A320s to align themselves with the British main branch more.
Since the loss of TEA, George Gutelman would go on to attempt to bring low-cost flights to Brussels with CityBird launching in 1996. The airline would last five years before faltering in 2001 following the attacks on September 11. The TEAMCO hangars were taken over by Lufthansa who currently uses them as a branch of Lufthansa Technik. The various aircraft in TEA's fleets would be disbanded across many carriers ranging from Air One to America West. The only aircraft that didn't land a new home was the Airbus A300B1, which would be stored on the grounds of Brussels Airport until it was scrapped in 2003.

Ian has been an avgeek since 2004 when he started spotting US Airways Express planes at Johnstown Airport in Johnstown, Pennsylvania. He now lives in Wichita and enjoys spotting planes in Kansas City and Wichita as well as those flying at high altitudes over his home. He is a pilot with more than 40 hours of experience behind a Cessna 172, Diamond DA-20, and Piper PA-28. He flies Southwest Airlines on most of his domestic flights and Icelandair when flying to Europe. Ian's route map spans from Iceland and Alaska in the north to St. Maarten in the south. He is a student at Wichita State University, where he will study aerospace and mechanical engineering.

Latest posts by Ian McMurtry (see all)