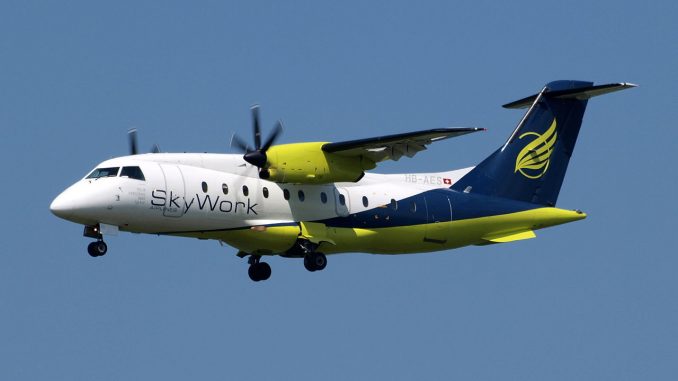 SkyWork Airlines of Switzerland has roots of starting small and changing over time. The airline was originally a flight school and private airline founded in Belp using smaller propeller aircraft from central Switzerland to neighboring cities. The to-be carrier was founded in 1983 under the name SkyWork AG.
As the company expanded, SkyWork started to look for ways to earn new revenue. To meet its financial demands, the airline would add new private aircraft and expand its flight school as they gained recognition in Switzerland.
The move to commercial operations would finally come for SkyWork in 2003 following the collapse of Swissair. The airline didn't want to compete head to head with government-backed Swiss International Airlines in Zurich, so they stuck close to home and started a base in Bern. The company would take hold of a Dornier 328 and start flights while also rebranding themselves as SkyWork Airlines.
The airline would start slow but keep flights close with routes to Germany, Netherlands and Italy. Routes to the United Kingdom and vacation destinations like Croatia and Mallorca would also eventually be added. The airline would make the most of its southern going routes seasonal since they are more for leisure travelers. SkyWork would also start operations in Basel, taking advantage of the city's availability to expand compared to Zurich. At its peak, the carrier had 25 destinations serviced by seven aircraft.
The airline eventually was popular enough to see the Bombardier DHC-8-400 join its fleet with flights to Rotterdam seeing the aircraft first in 2009. The airline would add as many as three of the 72-seat DHC-8-400s to the fleet before disposing the aircraft to Air Berlin in 2014 for immediate cash.
In the hopes of increasing revenue as the carrier struggled to turn a profit, SkyWork made the switch to retire the 31-seat Dornier 328s in favor of larger 50-seat Saab 2000s that were being retired from Braathens Regional. The aircraft would never be painted into SkyWork's green and blue but would take over all of the Swiss company's route map by 2017.
The first major issue for the airline would come soon thereafter though as its Aircraft Operator's Certificate (AOC) being suspended between Oct. 29 to Oct. 31, 2017. The carrier's certificate was suspended because there were concerns that the airline wasn't financially able to make it through the fall operating quarter due to a lack of finances. The airline was able to prove they had financial backing for the quarter and eventually had its AOC restored.
SkyWork's financial situation only got worse once the airline got its operating certificate back, as it moved closer and closer to bankruptcy. The airline had one final potential investor whose dialogue with the airline broke down in August and in response, on Aug. 29, 2018 the airline announced it would suspend operations.
The airline stopped operations immediately and handed back its operating certificate on that day as well to start bankruptcy proceedings.
Although Ian McMurtry was never originally an avgeek, he did enjoy watching US Airways aircraft across western Pennsylvania in the early 2000s. He lived along the Pennsylvania Railroad and took a liking to trains but a change of scenery in the mid-2000s saw him shift more of an interest into aviation. He would eventually express this passion by taking flying lessons in mid-Missouri and joining AirlineGeeks in 2013. Now living in Wichita, Kansas, Ian is in college majoring in aerospace engineering and minoring in business administration at Wichita State University.
Latest posts by Ian McMurtry (see all)