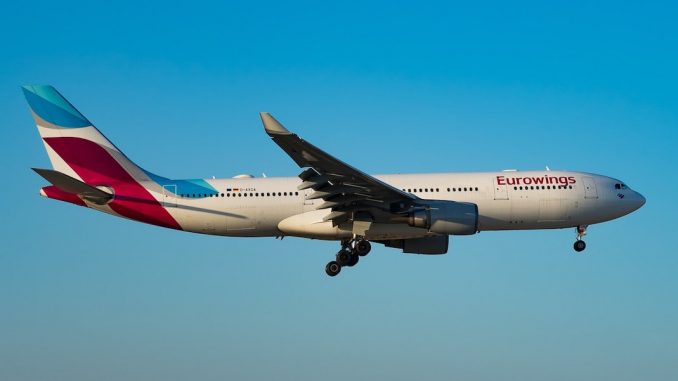 When Lufthansa decided to enter the low-cost long-haul market with its subsidiary Eurowings three years ago, the initial plan had been to use the Cologne-Bonn Airport in Western Germany as the hub and main departure point for its operations. Initially, the airline did not want to create competition to itself by basing Eurowings long-haul aircraft at the main Lufthansa hubs in Frankfurt and Munich. However, Eurowings and Lufthansa are now departing from this strategy.
Eurowings has grown rapidly and successfully on the European market with a product aiming at the wedge between true low-cost-carriers such as Easyjet and flagship airlines like Lufthansa in the past decade. The airline then decided to enter the low-cost long-haul market using former Lufthansa Airbus A330-200 aircraft, as well as A340-300 aircraft.
Lufthansa CEO Carsten Spohr confirmed to airliners.de this week that it is contemplating basing Eurowings Airbus A330 jets in Frankfurt. This follows the relocation of two of the seven Eurowings Airbus A330s from Cologne-Bonn to Lufthansa's other main hub, Munich. While a Lufthansa spokesperson indicated to the same outlet that there is no set timetable for such a move, he confirmed that the airline is thinking about it.
The departure from the original strategy of not wanting Eurowings to cannibalize on Lufthansa capacities has two reasons. First, Eurowings would not fly the same routes as Lufthansa does from Munich and Frankfurt. Its product is geared towards tourism markets for holiday-happy Germans, flying to destinations such as Mauritius, Male, Phuket and Las Vegas.
Second, this is a further escalation in Lufthansa's fight with Frankfurt Airport over the lower landing fees that the airport operator conceded to Ryanair. Lufthansa feels disadvantaged by the different treatment the Irish low-cost airline has received. Besides having moved parts of its Frankfurt-based fleet to Munich, it is now hoping to at least get lower landing fees agreed to for its own low-cost subsidiary.
Yet, despite all efforts to differentiate between Eurowings and Lufthansa proper, Eurowings' introduction of its business class is virtually identical to the product Lufthansa offers. Its aircraft also have a three-class layout with economy, premium economy and a lie-flat business class, same as Lufthansa.
Given the similarity in products, more shared presence at the hubs and Eurowings' ambitious growth objectives, the relationship between Lufthansa and its low-cost subsidiary could become increasingly awkward in the future.
This story was updated on Saturday, Nov. 10 at 2:21 p.m. ET to correct an error saying that Eurowings operates former Air Berlin aircraft. However, this is not the case. 
Adrian joined AirlineGeeks as a writer in 2017. He had always wanted to become a pilot and while he chose a different career path for now, his interest in aviation continues to grow every day. Adrian was fortunate to travel extensively for business in the past five years. As a result, he focuses his research and writing on passenger services and experiences on a variety of airlines. His favorite aircraft include the Airbus A350, A380, and the Embraer passenger jets.
Latest posts by Adrian Vannahme (see all)