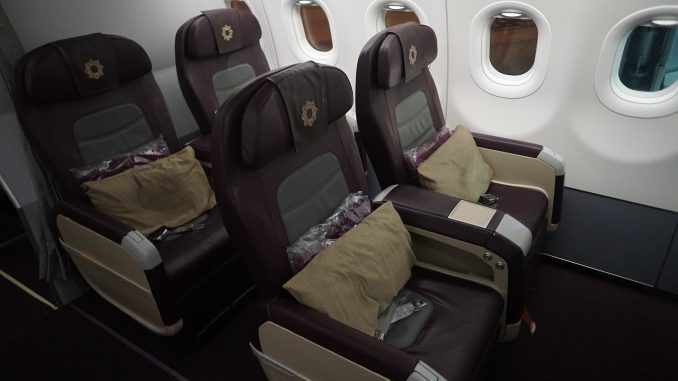 Airlines in India don't have the same clout that other airlines do. Air India and Jet Airways aren't even in the same league as airlines like Singapore or ANA. So when I needed to fly from New Delhi to Ahmedabad, India I was mentally preparing myself for the worst. The flight time between the two airports is 90 minutes or less so I figured I could somehow survive to tell the tale.
The Flight
I've written extensively about the finances of various Indian airlines and I figured IndiGo being among the better run airlines would be a good choice. However, when searching for flights I realized they don't have a business class offering so they were off the list. I was stuck between Air India and an airline called Vistara. Both had comparable schedules and price, but I had heard poor things about Air India and nothing about Vistara. I figure no news is good news and went ahead and booked Vistara.
Later I found out that the airline is actually a joint venture between Singapore Airlines and Tata, the Indian conglomerate. Excellent, how bad could the flight be then? I did some searching online and trip reports were far and few so I was even more excited for the flight as I would be essentially doing my civic duty to all AvGeeks by trying out a new relatively undiscovered airline.
The Airport
The Indira Ghandhi International Airport was pleasant enough. There is a lot of security everywhere and I had my boarding pass and passport checked several times throughout the entire process. Passengers aren't allowed into the check-in area unless their flight is leaving within 3-4 hours.
Vistara has a departure gate area lounge for business class passengers, however, it was closed at the time and the alternative lounge arrangements were too far of a walk for me. The other lounges at the airport aren't very appealing so I just made do sitting at the gate
First Impressions
Bleary-eyed after a night awake at New Dehli's international airport and somewhat nauseous by the 2 a.m. airport KFC I decided to partake in I stumbled onto the Airbus A320 around 5 a.m. and was pleasantly surprised.
The business class cabin consisted of 8 very comfortable seats with copious leg room and roughly 40 inch seat pitch.
I requested to board a few minutes early to snap a few pictures of the premium economy and economy cabins. Vistara is the only Indian airline to currently offer premium economy, it reminded me a lot of the extra legroom seats on domestic Delta Air Lines flights. Vistara premium economy is the same seat as a regular economy seat. The benefits, however, include: more leg room a pre-departure beverage, better meal, and priority boarding.
The premium economy legroom is decent at 33 to 34 inches.
Economy leg room comes in at 30-31 inches and is manageable.
Business Class Service
Back in business class, the flight attendants came around with pre-departure beverages. There was a choice of orange juice, mint lemonade, and water. I grabbed the last glass of water, so none left on the tray.
Menus were also distributed and for a slight that is 90 minutes on a long day seeing so many food options was impressive.
Shortly after take-off meal service began. A branded tablecloth was placed on the tray table before breakfast was served. Everything was severed on a tray and in one course. I loved the branding all over the place, from the tablecloth to the glasses. It's a small touch that I find very memorable.
As I was still nursing an apparent demon in my stomach from the KFC earlier I went for the continental breakfast option as I figured that would be easiest on the stomach. It consisted of some fresh fruit and muesli. All of which were excellent.
I snapped a quick picture of what my seat mate was having since he partook in a full meal. It definitely looked and smelled great.
Trays were cleared quickly and drinks refilled promptly, something that can often be poorly executed.
Soon enough we were preparing for landing and the flight attendants came by with mints. After a smooth touch down in Ahmedabad it was off to baggage claim and then my hotel. At that point, I had been traveling for over 50 hours without more than 4 hours of consecutive sleep.
Final Thoughts
I was genuinely impressed with my flight and it wasn't what I was expecting. I've heard horror stories from relatives about Indian airlines and Vistara proved to be the complete opposite of what I was expecting. It ended up being an enjoyable flight with a great crew and a great meal.
If there was one negative, I'd mention the lack of in-flight internet services. Vistara does offer streaming services to your own device, however. The lack of internet is understandable, it's something we take for granted on some U.S. based carriers but it still has to spread across the world. The airline does have plans to eventually introduce internet on the aircraft. Even before that happens they definitely offer an impeccable product across the Indian skies.
Disclosure: This flight was not paid for by the airline reviewed. The airline was aware that a writer for AirlineGeeks.com was on board and made certain arrangements to speak to some of the staff and board the plane early.

Hemal took his first flight at four years old and has been an avgeek since then. When he isn't working as an analyst he's frequently found outside watching planes fly overhead or flying in them. His favorite plane is the 747-8i which Lufthansa thankfully flies to EWR allowing for some great spotting. He firmly believes that the best way to fly between JFK and BOS is via DFW and is always willing to go for that extra elite qualifying mile.

Latest posts by Hemal Gosai (see all)