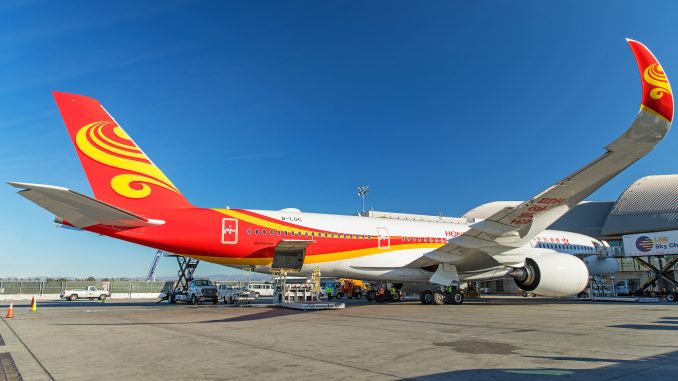 Hong Kong Airlines has continued its ongoing tumultuous wave of resignations, ranging from the Chief Financial Officer and six directors who have left the airline since July.
In response to the recent incidents, the airline reiterated that "Hong Kong Airlines is operated by an independent Hong Kong-based management. The recent change to Hong Kong Airlines board of directors does not impact our business and operations. We have recruited leaders to join our management team."
Hong Kong's Air Transport Licensing Authority (ATLA) said it has been following up on the financial situation of Hong Kong Airlines and its request to explain the situation. Under government regulations, Hong Kong Airlines is required to submit annual audited financial statement for review by ATLA.
"As a private company, Hong Kong Airlines does not disclose its financial performance publicly nor comment on market rumors or media speculation," the airline said on Friday. Hong Kong's local media have widely reported that the airline is struggling to repay $575 million in bonds by January 20.
The airline has a fleet of 38 Airbus aircraft and is owned by China's HNA group. The cash-strapped group has continued to offload some assets to pay off significant debt, accumulated through its purchase of many international assets. In addition, Hong Kong-based low-cost carrier Hong Kong Express is affiliated with HNA.
Nevertheless, Airbus has resumed delivering aircraft to the cash-strapped group after the payment row. According to Reuters, earlier this year, the transaction of six A330 jets worth over $1 billion has been held after six months of talks. HNA-affiliated affected carriers include Hainan Airlines, Beijing Capital Airlines and Tianjin Airlines. Also, HNA's flagship Hainan Airlines, Lucky Air and Beijing Capital Airlines had missed some payments, with Tianjin Airlines seeking to extend the term for payment due this year as well.
HNA was founded in 1993, quickly growing from a regional airline to a Chinese conglomerate. Following several years of a spending spree, the group became Deutsche Bank and hotel chain Hilton's largest shareholder. In the meantime, the rapid expansion caused the group to become heavily indebted. As of Jun. 30, the total debt of HNA was nearly $95 million.

Will has been a travel agent in Hong Kong for almost three decades, as time goes by he hasn't lost his passion for his job, He still has plenty of enthusiasm for the airline industry and airport operations.