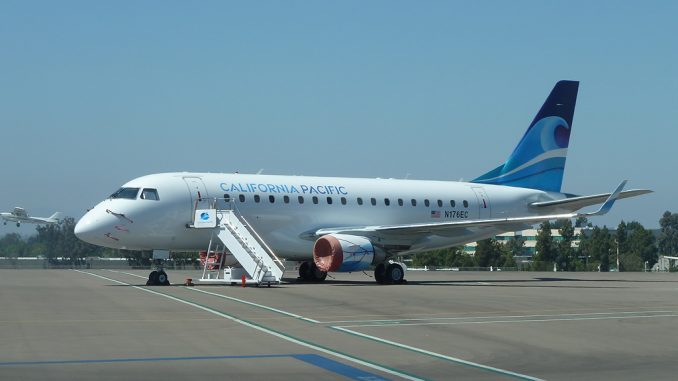 Just before the start of the new year, Carlsbad, California-based California Pacific Airlines cancelled all of its California flights. The airline cited a lack of pilots and the general pilot shortage in the industry for the suspension of flights, but noted that it hoped to resume flights in February. Currently, this affects the airline's Southern California operations, while its Essential Air Service (EAS) flight out of Denver will remain in operation.
The news comes not long after California Pacific began operating flights in California this past November. However, this would not be the first time the airline has faced challenges with its operations. Founded in 2009 by San Diego entrepreneur Ted Vallas, the carrier struggled to gain FAA certification for eight years. During this time, an Embraer 170 was subleased and painted in the California Pacific livery, but was returned a year later.
Vallas and the company's fortunes changed towards the end of 2017, with the purchase of ADI Aerodynamics. The small Georgia-based carrier had four leased Embraer 145s, and operated EAS routes between Denver and Pierre and Watertown, South Dakota. With its purchase, the airline finally received an FAA certificate and began its long-planned flights from Carlsbad in November 2018.
However, since the takeover, officials of both Pierre and Watertown have complained about California Pacific service. The airline has been accused of failing to pay its bills to the airport, as well as having ongoing reliability issues. Since mid-November the airline has cancelled 30 percent of its flights at Pierre and 25% of its flights at Watertown. Vendors in both towns are also reportedly refusing to work with the company without upfront payment.
The news of the suspension does not bode well for the relatively new airline. Both Pierre and Watertown have asked the Department of Transportation to reopen bidding for the recently awarded EAS routes. With the pilot shortage unlikely to end in the near future, the outlook looks bleak for California Pacific. With a suspension of service in California and the threat of losing their EAS routes, the airline could be facing an uphill battle.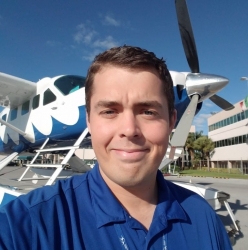 Daniel has always had aviation in his life; from moving to the United States when he was two, to family vacations across the U.S., and back to his native England. He currently resides in South Florida and attends Nova Southeastern University, studying Human Factors in Aviation. Daniel has his Commercial Certificate for both land and sea, and hopes to one day join the major airlines.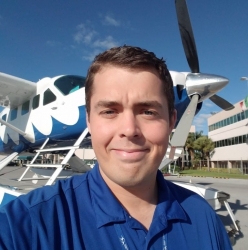 Latest posts by Daniel Morley (see all)