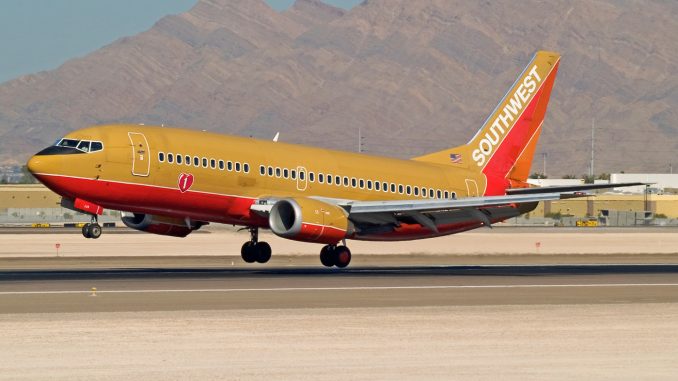 Southwest Airlines' co-founder, Chairman emeritus, and former CEO Herb Kelleher has passed away at the age of 87.
"Herb was a pioneer, a maverick, and an innovator. His vision revolutionized commercial aviation and democratized the skies. Herb's passion, zest for life, and insatiable investment in relationships made lasting and immeasurable impressions on all who knew him and will forever be the bedrock and esprit de corps of Southwest Airlines," said Southwest in a statement. "The entire Southwest Family extends our deepest sympathies to Herb's wife, Joan, and his entire family."
We already miss you, Herbie. #HonoringHerb pic.twitter.com/SQcvSdkbC2

— Southwest Airlines (@SouthwestAir) January 3, 2019
Kelleher, a former lawyer, and his client, Rollin King, famously created the business plan for the low-cost airline on a cocktail napkin in 1967.
The airline was innovative at the time in that it aimed to serve business travelers in Texas' "golden triangle", a link between Dallas, Houston, and San Antonio. However, the airline was plagued by lawsuits and other legal issues set upon by competitors including Texas International, Braniff, and Continental.
With Kelleher serving as the airline's lawyer, he was able to lead the airline through the legal battles, often covering most of the legal fees on his own, to get Southwest in the air in 1971.
"After a name change and many legal battles valiantly fought and won by Herb, Southwest Airlines took to the skies on June 18, 1971 — a date that would change each of our lives forever," the airline said in a statement. "Anyone in the world who has set foot on an airplane in the past 50 years has been touched by the life of Herb Kelleher."
Kelleher wanted to make Southwest an airline that was affordable for all Texans, an issue that many airlines neglected at the time.
"The air service at that time in Texas was a very poor quality and the prices were very high," Kelleher told CNBC in an interview. "We wanted to set Texans free because they were captive. There were monopolies in Texas in the air and we were out to destroy them."
From 1978 to 2008, Kelleher served as the airline's Executive Chairman, and from 1981 to 2001, served as the airline's President and CEO.
Under Kelleher, Southwest's culture of "employees first" was also formed. With help from many of Southwest's first leaders, Kelleher created a company culture that made work and traveling fun. Southwest was and is still known for its quirky in-flight announcements and giveaways such as liquor bottles and ice buckets.
"Employees came first. Employees first, customers second, shareholders third. If the employees serve the customer well, the customer comes back, and that makes the shareholders happy," Kelleher told CNBC.
The co-founder also had a colorful personality which set him apart from other business leaders during the time. In one incident, Kelleher resolved a trademark lawsuit through an arm wrestling match with Stevens Airline CEO Kurt Herwald over the saying "Just Plane Smart".
From an initial investment of $500,000, Kelleher was able to transform Southwest Airlines into a $20 billion company and created a business model that is followed by airlines around the world.
In the same interview with CNBC, Kelleher claimed that his business heroes include C.R. Smith and Pat Patterson, founders of American Airlines and United Airlines, respectively. However, Kelleher now leaves behind a legacy that will be looked up to by many.
"One of the greatest joys of my life has been working alongside Herb for more than 30 years," said current Southwest CEO Gary Kelly.
"His stamp on the airline industry cannot be overstated," Kelly added. "His vision for making air travel affordable for all revolutionized the industry, and you can still see that transformation taking place today. But his legacy extends far beyond our industry and far beyond the world of entrepreneurship. His true impact can only be accurately measured by the hearts and minds of the people who he inspired, motivated, and engaged on a daily basis."
Kelleher is survived by his wife, Joan, three of four children, and grandchildren.
An "AvGeek" for most of his life, Akhil has always been drawn to aviation. If there is an opportunity to read about an airline, fly on a new airplane, or talk to anyone about aviation, he is on it. Akhil has been on over 20 different kinds of aircraft, his favorite being the MD-80. Additionally, he has visited 5 continents and plans to knock out the remaining two (Africa and Antarctica) soon. Based in Dallas, Akhil graduated from Texas A&M University with a degree in Management Information Systems and currently works in consulting. His dream is to become an airline executive.
Latest posts by Akhil Dewan (see all)