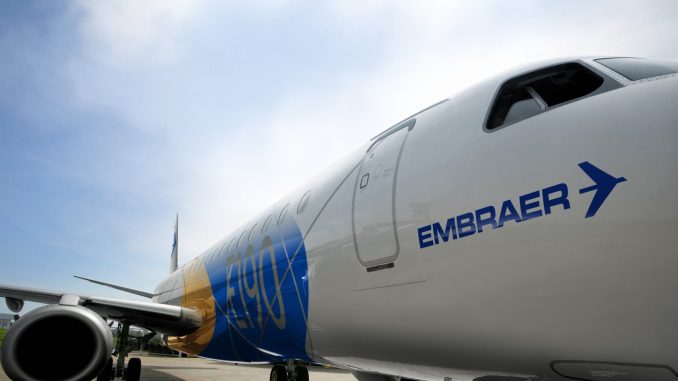 The proposed joint venture between the United States' Boeing and Brazil's Embraer is facing another challenge as Brazil's securities regulator has launched an administrative probe into the chief financial officer of Embraer in regards to the joint venture.
This joint venture, a strategic necessity for both Embraer and Boeing, has faced much scrutiny. There have been lawsuits from investors, court rulings, and the ever-present threat of government intervention in the deal.
The Rationale for a Joint Venture
Embraer is facing many challenges competing against the two large established aircraft manufacturers Airbus and Boeing. Embraer is a smaller company and they do not enjoy the vast economies of scale that large manufacturers like Boeing and Airbus have.
It also competes in a different market, Embraer has a specialization in smaller aircraft. This is something that neither of the two large manufacturers had. Therefore Airbus and Boeing would continually offer pricing discounts on slightly larger aircraft in order to convince airlines to stick with the aircraft that they sell.
However, that soon came to a change when Airbus partnered up with Bombardier and their C Series aircraft. Airbus now produces this aircraft calling it the Airbus A220. This gives Airbus an offering in the 100-150 seat market that it originally didn't have.
Boeing doesn't have anything to directly compete in that small aircraft market. This makes a hook up between Embraer and Boeing a mutually beneficial arrangement. Boeing intends to offer $4.2 billion for an 80 percent stake in Embraer's commercial aviation business, the remaining 20 percent will still be held by Embraer.
A Small Share for Embraer
This arrangement is what has gotten the interest of Brazil's securities regulator. Nelson Salgado, the CFO of Embraer and investor relations director, is under administrative probe by the entity to see whether Embraer disclosed incomplete information about what degree of influence the Embraer will have in the joint venture.
Raquel de Campos, a federal prosecutor in Brazil, expressed his concern in the way the joint venture was communicated. He believes that the disclosure given by Embraer and Boeing glazed over the fact that Embraer will have very limited means to influence the operation of the joint venture.
Many in Brazil have similar concerns including newly elected Brazilian president Jair Bolsonaro. He also expressed concern over Embraer's influence in the venture but was apparently placated and Brazil subsequently approved the joint venture. After which Embraer's board of directors also ratified its support.
Next up is a shareholder meeting scheduled for February 26 to approve the partnership. Following potential shareholder approval of the deal, further regulatory bodies will consider the transaction and will weigh in as well.
This probe into the Embraer CFO is expected to continue however the Brazilian securities regulator insists that it is merely making sure that investors are properly made aware of the deal and many of its details. It states that it is not judging the merits of the transaction

Hemal took his first flight at four years old and has been an avgeek since then. When he isn't working as an analyst he's frequently found outside watching planes fly overhead or flying in them. His favorite plane is the 747-8i which Lufthansa thankfully flies to EWR allowing for some great spotting. He firmly believes that the best way to fly between JFK and BOS is via DFW and is always willing to go for that extra elite qualifying mile.

Latest posts by Hemal Gosai (see all)