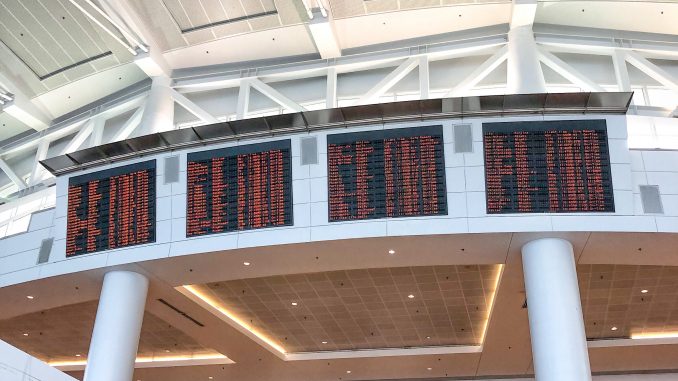 After 402 days of construction, just over a year, Seattle-Tacoma International Airport revealed the first phase of the freshly remodeled Central Terminal, the main building of the airport that all departing passengers first enter. The Central Terminal has been a much loved SeaTac focal point with the full floor-to-ceiling windows, rocking chairs and food court, all with a nearly unobstructed view of the airport's three runways. The openings today included five new restaurants as well as some new dining furniture, and soon the installation of ADA furniture and charging stations.
Port of Seattle Commissioner Peter Steinbrueck on Friday addressed the media and travelers, the latter looking on over meals from the newly opened restaurants, with a simple statement: "Welcome back to the Central Terminal." During the period of construction, although shops and restaurants did occupy the space, the main thoroughfare that connected the north and south areas of the terminal was obstructed and hindered by large walls to hide the year-long construction projects that also blocked the grand view of the adjacent ramp, taxiways and runways.
"We are halfway through a major customer service and facilities upgrade that gives our passengers more dining choices and more space to relax and recharge," continued Steinbrueck. This renovation also helps achieve our objective to increase business and job opportunities at the airport and to ensure that these opportunities are available to all."
The airport boasted the opening of new eateries in the airport featuring cuisine from a variety of cultures all together at the airport, mirroring the thousands of travelers of all different backgrounds that pass through SeaTac's gates every day. Taking their places in the new Central Terminal are Lucky Louie Fish Shack, serving up sustainable seafood as well as cream cheese-filled sweet waffle fish; Pallino Pastaria, offering Italian specialties such as pastas, subs, soups, salads and pizzas; Pei Wei Asian Kitchen, dishing up Asian wok-seared plates that include rice, noodles, salad bowls, lettuce wraps and sushi and Koi Shi Sushi Bento, the first sit-down and made-to-order Japanese eateray at Sea-Tac featuring sushi, sashimi and create-your-own poke bowls.
The newly-opened eateries don't only offer diverse offerings from a cultural standpoint, but also cater to the health-minded crowd. Evergreens Salad provides quick and healthy meals for travelers, with the benefit of using responsibly sourced ingredients. The eatery is unique in that travelers can order meals ahead of time using an app, ideal for when you're running late for a flight or have a short connection in the Emerald City.
The Central Terminal Renovation Project began just over a year ago with a $17 million dollar investment by the Port of Seattle. This first phase completion marks about the halfway point of the remodel and new features of the project will debut around every 90 days from now until completion. Scheduled to be finished by mid-2020, the final product will include a new mezzanine level allow for amazing runway views and even more dining options.
AirlineGeeks.com began in February, 2013 as a one-man (er… teenager, rather) show. Since then, we've grown to have 20 active team members, and yes, we're still growing. Some of us are looking to work in the aviation industry as professionals when we grow older. Some of us are still trying to decide what we want to do. That's okay though, because we're all here for the same reason: we love the airlines. We're the youngest team of airline industry journalists out there.
Latest posts by AirlineGeeks.com Staff (see all)