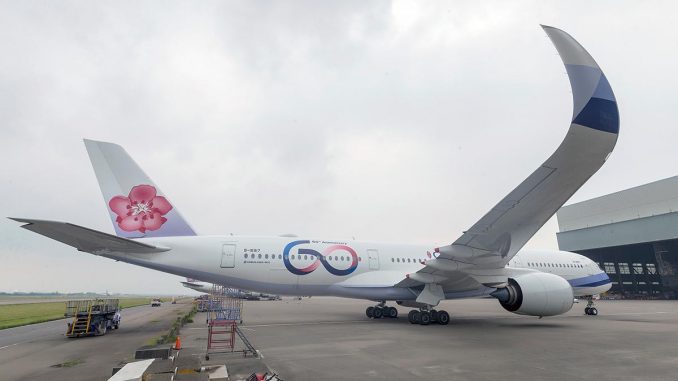 Taiwan-based China Airlines is celebrating its 60th anniversary this year, with the airline unveiling a series of special liveries for the occasion. An A350-900 was painted the number "60" in the shape of "GO" and the infinity symbol "∞" in the corporate identity color of blue and red. Additional aircraft such as the Airbus A330-300, Boeing 737-800, Boeing 777-300ER and Boeing 747-400/400F will be painted in the 60th-anniversary livery.
The special liveried Airbus A350-900 XWB had recently entered service with the new colors and flew first to Ontario, Calif. The Southern California city, an alternative to busier Los Angeles, was chosen the first destination to be flown by the liveried aircraft, as the city's relationship with China Airlines has proved to be meaningful. Earlier, another special liveried aircraft, Mikado Pheasant, operated this route as well.
China Airlines launched Taipei-Ontario services a year ago, with the carrier changing the aircraft on the route to the A350 from the Boeing 777-300ER in October. Earlier, the carrier celebrated the first anniversary of the route, which the airline considers to have proved its "convenience and unique offering," showing the "carrier's commitment to the North American market" by serving smaller cities in addition to larger ones such as Los Angeles, New York and Honolulu, among others.
Celebrating the 60th anniversary, new amenity kits for business class and premium economy class will be introduced to passengers. The airline will enhance its in-flight entertainment with 16 movies becoming available in all Airbus A350-900 XWB and Boeing 777-300ER cabin classes. Also, the airline's website will launch a "Birthday Promotion Discount" where Dynasty members in their birthday months and one of their companions may receive a five percent off discount.

Will has been a travel agent in Hong Kong for almost three decades, as time goes by he hasn't lost his passion for his job, He still has plenty of enthusiasm for the airline industry and airport operations.