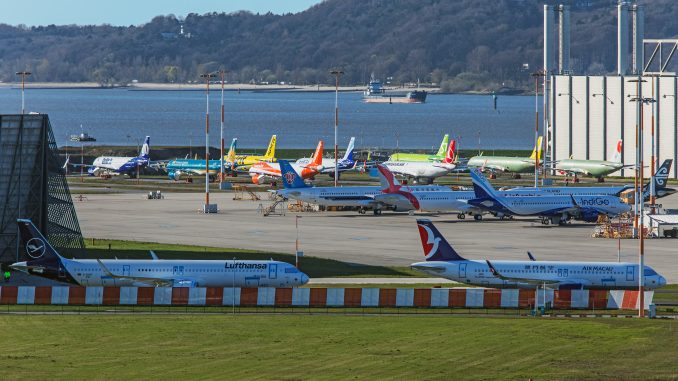 Truly a European aircraft manufacturer, Airbus has facilities in multiple countries across the European continent in addition to its main facility in Toulouse, France. One of those facilities is at Finkenwerder Airport, a private airfield near Hamburg, Germany, which assists in the production of Airbus aircraft.
The airport is used exclusively by Airbus and features multiple ramp areas that seemingly extend into the adjacent Elbe where countless Airbus aircraft of all sizes can be seen.  Airbus even has its own control tower at the airport staffed by air traffic controllers.
The airport's main operations consist of aircraft movement directly related to Airbus's manufacturing process.  A day in the life of the airport consists of seeing flight testing of aircraft in production, acceptance flights for aircraft pending delivery to airlines, employee shuttles and cargo flights of the Airbus A300-600ST Belugas.
The Beluga is a modified A300 designated as a Super Transporter.  Several times a day, Airbus's fleet of Belugas transport oversized cargo in the form of major aircraft components to and from other Airbus factories in Europe. Other large parts such as vertical stabilizers can also be seen from here arriving by truck.
Spotters from all over the world come to see the Belugas as well as to catch a glimpse of aircraft in various stages of production destined for airlines throughout the world.  In a few short hours at the spotting platform, one can see brand new Airbus single-aisle aircraft in the liveries of airlines from Asia, Europe, North America and Africa before they are delivered.
For spotters, aviation enthusiasts as well as aviation media, this location provides an opportunity to catch the newest plane for a particular airline, a new livery for an airline or even a special livery that has yet to been seen by the public.  For that reason, the spotting platform is always filled with people waiting to be the first to catch a certain aircraft.
Just outside the facility, Airbus pays tribute to its history by displaying several historical Airbus aircraft on display.  The most notable aircraft on display was the enormous Super Guppy transport which was the propeller-driven predecessor to the Beluga.  Other aircraft on display there included the HFB 320 Hansa Jet that was built in Hamburg from 1964-1973.
Airbus operates two Airbus A320 family production facilities in Hamburg, producing aircraft from the A318 to the A321neo LR.  Each aircraft enters the assembly line as a small shell of a fuselage and moves through the five different stages of production before exiting the hangar as an assembled Airbus.  This particular line can produce a new Airbus A318 "baby bus" every two days.  The aircraft that was almost complete in the fifth stage of assembly was destined for Canada's Air Transat, its first A321neo.
In addition to its single-aisle aircraft, Airbus also has production facilities for its widebody A350 XWB and A330 family aircraft.  It is quite easy to spot an Airbus A330neo in this facility as the next-generation aircraft is a predominantly aluminum aircraft which sports the greenish zinc chromate color as opposed to the tan color of the A350's composite shell.
Here, one can see different sections of fuselage being fitted with components before being matched together to form a single aircraft body. At least 17 sections of widebody fuselage were being assembled in this part of the factory.
As with any airport, the control tower, located above the Airbus Delivery Centre, provides arguably the best view of the runway. Airbus aircraft on a variety of missions are taking off and arriving constantly with the Elbe River as a natural backdrop. A spotter and enthusiast's delight, the Beluga can be seen here countless times during the day.
The control tower not only provides an unobstructed view of the runway but nearly the entirety of the Airbus facility. Looking down at all the foreign tails from airlines around the world, one would think they are at a busy international airport instead of a single-runway private airport outside of Hamburg.
Among those on display was the second iteration of ANA's Airbus A380, the FLYING HONU, in its Emerald Green paint. AirlineGeeks recently toured the airline's first A380, Lani, in Tokyo and saw how the airline specially configured the aircraft for Hawaii service.
While many in the traveling public do not think much about the aircraft they are flying on, there is a good chance that their aircraft started its life here in Hamburg where Airbus is constantly producing more and more aircraft every day.
AirlineGeeks.com began in February, 2013 as a one-man (er… teenager, rather) show. Since then, we've grown to have 20 active team members, and yes, we're still growing. Some of us are looking to work in the aviation industry as professionals when we grow older. Some of us are still trying to decide what we want to do. That's okay though, because we're all here for the same reason: we love the airlines. We're the youngest team of airline industry journalists out there.
Latest posts by AirlineGeeks.com Staff (see all)