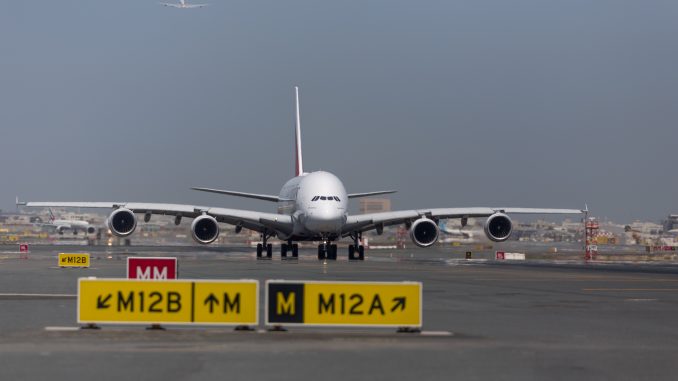 The past week has seen the Northeast encounter a swath of severe weather that has plagued aviation in the region. With high winds, heavy rains and thunderstorms battering the region, delays, ground stops and diversions were a common occurrence.  The severe weather brought two unusual visitors to Philadelphia, a welcomed surprise for local aviation enthusiasts and the airport alike.
On May 23, 2019, a line of severe weather impacted flights at Washington Dulles International Airport, causing numerous diversions.  Due to the weather, an Air France Airbus A380 inbound to Washington from Paris was forced to divert from its intended destination to Philadelphia.
According to data from FlightAware, Air France flight 54 touched down at Philadelphia International Airport at approximately 4:00 p.m. The airport, which doesn't receive scheduled A380 or Air France service, posted several photos of the Airbus superjumbo on its Instagram page.  AF54 departed about two hours later, making the short hop from Philadelphia to Washington in about 30 minutes.
Just three days later, Philadelphia got lucky once again.  This time, weather issues impacting flights in the New York area forced an Emirates A380 to divert to the City of Brotherly Love. According to data from FlightRadar24, Emirates flight 205 inbound from Milan arrived at Philadelphia at approximately 7:00 p.m.
The aircraft didn't stay long, departing a little over two hours later for the 33-minute journey to its intended destination of New York's John F. Kennedy International Airport. Once again, the airport, which doesn't receive scheduled Emirates service, posted several photos of the surprise visit on its Instagram page.
Although the A380 is a common sight at many major airports in the United States, the A380 is a very rare visitor to Philadelphia.  When the A380 does make an appearance here in Philadelphia, it is never regularly scheduled. While Philadelphia's longest runway, Runway 9R/27L, has a length of 12,000 feet that can easily handle the A380, the gate area is another story.
There are only a limited amount of gates at Terminal A, the airport's primary international terminal, that can handle the heavies. A Oneworld stronghold, the Boeing 767-300ER, Airbus A330-300, and even the Boeing 747-400 are regular Terminal A guests.
However, there is not enough room to handle the superjumbo when it visits. The photos posted to the airport's social media show both superjumbo guests positioned away from the gate area at hard stands with portable airstairs in place.

Jordan joined the AG team in 2018 after attending AAviationDay in Philadelphia.He is actively pursuing his private pilot certificate and has been an aviation enthusiast since childhood.An attorney by trade, Jordan jokingly refers to himself as a "recovering litigator" and now focuses on subcontracts management.

Jordan focuses his writing on innovations in commercial aviation, aviation history, and other interesting topics he feels are worthy of discussion in the community.

Latest posts by Jordan Green (see all)