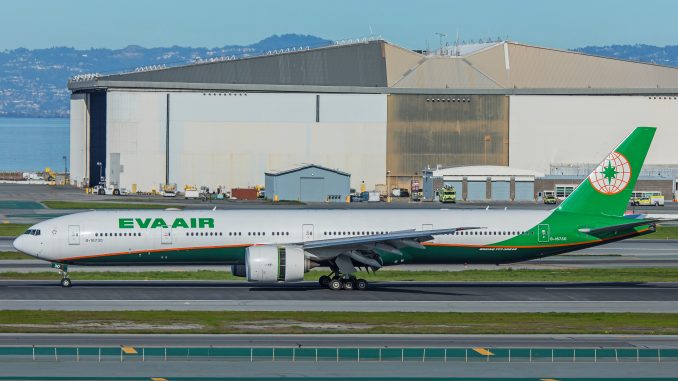 Following a vote earlier this week, the Taoyuan Flight Attendants Union has decided to strike against Taiwanese carrier EVA Air. The strike comes after two rounds of negotiations with EVA failed to yield results with the chief complaints concerning overtime, long working hours and pay.
While no date for the strike has been set, the Taiwanese government has already started reaching out to China Airlines, UNI Air – a subsidiary of EVA – and Mandarin Airlines to assist should the strike affect flight operations. It is also reported that Taiwan's Ministry of Transportation has reached out to the country's Ministry of Defence to potentially look at the deployment of military aircraft, as well.
In terms of working hours, the union hopes to redesign long-haul routes to allow for overnight layovers instead of daily turns, which increases the working hours and fatigue of flight attendants. It is reported that rival Taiwanese carrier, China Airlines, pays its union flight attendants $1.70 more per hour in per diem than EVA does.
A total of 5,933 union flight attendants participated in the vote, with 4,038 flight attendants voting to strike. 2,949 of those flight attendants are reportedly from EVA. The result passed the legal threshold of 50 percent to make the vote legal.
The airline has said that it is "deeply disappointed" with the results and placed the blame on the union, saying the union "never gave concrete responses and therefore, no consensus [was] reached."
Strikes in Taiwan's transportation industry are extremely rare, but pilots at China Airlines went on a week-long strike in February that resulted in 200 canceled flights and a loss of $16.2 million for the carrier.
The pilots union and China Airlines were able to reach an agreement and included in that agreement was a clause in which the union agreed not to strike again in the next three and a half years.  In turn, China Airlines agreed to increase pilots to combat fatigue and ease working hours.
An "AvGeek" for most of his life, Akhil has always been drawn to aviation. If there is an opportunity to read about an airline, fly on a new airplane, or talk to anyone about aviation, he is on it. Akhil has been on over 20 different kinds of aircraft, his favorite being the MD-80. Additionally, he has visited 5 continents and plans to knock out the remaining two (Africa and Antarctica) soon. Based in Dallas, Akhil graduated from Texas A&M University with a degree in Management Information Systems and currently works in consulting. His dream is to become an airline executive.
Latest posts by Akhil Dewan (see all)