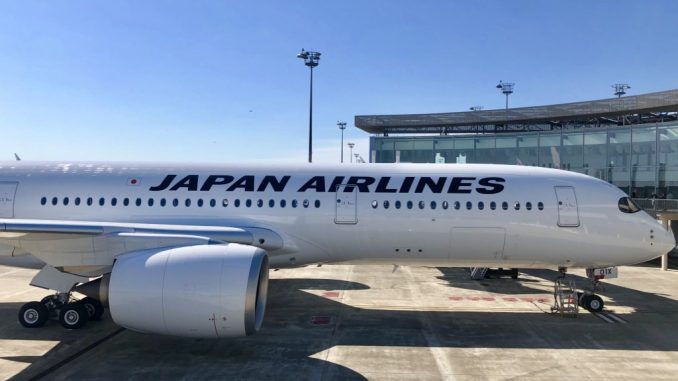 Japan Airlines (JAL) received its first A350-900XWB on Thursday from Airbus' manufacturing facilities in Toulouse. The newly-delivered aircraft, registered as JA01XJ, marks two sizable milestones. Its JAL's first off-the-line Airbus aircraft – the airline has continuously operated a fleet of largely Boeing jets – and the first Japanese-registered A350.
The aircraft will solely operate domestic routes within Japan, starting with Tokyo Haneda to Fukuoka on Sept. 1, 2019. According to JAL chairman Yoshiharu Ueki, Japan has the third largest domestic market in the world. JAL currently connects some cities in Japan using a mix of  Boeing 767 and 777 jets.
"The Japanese domestic market is the third biggest in the world. The domestic and international market makes up about 50 percent each," Ueki said at a press conference.
JAL has 31 A350XWBs on order, including 18 A350-900s and 13 A350-1000s. At a delivery event held in Toulouse, Ueki did confirm that some of these aircraft would begin operating long-haul routes in 2023.
For domestic services, JAL's A350 will see a three-class configuration with 12 first class seats, 94 'Class J' seats, and 263 economy seats. The airline has yet to reveal more specifics about the jet's interior design.
.@JAL_Official_jp's first A350XWB bidding farewell to Toulouse. pic.twitter.com/xHPrdzTrda

— Ryan Ewing (@FlyingHighRyan) June 13, 2019
To accommodate short-haul domestic routes, JAL's A350 has a reduced max takeoff weight. The typical A350 maximum takeoff weight is 275 tons. In addition to the A350, JAL also plans to operate 787 aircraft on short-haul domestic routes starting later this year.
Ryan founded AirlineGeeks.com back in February 2013 (actually, it was called Aviation Official, but we've changed a bit since then). From being on the yoke of a Piper Navajo, to visiting about Delta's operations center in Atlanta, Ryan has done it all. in 2016, along with American Airlines, Ryan masterminded AAviationDay at more than 10 locations around the world. The smell of jet fumes in the morning along with the countless number of passionate airline employees keep him enthralled in the industry, always seeking more. You can find him helping out travelers at Reagan National Airport near Washington, D.C. when he's not doing something for AirlineGeeks.
Latest posts by Ryan Ewing (see all)