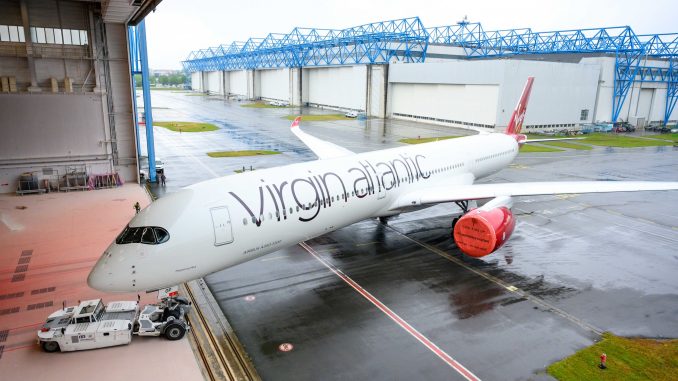 Virgin Atlantic's first Airbus A350-1000 XWB has rolled out of the paint shop at the Airbus factory in Toulouse, France. The aircraft, named "Mamma Mia" and to be registered G-VPOP, is set to enter into service in August on the airline's London-New York route and is the first of twelve on order for Virgin Atlantic.
In a tweet, Virgin Atlantic said "This is the one you've been waiting for. Our [Airbus] A350 livery is here, and we think you'll agree it's looking beyond fabulous." Mamma Mia spent about 20 days in Hangar C33 at Toulouse, only about eight of which were applying the paint.
On the aircraft, there will be the new Upper Class business class cabin as well as a new social space known as The Loft, an upgrade from the existing onboard bar that is designed for customers to gather, chat, enjoy a drink or dine with friends.
Furthermore, in premium economy and economy, the aircraft will feature Virgin Atlantic's largest entertainment screens at 13.3 inches and 11.6 inches respectively. The entire A350 will also have access to high-speed WiFi and the unique, personalized Virgin Atlantic service.
The total A350 order from Virgin Atlantic is scheduled to have all 12 aircraft in the fleet by 2021, with an estimated order total of $4.4 billion at the list price. The aircraft will be powered by Rolls-Royce Trent XWB engines, helping Virgin Atlantic to build a more sustainable fleet. The design of the A350 aims to be 30 percent more fuel and carbon efficient than the aircraft it is replacing – likely the Boeing 747-400s and A330-300s – and is expected to reduce the airline's noise footprint at airports by more than 50 percent.
Despite this, one of the famous Virgin Atlantic livery components was deliberately left out. Virgin Atlantic's "Flying Icons" – currently based on a red-headed woman in red dresses flying the Union Jack known as the Varga Girl – are changing, starting with the delivery of G-VPOP. The new Flying Icon will be applied on arrival into London, and they are now a diverse range of men and women which represent modern Britain.
The Senior Vice President of People at Virgin Atlantic, Nikki Humphrey, said: "By introducing our new Flying Icons I hope it encourages people from all backgrounds to feel at home flying with us, but also working with us."
Four A350s are expected to be delivered to Virgin Atlantic in 2019, with the final eight being delivered over the next two years.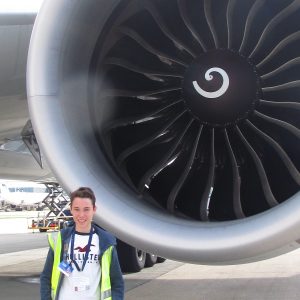 Connor has been in love with flying since the first time he boarded a plane when he was 5 years old. He loves all things aviation, and he hopes to make that his full time career in the future.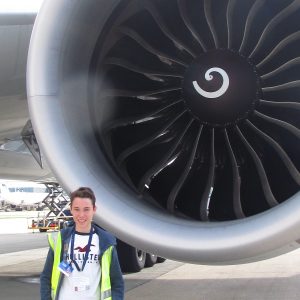 Latest posts by Connor Sadler (see all)