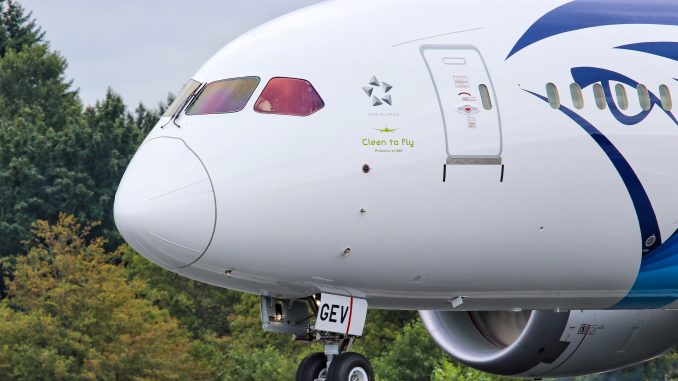 EgyptAir took delivery of its latest Boeing 787-9 Dreamliner earlier this week, the fifth of six next-generation Boeing aircraft destined for its fleet. While EgyptAir has been taking deliveries since the beginning of 2019, this delivery flight had a twist in that it was fueled with sustainable aviation flew, making it the longest flight flown with sustainable aviation fuel (SAF) as it flew from Everett, Wash. to Cairo.
The delivery flight inaugurated a new program implemented by Boeing to give the option of using the SAF on any delivery flight. EgyptAir chose to perform the longer than 13-hour flight home on the biofuel to demonstrate the airline's desire for efficiency and sustainability, of which the Dreamliner is emblematic.
The Egyptian flag carrier operates a modest long-haul fleet consisting of Boeing 777 family and Airbus A330 family aircraft with the Dreamliner being the newest type to be inducted into the fleet. From its base in Cairo, the fuel-efficient Dreamliner is currently deployed on long-haul routes over 10 hours including Washington and Tokyo, some of the longest routes in the airline's fleet.
Long-haul isn't the only sector of which EgyptAir is looking to modernize and become more efficient as the airline's regional brand, EgyptAir Express, prepares to take delivery of its first Airbus A220-300. The similarly economical aircraft will also serve EgyptAir's goal of achieving efficiency and sustainability.
During the delivery festivities, Captain Ahmed Adel, chairman and CEO of EgyptAir Holding Company spoke to the crowd, "We are committed to the sustainable growth of our airline and supporting commercial aviation's efforts to protect the environment. The 787-9 Dreamliner is a great fit for our network and provides our customers with a responsible choice for air travel"
While the Dreamliner program was designed for exceptional fuel efficiency, the added bonus of the SAF is not only in the burning performance but in weight as well. Jets like the Dreamliner typically run on Jet-A fuel, which weighs 6.8 pounds per gallon whereas SAF weighs less at just 6.6 pounds.
Though only .2 pounds, the savings is when a 787-8 Dreamliner's fuel capacity is 33,340 gallons. The fuel composition is 30 percent sustainable aviation fuel plus 70 percent Jet-A, meaning that 10,002 gallons of the total amount is lighter than a normal fill-up. The carbon dioxide emission should also be reduced by around 80 percent during the lifecycle of the airplane when using SAF.
EgyptAir leases its Dreamliner fleet from Irish leasing company Aercap, Boeing's largest 787 customer with 114 owned, managed and on order.
"We are delighted to support EGYPTAIR's fleet renewal strategy and to be a part of this important industry-first milestone," Aengus Kelly, CEO of Aercap, said. "The 787 is a perfect choice for EGYPTAIR, allowing the airline to reduce fuel use and emissions by up to 25 percent while meeting its sustainable growth ambitions, as well as supporting Aercap's target to transition its fleet to over two-thirds new technology aircraft by 2021."
The biofuel used to power this EgyptAir 787's journey home from Everett was created down the coast in a facility in Paramount, Calif. by World Energy. The plant is able to make the renewable fuel in quantities necessary for the airline industry. This particular sustainable fuel is made from agricultural waste mixed with the currently used Jet-A and is used interchangeably as a regular fuel without the need to change any engine systems.
"Boeing and the industry believe sustainable fuel has significant long-term potential to help commercial aviation earn its license to keep growing and meet our climate goals," said Sheila Remes, vice president of strategy at Boeing Commercial Airplanes.
The use of SAF is not a new concept as commercial passenger flights began using it as early as 2011. Since that time, the fuels have become more refined and are able to be produced at levels to meet the needs of increasing air travel. The use of the fuel on such a long flight on an already fuel-efficient aircraft is a big step in attaining environmental goals, reducing carbon footprints and making air travel sustainable for the future.
AirlineGeeks.com began in February, 2013 as a one-man (er… teenager, rather) show. Since then, we've grown to have 20 active team members, and yes, we're still growing. Some of us are looking to work in the aviation industry as professionals when we grow older. Some of us are still trying to decide what we want to do. That's okay though, because we're all here for the same reason: we love the airlines. We're the youngest team of airline industry journalists out there.
Latest posts by AirlineGeeks.com Staff (see all)