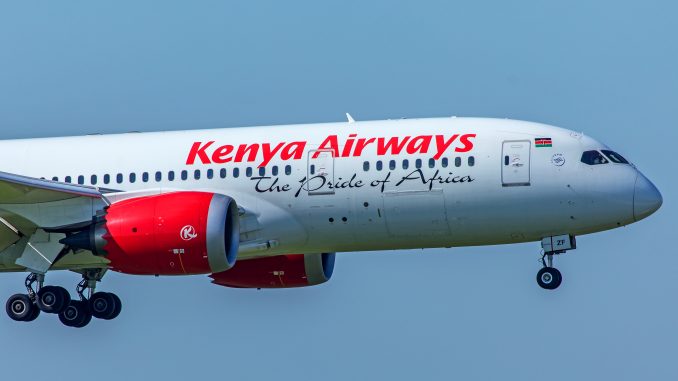 As the digital market continues to expand and airlines look to increase their brand through online platforms, the ability for companies to get hurt by credit card fraud has damaged their profits and forced some to abandon their internet presence altogether. While every airline must fight this issue in their own ways, carriers that do not implement any systems to deter credit card fraud tend to suffer losses in their profits.
As airlines look to combat this never-ending issue, companies like CellPoint Mobile have partnered with other entities to provide solutions for airlines trying to fight credit card fraud.
AirlineGeeks spoke to CellPoint Mobile's Ciaran Wilson, who is Senior Sales and Account Director for their Middle East and Africa operations.
As Ciaran noted in his own blog post on CellPoint Mobile's website, the one solution to the credit card fraud issue plaguing African airlines is the inclusion and increased use of mobile pay options to replace the traditional insertion of a credit card number.
"The major mobile wallets (Apple Pay, Alipay, M-Pesa etc.), which are gaining market share in Africa and across the world, all use some form of biometric verification, which discourages fraud and reduces chargebacks that can be common with traditional card-based payments. The more African airlines adopt these payment methods, the more successful they'll be at reducing costly fraud."
Airlines in the past have taken various other paths to fight their exposure to fraud cases, with CellPoint yet again offering a solution to the transportation industry in their Velocity payment platform. Velocity is sold in three different versions: Velocity Engage, Velocity Accelerate, and Velocity Advance. These products range from a more supporting role in Engage with quick-to-market APMs while Velocity Advance takes more complete control of the payment landscape.
All of these options have two goals: boost airline profits and give passengers a mobile payment option. Velocity is usually implemented alongside the airline's inclusion of mobile pay, which allows CellPoint Mobile the right to fully fight the credit card fraud at hand. The Velocity payment platform comes with end-to-end encryption security and is PCI-DSS 3.2 compliance which protects the companies from potential fraud cases and helps avoid chargeback liability.
And along with flexible Velocity choices the company allows airlines to decide on their own payment methods based on the product selected by the carrier, "We have a variety of contract structures in place for different clients, each developed according to the specific needs of the airline and the nature of their relationship with CellPoint Mobile. We have used both transaction-based fee structures and upfront payment structures in the past, but are completely open to working with an airline's preferred structure."
If this case is impacting nearby regions with airlines that fly to Africa, Ciaran Wilson elaborated that, "It depends on the airline. Most of the major carriers in the adjacent regions with significant African route networks already have advanced payment platforms in place with extensive security protocols. The fact is, even if Africa seems to have particularly high incidence of credit card fraud, this isn't an inherently regional issue. Africa isn't predisposed to fraud simply because it's Africa. Likewise, there aren't blanket solutions that can be applied to the entire region or industry – it's up to individual airlines to put the processes, platforms and systems in place to reduce or eliminate fraud."
But he does note that some African countries tend to see more cases than others. "Some regions of Africa have been more afflicted than others – in particular, Nigeria – but the truth is any airline that doesn't make the investment in their payment processes and systems can be targeted."
Unfortunately, not all carriers choose the path of accepting alternative forms of payment and online protection like what CellPoint Mobile offers, instead they opt for removing their own website and digital presence as a way to reduce credit card fraud. These carriers rely more on just paying third party booking sites and travel agents to fill seats and can harm themselves in the process.
"An airline's lifeblood is its direct digital booking channels and taking the drastic step of shutting down those channels to curb fraud is sacrificing long-term revenue for a blunt-force solution to an immediate problem. They lose much of their ability to cross-sell and upsell ancillaries, and they add an opaque layer between their customers and any insight they might have been able to generate into their behavior on their own site."
For Ciaran, the idea of knowledge being power is key for fighting credit card fraud and vows to continue to work with carriers in the African Airlines Association (AFRAA) and other trade groups to make sure they fully understand the advantages they provide and how dissolving some future fraud cases is not a lost cause.
"Identifying a technology partner that can provide a "one-stop" booking and payments solution allows African airlines to have more control, not be dictated to by multiple technology companies, or limited by outdated tech."
While mobile wallets have become some of the best ways to improve the reduction of credit card fraud, Ciaran notes that this is the not the be all end all, "Alternative forms of payment are just one front in a larger battle. Airlines need to invest in end-to-end payment solutions, and integrate those solutions into their direct channel booking platforms. They need to embrace secure digital transactions – especially mobile booking and payments – and create a more seamless and consistent customer and passenger experiences across all digital channels. And they need to identify technology partners with fluency in cross-border transactions and advanced payment processes to help them implement these solutions without devoting undue resources or taking drastic action like shutting down their booking engines."
Although Ian McMurtry was never originally an avgeek, he did enjoy watching US Airways aircraft across western Pennsylvania in the early 2000s. He lived along the Pennsylvania Railroad and took a liking to trains but a change of scenery in the mid-2000s saw him shift more of an interest into aviation. He would eventually express this passion by taking flying lessons in mid-Missouri and joining AirlineGeeks in 2013. Now living in Wichita, Kansas, Ian is in college majoring in aerospace engineering and minoring in business administration at Wichita State University.
Latest posts by Ian McMurtry (see all)