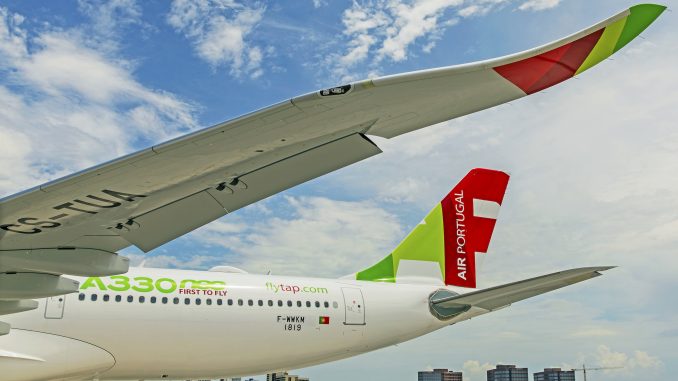 TAP Air Portugal has announced that it will be adding 15 new flights from North America to Portugal. This brings the carrier to a record 71 weekly flights between Canada, the U.S. and its home country of Portugal.
The addition of the flights, which will begin service by summer 2020, represents a 344 percent increase in just five years in terms of North American expansion.
Additions to TAP's schedule will include four daily round-trip flights between New York and Portugal. A second daily flight will be added between New York-JFK and Lisbon and an extra weekly flight will be added between Newark, N.J. and Porto, Portugal. The Newark to Porto service will complement the daily Newark to Lisbon service.
In addition, two weekly flights between Miami and Lisbon will be added later this year and a third flight will be added next year, resulting in 10 weekly round-trips.
Two weekly flights will also be added between Chicago, Washington Dulles, and Lisbon. Those new additions will make the current service to Chicago and Washington a daily service.
The new flights will already complement existing service between Boston, Toronto, San Francisco and Lisbon, each of which has five weekly flights.
The carrier has also made significant improvements to its fleet in recent months, with an order of 71 new aircraft in place consisting of 21 Airbus A330neos, 19 A320neos, 17 A321neos, and 14 long-range A321s.
TAP also announced that it plans to bring forward the retirement of its A340-300 aircraft as it expects to operate final flights of the type by October 2019. Currently, TAP has four A340-300s in its fleet and all four aircraft have an average age of 24 years.
An "AvGeek" for most of his life, Akhil has always been drawn to aviation. If there is an opportunity to read about an airline, fly on a new airplane, or talk to anyone about aviation, he is on it. Akhil has been on over 20 different kinds of aircraft, his favorite being the MD-80. Additionally, he has visited 5 continents and plans to knock out the remaining two (Africa and Antarctica) soon. Based in Dallas, Akhil graduated from Texas A&M University with a degree in Management Information Systems and currently works in consulting. His dream is to become an airline executive.
Latest posts by Akhil Dewan (see all)