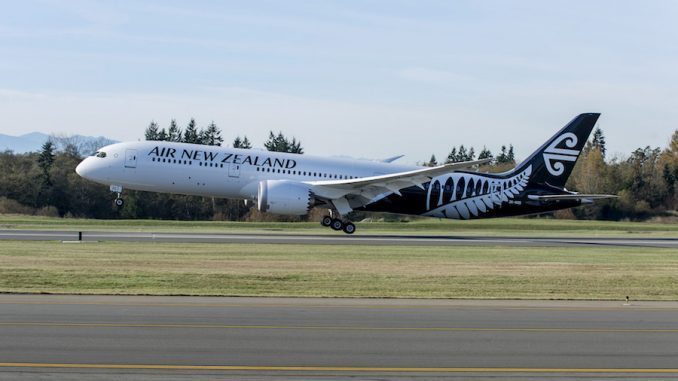 Air New Zealand has finalized an order for eight Boeing 787-10 Dreamliners to expand its current Dreamliner fleet consisting solely of the Dash 9 variant. The order is valued at $2.7 billion and comes despite the airline's net profit dropping during the latest financial year.
The deal gives the airline an option to switch from the Dash 10 to the smaller Dash 9, or a combination of the two models for network flexibility, and increase the order to up to 20 aircraft. The maximum capacity of the new aircraft is 330 passengers in a two class configuration, but Air New Zealand is likely to include a premium economy class on the new aircraft as it does on its current Dreamliner fleet.
The New Zealand flag carrier will integrate the new aircraft from 2022. As of Apr. 30, the airline owns a fleet of 115 aircraft with 13 787-9 Dreamliners, eight 777-300ER and nine 777-200ER. The new Dreamliner aircraft will replace eight B777-200ERs.
Christopher Luxon, Air New Zealand's chief executive officer, said, "This is an exciting decision for our business and our customers as we deliver on our commitment to grow our business sustainably."
Ihassane Mounir, Boeing's senior vice president of Commercial Sales and Marketing, responded that the purchase is a "very strategic investment."
"We are very honored that Air New Zealand has selected to add the 787-10 and its unique capabilities its long-haul fleet of 777 and 787-9 airplanes."
The airline will continue to grow its fleet before the new Dreamliners arrive, taking delivery of 10 flights in 2020. Among those scheduled to arrive in Auckland next year are six ATR aircraft, three Airbus A320neo/A321neos and an additional Boeing 787-9 Dreamliner.
As a result of the demand to South Korea increasing recently, Air New Zealand announced a new route from Auckland to Seoul starting on Nov. 23. Also, a new seasonal service between Christchurch and Singapore will be launched in December and an additional frequency on the Auckland-Chicago route will be added in the future.

Will has been a travel agent in Hong Kong for almost three decades, as time goes by he hasn't lost his passion for his job, He still has plenty of enthusiasm for the airline industry and airport operations.