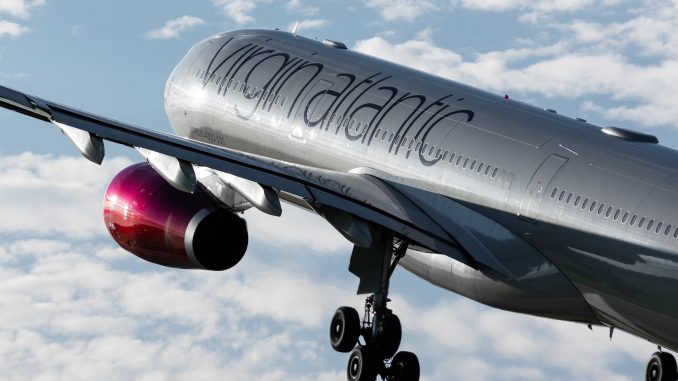 Virgin Atlantic announced it will enhance its services from Manchester Airport, one of its secondary hubs in Northern England. The airline will increase frequencies on the Manchester-New York route by 65 percent and launch a three times weekly service to Barbados this winter. Nearly 30,000 additional seats will be offered from Manchester compared to last year.
Britain's unofficial second flag carrier is also set to open a new Clubhouse lounge in Manchester next spring, as well as a refurbished Virgin Holidays v-room. In response to the new services, the airline's executive vice president, commercial, Juha Jarvinen, said Manchester Airport is the "home in the north" of the country and "the third cord hubs alongside Heathrow and Gatwick."
Virgin's gateway to Northern England and Scotland, the airline has increased flights to the airport by 92 percent since 2014 and believes the new strategy is a "commitment to the region." Seasonal service to Los Angeles began earlier this year with positive results, according to the airline.
Julian Carr, Manchester Airport's Aviation Director, believes the airline's new route to Barbados "will be welcomed by the 22 million people in our catchment area." According to Carr, New York, Orlando and Barbados are some of the airport's most popular destinations.
"The airline passengers will also benefit from and enjoy the clubhouse and v-room once they open next year and form a great part of our one billion pounds ($1.22 billion USD) transformation," Carr added.
The airport's transformation scheme was started in 2017. Once completed, the third busiest airport in the country will be able to handle 55 million passengers annually.
In the meantime, Virgin Atlantic also revealed plans to strengthen services from London's Gatwick Airport. It is expected to increase weekly services to Barbados in the winter this year and add extra flights to Orlando during the peak season.
In addition, as a result of Jet Airways suspended its operation, Virgin Atlantic will relaunch daily services between London and Mumbai, India on Oct. 27. The airline's Boeing 787-9 Dreamliners will be operating on this route and the new services will complement its long-established route between London and Delhi.

Will has been a travel agent in Hong Kong for almost three decades, as time goes by he hasn't lost his passion for his job, He still has plenty of enthusiasm for the airline industry and airport operations.