Pacific Southwest Airlines had humble beginnings in 1949. Kenny Freidkin founded the airline using a single DC-3. With knowledge from a previous attempt to start an airline and help from local travel agents, Freidkin began service between Oakland and San Diego with a stop in Burbank. The airline used war surplus buildings as a ticket office. Two years later, the airline switched across and began using San Francisco International Airport opposed to Oakland.
As the airline grew a need for larger aircraft became apparent, in 1955, PSA bought two DC-4s from Capitol Airlines. The airline continued to grow and expanded throughout the 1950s. Similarly to Southwest Airlines, PSA found a golden route in California. Connecting San Francisco, Los Angeles, and San Diego, it proved immensely popular with travelers. Business people could now leave San Francisco in the morning, do business in San Diego during the day, and return in time for dinner. By 1958, PSA operated 37 DC-4 flights a week between Burbank and San Francisco. Similarly United, TWA, and Western flew 290 combined flights between the Los Angeles area and San Francisco.
Two things set PSA apart from the competition. One was there fares; one-way flights between Burbank and San Francisco cost $13.50, with tax, in coach. Secondly, from the beginning Frank wanted to make the airline fun. He was often seen wearing Hawaiian shirts and he encouraged his pilots and flight attendants to make jokes with their passengers. "The World's Friendliest Airline" became the airline's slogan. Due to this excellent service, the airline gained a loyal following in California.
As the airline grew the need for more capacity grew too. In 1959, the airline purchased Lockheed Electras. These in turn were soon replaced between 1966 and 1970 with Boeing jets, specifically the Boeing 727 and 737. With the introduction of jetliner aircraft, the airline began using their prominent "smile" livery. Each jet was painted with a black smile just under the nose. In 1966, the airline also expanded beyond the profitable San Diego – Burbank – San Francisco route and added service to San Jose. The next year they expanded to California's capitol, Sacramento, and became one of the first airlines to use Sacramento International Airport. The airline continued to expand service within California, adding service to Ontario, Long Beach, Compton, and Fresno.
One of the most unique features of PSA was the L-1011s the airline operated between 1974 and 1975. The aircraft were unusual for a commuter airline like PSA to use. They were originally brought in to provide high-density service on their most popular routes. One of their most unique features was the lower lounge that replaced the forward cargo bay. The lounges provided a unique experience for passengers. They featured a staircase to the upper deck and direct access from the outside via air stairs where the cargo door would've been. The L-1011s proved unprofitable and within a year of service the airline sold them to German airline, LTU.
The airline briefly brought back the Electras they retired in 1966. They were only used for one purpose; to fly into Lake Tahoe. They were needed due to a ban on jet flights in the region.
After four years of service, the airline permanently retired the Electras in 1979 and ended service to Lake Tahoe. In 1978, the deregulation era began and with it, PSA looked to expand service outside of California. Their first route out of the Golden State was to Reno. Service soon expanded to cities like Las Vegas, Salt Lake City, and Phoenix. During this time of expansion out of California, PSA introduced automated ticketing and check-in machines at select airports.
After a failed bid to acquire Braniff International, Pacific Southwest expanded northward, with service to Oregon, Washington, and Idaho. During this time, the airline added new types of aircraft, as the aging 727s that had formed backbone of PSA for years began to show their age. The airlines introduced MD-80s in 1980 and the BAe 146 in 1984. The BAe allowed the airline to service smaller airports such as Eureka, California.
However, the 1980s triggered the beginning of the end for PSA. In 1986, large legacy carriers bought competitors Western and AirCal and PSA looked like the next target for a takeover. The possibility of a merger became a reality one hour after AirCal merged with American Airlines. The airline merged with USAir in 1987 and the last PSA flight was on April 8th, 1988. PSA's assets were either scrapped or moved to USAir's East Coast bases. Many routes operated by PSA were ended and their hub at San Diego International Airport was dismantled completely, with their former headquarters becoming the commuter terminal.
The legacy of PSA remains today as USAir renamed their regional subsidiary, Jetstream International, to PSA in order to protect their trademark. Also, the airline operates an Airbus A319 in a classic livery featuring the classic PSA smile.
Some people today continue to remember PSA for their excellent service and unique style. This can still be seen today as Southwest founder, Herb Kelleher based many of his early ideas for Southwest on PSA's service. Today PSA remains one of the most notable airlines of the past for the impact they had on the aviation community.
EDITOR'S NOTE:  Check out all of our Throwback Thursday articles by following this link.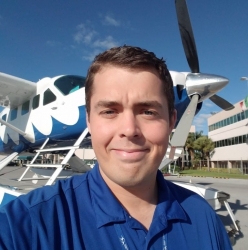 Daniel has always had aviation in his life; from moving to the United States when he was two, to family vacations across the U.S., and back to his native England. He currently resides in South Florida and attends Nova Southeastern University, studying Human Factors in Aviation. Daniel has his Commercial Certificate for both land and sea, and hopes to one day join the major airlines.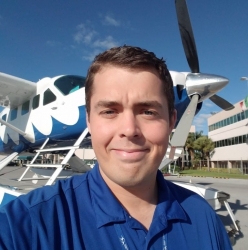 Latest posts by Daniel Morley (see all)