While the title of the article may seem deceiving, it is in fact true that two airlines have held the name PeopleExpress since 1980. One was a moderate success, while the other lasted just a few months. Both had the same goal of making flying affordable for the general public, but unfortunately both also had their own unique problems that led to their downfalls.
Don Burr founded the original PeopleExpress in 1981, utilizing his experience as a former executive at Texas International as well as several other executives he brought with him to his new venture. Burr had been influenced by the success of Freddie Laker and Laker Airways founded in 1966 as a low cost carrier in the United Kingdom. PeopleExpress had begun by leasing out space in the disused North Terminal at Newark Liberty International Airport, which had been Newark's primary terminal until Terminal A opened in 1974.
By April 1981, the airline was ready to start operations using a formerly owned Boeing 737-100 on short routes from Newark to Buffalo, Columbus, and Norfolk. Burr incorporated ideas from the successful Southwest Airlines, which was being lead by CEO Herb Kelleher. Burr used cheap and formerly used aircraft on short high-density routes, and sold tickets for low prices while attaining quick turnarounds. A month after its launch, PeoplExpress held their first expansion to Cleveland and vacation destination Jacksonville. PeoplExpress quickly found success with their model, and by December 1981 it had 42 daily departures from Newark to cities across the Eastern seaboard.
The airline had a much more simple fare structure than other airlines at the time, resulting in high passenger loads with little investment in reservations systems. All fares were the same price except for select off-peak fares, which were slightly cheaper. All seats domestically were only offered in economy, while on international flights a "Premium Class" was offered. One unique feature about PeopleExpress was all fares were paid with cash, card, check, or a travel agents ticket on the flight. They were also the first airline in the US to start charging for bags at $3 per checked-in bag. Common today, but unique in the 1980s, drinks and snacks were also cost a little extra.
As PeopleExpress found success domestically, it turned its attention to the Atlantic. In 1983 the airline leased an ex-Braniff Boeing 747, and started international operations from Newark to London's Gatwick. Flights started at $149 each way and were a huge success. When sales began, almost all flights offered quickly sold out. International service was so successful that they expanded further into Europe in 1985 with service to Brussels, Belgium with fares also at rock bottom prices.
1985 was a big year for PeoplExpress, as not only was it growing quickly, it began its acquisition of Denver based Frontier Airlines. The purchase helped the airline expand westward, and the combined airline had service to most major cities in the United States, plus international service to Brussels and London. PeoplExpress also acquired midwest regional airline Britt Airways as well as northeast regional airline Providence-Boston Airlines. This spree of spending left PeoplExpress with many new routes, but also hemorrhaging money. Debt rose at a bad time for the airline as legacy carriers began finding ways to compete with PeopleExpress. The airline also had great difficulty intergrading the two carriers, as well as a drop in customers as Frontier's passengers felt isolated by the low-fares no-frills model of PeoplExpress.
As financial problems continued, PeoplExpress looked for more ways to earn money. The airline began to appeal to the business traveller by introducing a first-class section as well as a frequent flyer program. The straw finally broke in 1986 when the airline announced it would be seeking a buyer for the airline. The board attempted to sell off Frontier to United, however the deal fell through over labor problems, leaving PeopleExpress to place their subsidiary under bankruptcy protection. The problems for the main airline forced PeopleExpress to be sold off to Don Burr's old stomping ground, Texas International, which by now was called Texas Air. Texas Air then merged the remnants of People xpress and Frontier into Continental Airlines. PeopleExpress' last day of operations was on February 1st, 1987, just short of six years since its founding.
Fast-forward 24 years to the seaside town of Newport News, Virginia. Michael Morsi, an official with PeopleExpress in the 1980s, announced a new airline with the same name based in Newport News. He brought together a group of local investors to help finance the new airline, in hopes of returning the name to its former glory. Initially the airline was to purchase Xtra Airways to help them expedite the certification process. However, the deal fell through and the airline delayed the start of operations till 2014.
After a year of financing and gaining capital, the new PeoplExpress began operating from Newport News on June 30th. The airline did not have any aircraft of their own, nor did they have their own operating certificate, but instead contracted out Vision Airlines to operate flights for them. Plans were made for independent certification, and aircraft operations in the next few years after launch. The first flights were between their new hub in Newport News and new destinations in Boston and Pittsburgh. Like the original PeopleExpress, the new airline expanded quickly with service to West Palm Beach starting the next month and to St. Petersburg, New Orleans, and Atlanta. The airline attempted to fill a niche market in Newport News left void by Allegiant and AirTran abandoning the market.
Trouble for the airline began less than 3 months after beginning operations. One of the two aircraft the airline had leased experienced mechanical problems, while a ground vehicle struck the other. This left PeopleExpress with no aircraft to operate with. On September 26th, 2014, the airline announced operations would be suspended until October 16th while they looked for a replacement operator. This date came and passed, and no new date was given for resuming operations. Only a month later the airline was evicted from their Newport News home. The airline staff was then evicted from their offices in Newport News due to not paying their bills.
The two PeoplExpress airlines had different stories, but had the same goal of saving people money and creating an option for all to fly. However, the original airline helped start the low-cost revolution in the airline industry, while the second PeopleExpress failed to ride the coat-trails of other low cost success stories. Both are now remembered for their attempts to bring down the high costs of air travel by making it cheap and cheerful.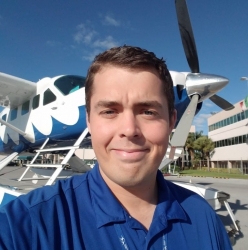 Daniel has always had aviation in his life; from moving to the United States when he was two, to family vacations across the U.S., and back to his native England. He currently resides in South Florida and attends Nova Southeastern University, studying Human Factors in Aviation. Daniel has his Commercial Certificate for both land and sea, and hopes to one day join the major airlines.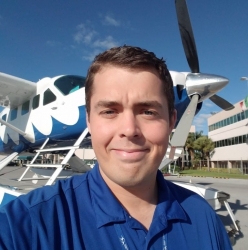 Latest posts by Daniel Morley (see all)