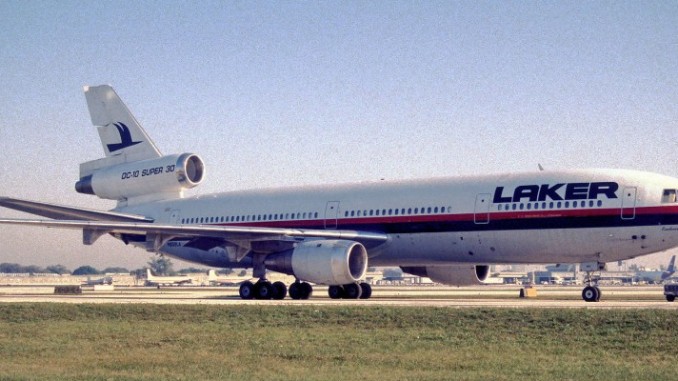 Laker Airways was founded in 1966 by Sir Freddie Laker as a way to offer low-fare air service to the United Kingdom. Laker started in London Gatwick with two Bristol Britannia 102 planes from BOAC. The Britannias were quickly phased out in favor of the jet aircraft, as Laker chose the BAC 1-11s to service their short haul network. The airline started inside of the UK but quickly moved outwards, offering flights to Berlin, Germany.
Laker utilized the gaps in leisure markets at the time, offering tourist companies a 30% discount when leasing or using Laker aircraft as a way to generate revenue. The new service allowed for Laker to acquire newer aircraft too with the Airbus A300 being the new aircraft in the fleet. The Airbus aircraft were based in Berlin Tegel airport with leisure flights to the Canary and Mediterranean islands being commonly flown.
Sir Freddie Laker pioneered ways for offering lower costs and creating a no-frills service for all passengers. Laker Airways was one of the first airlines to reduce thrust on takeoff and reduce engine wear in the process, as well as creating a faster climb out to save fuel. All of this allowed Laker to have low airfare, however, it also pioneered changing airline service, with bag weight limits at 33 lbs instead of the traditional 50 lbs, as well as charging for inflight meals.
Laker's livery was based upon his family colors, with the primary paint including the colors red, black, and white. The livery was mostly white with a black and red stripe down the fuselage as well as a repeated stripe parallel down the tail. The word "LAKER" was written on the tail. Long haul flights on the DC-10s were given the words "SkyTrain" on the fuselage above the wing.
As the 1970s started, Laker started to expand their presence across the Atlantic. Service to Barbados started using Boeing 707s to London Gatwick, Luxembourg, and West Germany as a joint involvement with International Caribbean Airways. Flights to Australia were also considered but dropped after the Australian authorities didn't allow for Laker to start the route. By 1974, Toronto and Newark also appeared on Laker's route map as charter destinations.
Laker constantly was met with apposing force from other airlines due to the low cost operations that Laker had made work for so long. Qantas and British Airways both lobbied to keep Laker out of Australia due to already high operating costs as well facing extra competition. British Caledonian was a large enforcer to slow Laker's North American and Caribbean operations due to the fear of a low cost carrier affecting profitable routes. Although BCal attempted to stop Laker, Laker continued to expand, with New York-JFK, Los Angeles, Tampa, and Miami service being added. Orlando was added and quickly became a daily charter with the DC-10-30 with charters being flown for Disney World. Laker also introduced Super Economy airfare, which was 50% cheaper than the competitor's basic economy fare and also helped increase revenue for their SkyTrain services across the Atlantic.
Although Laker was profitable through the 1970s, their profit was determined by their load factor and when the recession of 1981 started, Laker was quickly in big trouble. Expansion plans to Chicago, Seattle, Oakland and Washington DC as well as the fight to enter Australia were suspended. Laker was loaning out money at high interest rates which it could not pay back, causing a further headache for the low cost carrier. McDonnell-Douglas and General Electric attempted to help the now near backrupt carrier but fellow MD using airlines threatened to back out of future orders if the deal was made. The two companies removed their aid for Laker and the carrier went bankrupt on February 5, 1982 with a debt of £270 million. Sir Freddie Laker would sue the airlines who threatened to pull out of McDonnell Douglas if they helped as well as for predatory pricing to help force Laker into bankruptcy. He would settle with them for $50 million as well as an additional £8 million from British Airways which was agreed to outside of court.
Laker Airways would appear again 10 years later when Sir Freddie Laker started an airline in the Bahamas. The airline used Boeing 727s to fly between the Bahamas and the United States, predominantly to Florida. Orlando-Manchester and Orlando-Glasgow would return in the Laker name with Douglas DC-10s. However, the carrier failed to turn much of a profit and went bankrupt in 1998.
Although the vision of Laker Airways was short sided, the airline brought on much change. The idea of paying for on-board products is still used by many airlines today as well as other airlines like Southwest and RyanAir using the no-frills model to become some of the largest airlines in the world. Laker's fuel and engine saving methods during takeoff also are used by many airlines as a way to save money. Laker might be gone, but its pioneering cost saving methods helped pave the way for low-cost airlines to become more common at airports today.
Although Ian McMurtry was never originally an avgeek, he did enjoy watching US Airways aircraft across western Pennsylvania in the early 2000s. He lived along the Pennsylvania Railroad and took a liking to trains but a change of scenery in the mid-2000s saw him shift more of an interest into aviation. He would eventually express this passion by taking flying lessons in mid-Missouri and joining AirlineGeeks in 2013. Now living in Wichita, Kansas, Ian is in college majoring in aerospace engineering and minoring in business administration at Wichita State University.
Latest posts by Ian McMurtry (see all)