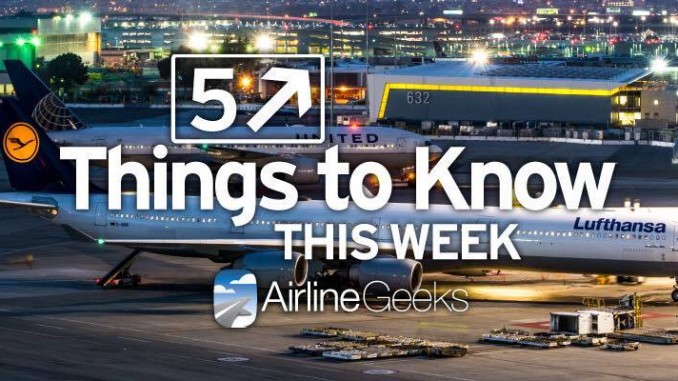 Northeastern United States Enters Recovery Mode
After a long battle with Winter Storm Jonas, many airports in the Northeast corner of the U.S. will be recovering from the cancellations that they have been plagued with over the past several days. Crews will be on the ramps, taxiways, and runways constantly trying to make conditions better as airlines begin to send aircraft back in to help passengers reach their original destinations.
United Airlines Pilots Vote to Ratify Contract Extension
Pilots flying for Chicago-based Star Alliance member United Airlines have voted overwhelmingly to ratify a two-year extension to their contract. Though the company did not go into details, it said in a press release that the agreement would result in drastic improvements to the lifestyle of their pilots.  The contract would result in two years extra peace and stability between the company and the pilots.
"This extension provides further momentum for United as we work together with the shared purpose of making United the best airline for our employees and customers,"  Oscar Munoz, president and CEO of United, said. "I want to recognize the efforts of both ALPA's and United's negotiating teams. Their hard work enabled us to achieve this ratified contract extension more than a year ahead of the amendable date."
Delta Air Lines Reports Record Profits
As other U.S. airlines hold conference calls announcing large profits for 2015, none have surpassed Delta at this point. Reporting a pre-tax profit of $5.9 billion, the company says that this is the largest amount that they've ever made in a year.
"Our 2015 performance was a record for Delta on all fronts – with industry-leading operational performance, superior customer satisfaction, and a $5.9 billion adjusted pre-tax profit.  These results show the commitment of the Delta people to running the best airline in the world every day.  It's an honor to reward their performance with$1.5 billion in profit sharing for the year," said Richard Anderson, Delta's CEO. "As we look ahead to 2016, we have a significant opportunity to improve our performance even further.  With over $3 billion in potential savings from lower fuel prices and numerous commercial, operational and cost initiatives already in place, we expect to again perform in the top tier of the S&P Industrials on earnings growth, margins, and cash flows this year despite global economic challenges."
Lufthansa Takes Delivery of First Airbus A320neo
The world's first Lufthansa Airbus A320neo has been transferred to Frankfurt today.  The first regular flight was scheduled for Jan. 24, 2016 at 10 a.m. from Frankfurt to Hamburg with the flight number LH010.
 The A320neo's new engines and improved aerodynamics enable a significant advance in terms of noise and emissions reduction. Using new PW1100G engine technology, the A320neo is 15 percent more fuel-efficient than  comparable models. The 85-decibel noise contour of a new A320neo is only half as great as the comparable contour of an A320 from the existing fleet.
JetBlue and Hawaiian Airlines Expand Codeshare Agreement
Customers purchasing a codeshare itinerary will benefit from having a single ticket that includes both Hawaiian and JetBlue-operated flights as well as conveniences on their day of travel like one-stop check-in and baggage transfer.
"JetBlue and Hawaiian have been consistently strengthening our relationship since we first partnered nearly four years ago so that we can offer the best travel benefits to our customers," said Scott Laurence, senior vice president airline planning, JetBlue. "This latest step makes it easier than ever to book seamless travel, connect across our diverse networks of destinations and earn loyalty points anywhere our airlines fly."
AirlineGeeks.com began in February, 2013 as a one-man (er… teenager, rather) show. Since then, we've grown to have 20 active team members, and yes, we're still growing. Some of us are looking to work in the aviation industry as professionals when we grow older. Some of us are still trying to decide what we want to do. That's okay though, because we're all here for the same reason: we love the airlines. We're the youngest team of airline industry journalists out there.
Latest posts by AirlineGeeks.com Staff (see all)