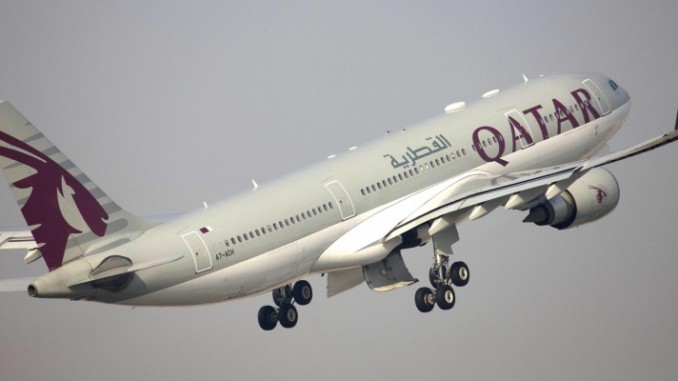 Over the past several years, competition has been heating up between American carriers and their rivals overseas. One unique spotlight has been American Airlines, who while has gone on record decrying that Etihad, Emirates, and Qatar all operate as government subsidized airlines, has formed significant partnerships with both Etihad and Qatar Airways. Two of our writers have taken the two sides; one supporting American to further its relationship with Etihad, whereas the other supporting American to further its relationship with Qatar.
Qatar Airways has become one of the most recognizable names in the aviation world in less than a decade. From being one of only seven airlines to have a 5-star rating from Skytrax, to being the launch customer for one of the newest airplanes in the skies today, the Airbus A350, almost everywhere you look in aviation Qatar is in some way involved. American Airlines quickly recognized this and became codeshare partners and oneworld alliance partners with Qatar back in 2013. However, this partnership is currently being threatened by the rapid expansion of Etihad Airways around the world.
One Man to Grow an Airline
Qatar is led by CEO, Akbar al Baker, who may not seem like he has much experience in the aviation world as some of his closest competitors. It may be true that he has only run one airline, that being Qatar, but he has been in charge since 1997. With some simple math, it can be worked out that he has been at the helm for nearly 20 years and in an ever changing business like aviation, to stay in that position for that long, it certainly means he is doing something right. Previous to his work with Qatar Airways, al Baker worked as the Civil Air Directorate for Qatar (the country) and the Chairman of the Qatar Tourism Authority.
Some may argue that Etihad Airways CEO, James Hogan, has more airline experience having worked for multiple airlines previous to taking his current position at Etihad. However, he has been working with airlines since 1997, the same amount of time that al Baker has been CEO of Qatar Airways.
While Hogan may have the more diverse resume, al Baker has proven over the past two decades that he can successfully manage and evolve an airline. When combing al Baker's experience with that of American Airlines CEO, Doug Parker, it creates a partnership between two proven CEOs that both know how to get the best out of their airlines.
A Brand New Doha 
While Qatar might not be as popular of a destination as some other Middle East cities, it still boasts plenty of attractions for tourists across the globe. Qatar is also rapidly growing even more for tourists, especially with the FIFA 2022 World Cup, to be played in Qatar, looming over the horizon. What the city lacks, the airport makes up for it and for many transit passengers that is all that matters.
The new Doha Airport, Hamad International Airport, first opened its doors in April of 2014 and in the eyes of many, is one of the nicest airports that can be found today. When transiting, wouldn't you much rather be in the comfort of a brand new airport or would you rather transit in an airport that is over 30 years old.
Bottom Line
Qatar and Etihad are two of the most rapidly growing airlines in the world, however only one makes sense to be a long-term partner for American Airlines. While Etihad seems to be the more "level-headed" of the two airlines, Qatar already has a partnership with American and continuing to grow that partnership can bring even more success to both parties involved. American is quick to bash Qatar Airways at press time, however if they want to continue to expand and succeed, it is imperative that they maintain an ongoing relationship and not split up to try things on their own.
Jace has been working at AirlineGeeks for nearly three years. Born in Seattle, Boeing and aviation quickly took over his life and he never stopped looking up. Jace enjoys plane spotting and taking trips just so he can fly. He is currently studying at Embry-Riddle Aeronautical University while earning his Bachelors of Science in Air Traffic Management.
Latest posts by Jace Moseley (see all)