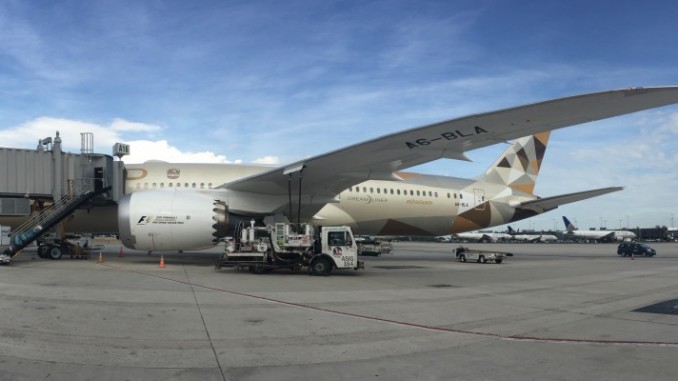 Over the past several years, competition has been heating up between American carriers and their rivals overseas. One unique spotlight has been American Airlines, who while has gone on record decrying that Etihad, Emirates, and Qatar all operate as government subsidized airlines, has formed significant partnerships with both Etihad and Qatar Airways. Two of our writers have taken the two sides; one supporting American to further its relationship with Etihad, whereas the other supporting American to further its relationship with Qatar. 
It should go without saying that Etihad has become one of the most well-known airlines in the world. Whether it's the introduction of its luxurious First Class Residence, acquisitions in previously failing airlines or even its commercials with popular celebrity Nicole Kidman, the airline has found a way to garner the attention it feels it deserves. As American Airlines has begun to recognize Etihad's importance on the global stage, it has found a unique ally and should further capitalize on this relationship to further grow its own global brand, rather than further risk potential issues that continue to plague Qatar.
Lead By Example
To begin, Etihad is lucky enough to have one of the most experienced individuals in the industry. The airline is led by James Hogan: a man who has spent his entire life being around aviation, starting with his career at Ansett in Australia, followed by leading Gulf Air and finally his time at the helm of Etihad. Hogan is a member of the Royal Aeronautical Society and is widely recognized as one of the top airline CEOs by the Centre for Aviation.
Meanwhile Qatar's CEO, Akbar al Baker, had very little aviation experience prior to leading Qatar. While some may support his ambition and goal to make a top global airline and his attention to detail, few can rebuff that his leadership style is known for being rude and difficult to negotiate with. In an interview in May of 2015, Baker described Delta's CEO, Richard Anderson, as someone who has "a weak personality."
While it is proven that Akbar al Baker is difficult to work with and has little aviation background, Hogan has a proven track record of managing airlines from the ground-up and would offer both expertise and the right resources to help grow both American and Etihad.
A Global Business Model 
Rather than simply follow in the path of competing gulf carriers Emirates and Qatar, Hogan has led Etihad into following an investment model and strategic vision called "Etihad Airways Partners." The airline has invested in seven other airlines all around the globe, including Air Berlin, Alitalia, and more. While most wrote his ideas off as a way to throw money at struggling airlines who would never make it, Hogan has positioned Etihad to take advantage of its investments in foreign airlines to create synchronized routes across continents.
Instead of it being a member alliance where airlines can choose to play along or refuse to negotiate with one another, all members of Etihad Airways Partners are partially owned by Etihad, giving them direct control over creating an international network that works for all.  If Etihad was able to further develop its relationship with American, the largest airline in the world, it could create one, synchronized system led by one of the most respected leaders. Hogan and his team have the ability to further develop a global network that truly works and doesn't have the drawbacks that exist in alliances, it would just need American to buy into the idea.
Meanwhile, American's partner Qatar hasn't played nice. Qatar's CEO Al Baker, known for his aggressive tone and ability to attack other airlines, and has even threatened to leave the oneworld alliance, stating "there is no point in us being in oneworld if an airline that invited us, hosted us in America to sign the entry to oneworld, is today going against us," referencing American's media opposition to the Middle Eastern airlines.
However, James Hogan thinks of the situation differently. In a recent interview with Skift, Hogan stated "From a regulatory affairs perspective there are bilateral challenges throughout the world, whether it's India, whether it's Australia. This is the process. In regards to the U.S., we have responded…we are being very clear in the business model. While this is happening, we continue to program our relationship with American Airlines."
Abu Dhabi: A True Middle-Eastern Hub
While Abu Dhabi International Airport may not have all of the bells and whistles as its nearby competitor at Dubai International, it has begun a massive expansion program to turn the city of Abu Dhabi into not just a transit hub to and from India, but also a location for all walks of life to explore a unique country.
Abu Dhabi has nearly doubled its population in the last eight years and boasts numerous tourist attractions such as Ferrari World and the Sheikh Zayed Grand Mosque. These attractions help create a location that visitors want to stop in, and passengers in America would like to visit. While American has continued to focus on its growth to Asia in the last year, it gives the airline an opportunity to partner with Etihad to create an even bigger global hub in Abu Dhabi and allow more codeshare flights in both the United States and abroad.
Meanwhile, Qatar Airways does sport a brand new airport, Hamad International. However, outside of the airport, there is very little activity for interesting tourists. Creating a transit hub may benefit Qatar, but offers very little in the hopes of a dream vacation for those traveling from the United States.
Bottom Line
Both Etihad and Qatar are some of the fastest growing airlines in the world. However, only one of them stands to become a long-term partner with American Airlines. While Qatar is run by a brash leader who threatens to leave his alliance, Hogan leading Etihad has lead to positive interaction with numerous carriers and has established a global network that seeks to bring success to all parties involved. American Airlines may state its opposition to the Middle Eastern carriers when it comes time for the press, but the reality is that both American and Etihad need each other if they each want to create both a global and successful airline.
AirlineGeeks.com began in February, 2013 as a one-man (er… teenager, rather) show. Since then, we've grown to have 20 active team members, and yes, we're still growing. Some of us are looking to work in the aviation industry as professionals when we grow older. Some of us are still trying to decide what we want to do. That's okay though, because we're all here for the same reason: we love the airlines. We're the youngest team of airline industry journalists out there.
Latest posts by AirlineGeeks.com Staff (see all)