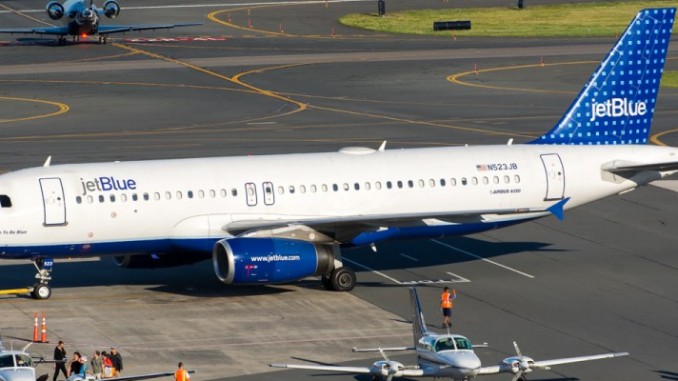 JetBlue Airways has announced it will begin daily nonstop service between Buffalo, NY (BUF) and Los Angeles, CA (LAX) beginning June 16, 2016.
This new route is an effort for JetBlue to increase its presence in Western, New York, as well as between New York State and California.
Beginning June 16th, 2016, JetBlue will fly its Airbus A320 aircraft, which offer customers free live DIRECTV, over 100 channels of SiriusXM radio, and free Fly-Fi, the airline's inflight Wi-Fi service. This date marks JetBlue's 16th anniversary of its first flight to Buffalo. JetBlue serves nine markets in California nonstop from New York and will be the first airline to serve California from upstate, New York.
"It's a terrific day for both Buffalo and JetBlue. Connecting our inaugural JetBlue city in upstate New York to the West Coast with a nonstop flight further demonstrates our commitment to The Empire State and our dedication to entering markets where our customers want us to fly," said JetBlue President and CEO, Robin Hayes.
Los Angeles is the most frequent destination for travelers out of Buffalo that does not already have a direct flight. Senator Charles Schumer was instrumental in securing this route. "In 2013, I asked JetBlue to add this flight, knowing it would be a game changer for regional tourism in Western New York," said Schumer.
JetBlue is offering the new flights for $99 one-way until February 2, 2016.
Tyler has been an aviation enthusiast for as long as he can remember and is currently pursuing a Bachelor's degree in Aviation Administration with a minor in Social Media Marketing from Lewis University in Romeoville, IL. His preferred airline is United and his favorite aircraft is the Boeing 777 and 757. Tyler has his fourth-degree black belt in Taekwondo and is unlikely to be seen without Starbucks in his hand. He is also an avid plane spotter. Tyler always has a smile on his face and his eyes pointed skyward.
Latest posts by Tyler Tashji (see all)