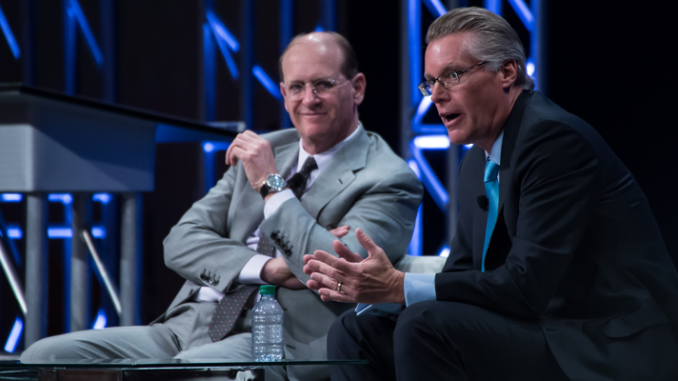 In an unanticipated press release Wednesday afternoon, Delta Air Line's Board of Directors publicly announced the May 2, 2016 retirement of CEO Richard Anderson. The prominent businessman's retirement would mark the end of a successful 16-year-career throughout not only Delta, but United Healthcare (2004-2007) and Northwest Airlines (2001-2004.)
"Richard has been an outstanding leader and CEO," Delta Air Lines Board Chairman Dan Carp said in the release. "His unique combination of strategic and operating skills, plus his commitment to employees, corporate culture, customers and shareholders has redefined Delta and led to an entirely new and better way of flying around the world."
While Anderson is retiring from his CEO position, he's not entirely done with the company yet. At the time of his retirement, he will be named the Executive Chairman of the Board of Directors at Delta.
Throughout his career as CEO at the company, Anderson has walked thousands of employees through a merger, seen the opening of the Delta Flight Museum and has seen many quarters of large profits for the airline. Anderson took part in a small interview with a few different media sites back in 2014. He talks about some of his keys to success.
"He prides himself in being prepared, making sound decisions, and understanding the nuances of this business," Senior Correspondent at AirlineReporter.com, JL Johnson, wrote after the interview.
Anderson has made such an impact on the airline that AviationWeek.com even named him the Person of the Year, comparing him to Southwest Airlines' co-founder and former CEO Herb Kelleher. From dealing with airlines in the Middle East constantly criticizing the way he runs his airline, to the remarks of domestic trade groups such as D.C.-based Airlines for America, if Anderson doesn't see a path to success for his company, he backs out.
"No one would ever accuse Anderson of being overly romantic about aviation. But don't mistake that for a lack of passion," Jens Flottau of AviationWeek.com wrote. "The Delta Air Lines CEO has fundamentally changed the U.S. airline industry. The merger of Delta and Northwest Airlines that he engineered kicked off massive consolidation in the U.S. airline industry—and an unusual period of high profits."
Taking his place will be Ed Bastian, current President of Delta while Glen Hauenstein will be named the Executive Vice President, taking the place of the former.
"Ed has been a critical part of Delta's success," Carp continued. "He is an exceptional leader and has been an invaluable partner in leading the remarkable transformation of Delta over the last decade."
AirlineGeeks.com began in February, 2013 as a one-man (er… teenager, rather) show. Since then, we've grown to have 20 active team members, and yes, we're still growing. Some of us are looking to work in the aviation industry as professionals when we grow older. Some of us are still trying to decide what we want to do. That's okay though, because we're all here for the same reason: we love the airlines. We're the youngest team of airline industry journalists out there.
Latest posts by AirlineGeeks.com Staff (see all)