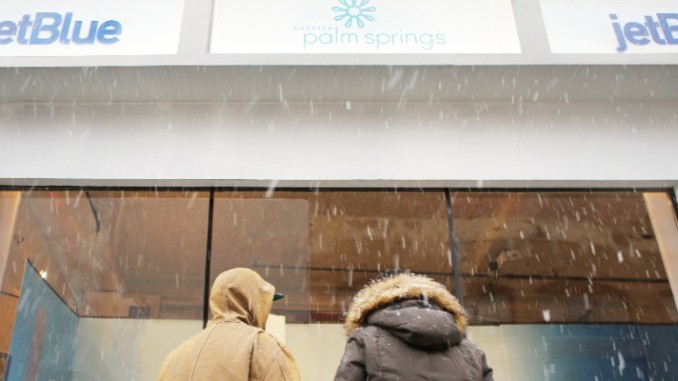 JetBlue Airways began seasonal service to Palm Springs, California on January 14, 2016. The mayor of the brand new BlueCity was overjoyed saying, "The City of Palm Springs continues to experience a tremendous renaissance and we are delighted to welcome JetBlue to Palm Springs International Airport."
He called JetBlue "exceptional" and noted that JetBlue's arrival proves true to the city's singularity.  All sides have noted that with the predicted cold East Coast months, all New Yorkers are going to want to take advantage of these flights. The city has just recently seen its second worst snowstorm in history.  New Yorkers are looking for an escape from this winter not-so-wonderland, and JetBlue has come up with some creative ways to celebrate its Palm Springs solution.
Looking up #JetBluePSP, which features the airline and the Palm Springs airport code, allows you to see moments people have shared experiencing JetBlue's celebrations.  From the inaugural flight party at JFK which featured furniture you would find in Palm Springs to breaking ice near the Flatiron Building in New York City, and winning free flights in the Manhattan town of Little Italy, the party doesn't seem to stop.
Palm Springs Mayor Robert Moon showed up to JetBlue's Terminal 5 at JFK to celebrate the new service during a two-hour celebration.  With classical music in the background, and a modern presence offered by New York's furniture brand, Modprop, customers were ready to board their Airbus A320.  They couldn't though, until they had a taste of what Coachella Valley-goers know best: the King's Highway restaurant located in the Ace Hotel Palm Springs.  The chefs that catered to JetBlue at the gate also are behind the joy-jumping taste buds in Ace Downtown Los Angeles, and Brooklyn eatery, Five Leaves. After grabbing a bite, and heading onboard, passengers embarked on an on-time, five hour and twenty-two-minute flight into the sunshine.  Palm Springs International Airport was sure to welcome all with open arms and more sweets.
In January, JetBlue also hosted an ice-breaking party outside of the Flatiron Building in New York City.  This event allowed random New Yorkers to come and take a chance at carving out the ice perfectly enough to win their very own prizes!  Whatever you were able to break out of the big ice blocks, you were able to keep.  Winners now have a piece of warmth from Palm Springs Oasis with them to aid in their battle against the New York cold.
Lastly, an event in which we even stopped by: on a Little Italy corner in Lower Manhattan, JetBlue created a pop-up, called Tee Up and Take Off where they gave away eighty free roundtrip tickets to their new destination.  The pop up ran from Friday, February 5th to Saturday, February 6th.  Being that JetBlue is the official airline of the New York Jets, a player was set to make an appearance, which would have been timely for the Super Bowl.  Unfortunately, due to the presence of New York weather that the airline wanted city civilians to escape from, the Jets could not make it.  The pop-up was also delayed on Friday from 9:00AM to 3:00PM.  A lady we spoke with waited 40 minutes on the line on Saturday, and still didn't receive the chance to putt her way to Palm Springs, through a RubeGoldberg.  Her dog, Bebe, and his girlfriend were freezing in the 38 degree weather.  For those who did wait out the cold, once putting the ball with a golf club up the ramp and inside the RubeGoldberg, they found out their fate – either the winning of a warmer destination, gloves, or a hat that read "I'd rather be in Palm Springs." Some may question why the hat, or gloves, but, the answer is simply – it was, and continues to be that cold.
Be sure to check out our video coverage featuring all that happened during the Tee Up and Take Off Installation, along with footage of Palm Springs courtesy of the Palm Springs CVB.
In 2013, Malick dusted off his copy of Flight Simulator X and installed it once again, in hopes of passing the tutorials.Well he did that, and so much more!He had always loved flying but, that was the pivotal moment in his life where he realized that aviation was his "thing."Now, in 2015, he plans to begin taking flight lessons at Long Island's MacArthur Airport (KISP).He just can't get enough of the roaring engines, and beautiful wing flexes.Those unique features keep the airline industry booming with news.Malick was always one to stay on top of it and break it to all of his friends.That, and a day at ABC sparked his interest in journalism, and he ended up here, at AirlineGeeks.com, and couldn't be happier.He knows that whether he goes into broadcast journalism, or into piloting as a career, or even something totally different, his heart will always long for a clear blue sky.
Latest posts by Malick Mercier (see all)