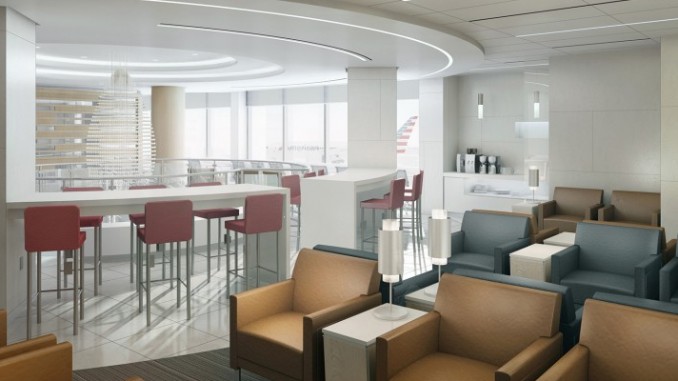 American Airlines recently announced a major series of updates and expansions to their lounges worldwide. Changes are coming to all three brands of American's lounges; Flagship, Admirals, and Arrivals, bringing them closer to the standards of American's new premium aircraft interiors.
American's Flagship Lounge, which qualifies as the airline's most exclusive space, will be receiving a number of renovations. Most notably, American is introducing "Flagship Dining," a sit-down, complimentary multi-course meal option designed by executive chefs for First Class passengers. Flagship Dining will first be introduced in 2017 in Dallas/Ft. Worth, New York-JFK, Miami, and Los Angeles.
"We're investing more than $3 billion in every aspect of the travel experience – whether that's in our airports or in the cabins of the most modern fleet in the industry – because we want customers to choose American Airlines every time they fly," stated Andrew Nocella, American's Chief Marketing Officer.
Flagship Lounges will also be updated with new interiors, kitchens, and increased staff. Access is currently available to international and domestic transcontinental First Class passengers in Chicago, London Heathrow, Los Angeles, and New York-JFK. Beginning next year, American will expand access to include Business Class passengers on most transcontinental and international flights, and will open new locations in Dallas/Ft. Worth, Miami, and Philadelphia.
American is also renovating their Admirals Clubs throughout the network with new seats, more power-ports, and new interiors. They are also adding locations in Houston and Orlando, which are both locations that have been seeking lounges for some time. Additionally, the Arrivals Lounge, available to premium customers in London Heathrow, will be upgraded with more private shower suites, expanded food options, and dressing areas with valet service. These upgrades come on the heels of a number of other product enhancements at American, including new amenity kits, the return of complimentary snacks, and dedicated premium economy, which will be rolled out in late 2016 with the introduction of the Boeing 787-9.
AirlineGeeks.com began in February, 2013 as a one-man (er… teenager, rather) show. Since then, we've grown to have 20 active team members, and yes, we're still growing. Some of us are looking to work in the aviation industry as professionals when we grow older. Some of us are still trying to decide what we want to do. That's okay though, because we're all here for the same reason: we love the airlines. We're the youngest team of airline industry journalists out there.
Latest posts by AirlineGeeks.com Staff (see all)