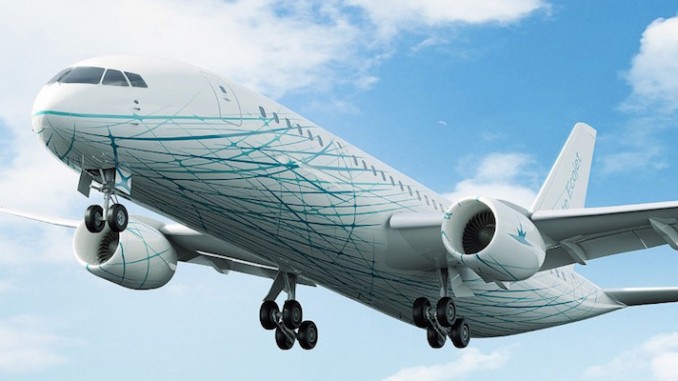 In another attempt to break the Boeing-Airbus duopoly, a Russian startup company is attempting to redefine the market with a new aircraft concept whose unique characteristics place it in a category of its own.
Rosavia, a Moscow-based private company, has named the project "The Frigate Ecojet." The new aircraft is being conceptualized in order to cater to a very niche market. When an airline needs to transport a large number of passengers over relatively short distances, it has two choices. One option is to use a wide-body airline which is much heavier than required for short distances. The other is to use multiple narrow-body aircraft, flying at higher frequency.
Neither is an ideal solution.
The Frigate Ecojet, a project that started back in 1991, aims to bridge this market gap by combining the capacity of a wide-body aircraft with the economics and range of a narrow-bodied one. It is being designed to fly between 276 and 358 passengers over distances of 3,000 to 4,000 nautical miles. Although currently a private company, Rosavia follows the tradition of Russia's aircraft design bureaus. Some of its senior technical personnel were involved in the roll-out of airliners such as the medium-range Tupolev Tu-204 and the Tu-214.
Rosavia's market study shows most of the demand for its new aircraft coming from Asia, where the Frigate Ecojet could serve the growth in high-density routes between the region's major cities such as Hong Kong, Kuala Lumpar, Singapore and more.
With a catalog price of $120 million, there's no doubt that the Frigate Ecojet is a bold and ambitious undertaking. Rosavia is plowing ahead with its plans to serially produce the Frigate Ecojet, and hopes to be operational by 2018.
AirlineGeeks.com began in February, 2013 as a one-man (er… teenager, rather) show. Since then, we've grown to have 20 active team members, and yes, we're still growing. Some of us are looking to work in the aviation industry as professionals when we grow older. Some of us are still trying to decide what we want to do. That's okay though, because we're all here for the same reason: we love the airlines. We're the youngest team of airline industry journalists out there.
Latest posts by AirlineGeeks.com Staff (see all)