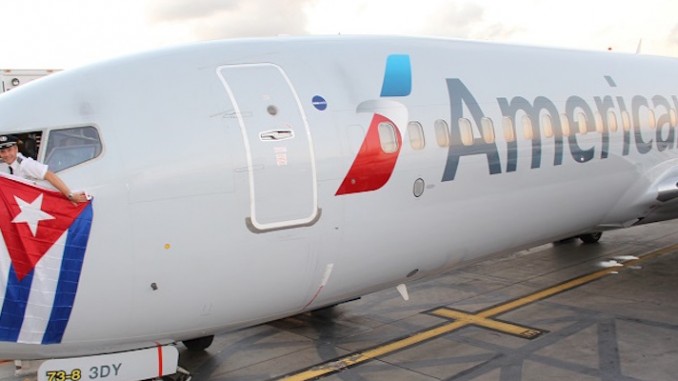 On March 2, 2016, numerous US carriers submitted their applications for regularly scheduled service to Cuba. This was made possible after an agreement between the US and Cuba in February, which will allow for 110 daily flights to Havana and other Cuban cities. Currently, seven airlines have filed for service.
Alaska Airlines became one of the first airlines to announce their application. The carrier is seeking to operate two daily nonstop flights between Los Angeles and Havana with a Boeing 737-900ER. "Together with our 14 global partner airlines, Alaska Airlines offers more than 110 nonstop destinations from Los Angeles. As the largest West Coast-based airline, we're well positioned to offer our customers convenient access to one of the Caribbean's most popular destinations," said Alaska Airlines Vice President of Capacity Planning John Kirby.
Delta Air Lines filed for service to Havana from four US cities, including Miami and Orlando with a Boeing 737-800 and Atlanta and JFK with a Boeing 757-200. "This is a historic moment for Delta as we seek to provide unparalleled access between the U.S. and Cuba," said Bob Cortelyou, Delta Airlines Senior Vice President, Network & Schedule Planning. "Delta's proposed service to Havana from New York, Atlanta, Miami, and Orlando will provide customers with convenient travel options to the Cuban capitol."
United also intends to fly to Cuba from four US cities. The carrier has applied for daily nonstop service from Newark, and nonstop service on Saturdays from Houston, Washington Dulles, and Chicago O'Hare. If their application is approved, they will receive 11 weekly round-trip flights, all operated with a Boeing 737-800. United has also launched a site, UnitedtoCuba.com, to gain support for their plan and create awareness of the benefits involved with their service to Cuba, according to the airline.
American Airlines' application includes once daily flights to Havana from Charlotte and Dallas-Fort Worth, ten daily flights from Miami, and once weekly flights from Los Angeles and Chicago. The airline has also filed to fly twice daily to Santa Clara, Holguin, and Varadero, and once daily to Camaguey and Cienfuegos from Miami. "American is the undisputed leader in serving the people and businesses of Miami-Dade County, which is the heart and soul of the Cuban-American community and home to nearly 50 percent of the Cuban-American population in the United States," said American Airlines Chairman and CEO Doug Parker.
JetBlue has proposed to fly 15 daily flights between six US cities and four Cuban cities. The carrier applied for four times daily service between Fort Lauderdale and Havana, and once daily service between Fort Lauderdale and Santa Clara, Camaguey, and Holguin. Their plan also included twice daily service to Havana from JFK, Orlando, and Tampa Bay, and once daily service from Newark and Boston. All routes will be operated with an Airbus A320 or A321.
Southwest has requested to serve Havana from Fort Lauderdale, Tampa, and Orlando, as well as service to Varadero and Santa Clara. "We're ready to add Cuba to our route map and offer this emerging market Southwest's low fares, bags fly free with no change fees*, and our legendary customer service," said Gary Kelly, Chairman, President, and CEO of Southwest Airlines.  "We carry more Florida travelers and more U.S. passengers every day than any other airline, and the service we're proposing aims to bring maximum value to the greatest number of potential Customers for Cuba air service."
Additionally, Silver Airways has applied for service to Havana from Key West, Fort Lauderdale, West Palm Beach, Jacksonville, and Fort Myers, along with flights to nine other Cuban cities from Fort Lauderdale. "We are making a strong commitment to serve all of Cuba, including the nine cities beyond Havana where much economic development is expected. There are a number of markets in Cuba which are likely to see little to any service by the other airlines," said Silver Airways Chief Financial Officer Jason Bewley. "At the same time, being awarded multiple routes to Havana is critical to supporting the other nine Cuban markets and making the full bridge to Cuba financially viable and sustainable long term."
It has been over 50 years since regularly scheduled passenger operations have occurred in Cuba. Currently, the only flights into the country are operated by charter airlines such as recently revived carrier Eastern Airlines.
EXTRA
Check out our homemade route maps featuring Southwest, JetBlue, Delta, American, and United's proposed routes to Cuba:
Ashley is currently a senior in high school and plans on pursuing a career in aviation or journalism. Her favorite airplanes include the Boeing 777, 737MAX, and Airbus A350. She enjoys taking flights on various airlines to different airports and planespotting at her local airports.
Latest posts by Ashley Magoon (see all)