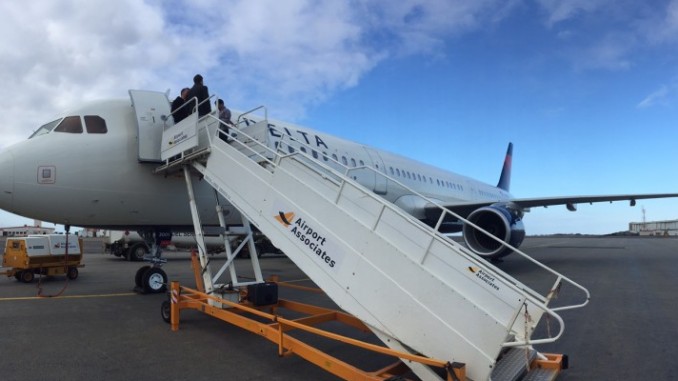 After months of anxiously waiting, Delta can proudly say it owns its first Airbus A321 aircraft. The newest addition to the fleet joins from none other than Airbus' factory in Hamburg, Germany before a long journey to its eventual home in Minneapolis-St. Paul International Airport.
While only the first of 45 A321 jets Delta has ordered, it stands to pave the way as the airline hopes to continue to grow its domestic presence while competing with not just legacy carriers such as American and United, but low-cost carriers such as Spirit and Frontier. Delta's A321 will seat 192 passengers, including 20 in first class, 23 in economy comfort and 149 in economy. It will come with all of the bells and whistles as well, including inflight Wi-Fi and on-demand TV service.
Captain Dave Vorgias, the first pilot of the new aircraft, stated "We're thrilled with the way the aircraft flew and how it performed. Airbus has designed and built a very capable airplane. It was quiet, flew very smoothly and responded just how we expected… an absolute pleasure to fly."
What might be most interesting in regard to the new aircraft delivery is the path in which it took to arrive at its final destination in Minneapolis. The journey began with a short hop from Airbus' facility in Hamburg to Reykjavik, Iceland. After a quick break, it was time to get moving again, but this time for the second leg to Goose Bay, Canada. Finally, it was time for the final trip to Minneapolis.
Brian Shea, involved in fleet management at Delta, stated "Purchasing a new aircraft, and in this case an entirely new subfleet for Delta, takes a team of passionate and devoted experts armed with their insight, craft and know-how from across the airline to make happen. It's a great aircraft with fantastic economics and cabin enhancements aimed at improving our customers' flying experience."
Check out some of the photos:

Joe joined AirlineGeeks in 2014, and in his current role as Editor-in-Chief manages a growing team of writers both in North America and Europe. He enjoys spending the bulk of his time researching, learning and analyzing the latest trends in the airline industry, all while mentoring new members of the AirlineGeeks team who seek to do the same. Areas of research include revenue management, codeshare and alliance partnerships and airline financial results.

Latest posts by Joe Pesek (see all)