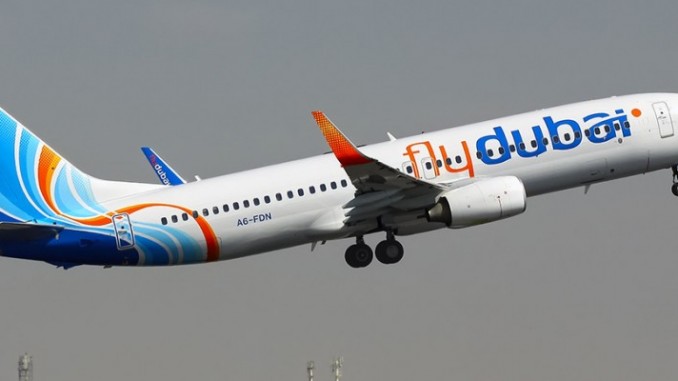 Media outlets in Southern Russia are reporting the crash of FlyDubai 981. The Boeing 737-800, A6-FDN, was flying from FlyDubai's hub at Dubai International Airport to Rostov-on-Don in the south of Russia.
The aircraft is reported to have crashed on landing. Reports from the city indicate there were 62 people on board: 55 passengers and seven crew-members.
Images from FlightRadar24 show the plane in what appears to be a holding pattern around Rostov and a spokesperson in Russia, stated the flight was on its second approach.
Other aircraft arriving at the airport also reported difficulty prior to landing, some allegedly requiring multiple attempts.
Rostov Airport is closed until at least 9 AM Moscow time, according to Russian news agency RT. At the time of the accident, airport visibility was reported to be 4 miles, and winds were from the southwest at 23 knots gusting to 37 knots. Rain and overcast skies, including some cumulonimbus clouds, were also reported.
On Facebook, FlyDubai released the following statement, "We are aware of an incident involving our flight FZ981 from Dubai to Rostov On Don. We are investigating further details and will publish an update once more information is available."
The aircraft, A6-FDN (MSN 40241) was delivered new to the airline in 2011. The plane was configured with 174 seats total, 12 business and 162 economy. FlyDubai operates a fleet of 50 737-800 aircraft.
UPDATE (11:57pm EDT): FlyDubai has confirmed the crash of FZ981 in another statement,
"flydubai regrets to confirm that flight FZ981 crashed on landing and that fatalities have been confirmed as a result of this tragic accident. The aircraft departed from Dubai International (DXB) at 18:20 GMT bound for Rostov on Don (ROV). The accident occurred in Rostov on Don at approximately 00:50 GMT.
We are doing all we can to gather information as quickly as possible. At this moment our thoughts and prayers are with our passengers and our crew who were on board the aircraft.
We will do everything we can to help those who have been affected by this accident.

We are putting our emergency response in place and we will be working closely with all the authorities involved. We will share as much information as possible just as soon as we can and we will provide updated information on a regular basis."
UPDATE (12:30am EDT): FlyDubai changes website colors to greyscale.
UPDATE (1:04am EDT): Citing a Russian investigative committte, Doha-based Al Jazeera reports no survivors of the 62 on board.
UPDATE (1:15am EDT): Russian Emergency Ministry reports the aircraft's wingtip contacted the runway before the aircraft crashed on its second attempt.
UPDATE (1:33am EDT): Boeing released the following statement regarding the crash of FlyDubai 981:
"Boeing's thoughts and prayers are with those on board flydubai flight FZ981 and their families and friends. Boeing stands ready to provide technical assistance upon the request of governmeny agencies conducting the investigation. In accordance with the international protocol governing aviation accident investigations, all inquiries about the investigation must be directed to investigating authorities."
UPDATE (3:36am EDT): FlyDubai issues latest statement:
"Following our earlier statements more information is now available relating to flydubai flight FZ981.

flydubai very much regrets to confirm that the accident involving flight number FZ981 at Rostov-on-Don earlier today has resulted in 55 passenger fatalities including 33 women, 18 men and 4 children. The nationalities of the deceased passengers include 44 Russians, 8 Ukrainians, 2 Indians and 1 Uzbekistani.

We are currently contacting relatives of the passengers and crew who were on board and we are offering any help we can to those affected.

Chief Executive Officer Ghaith Al Ghaith, with the support of the full management team, is leading our response to the accident. At this stage the focus of our efforts is on establishing the facts around the incident and providing all possible support to the authorities.

Our emergency response team are now en-route to Rostov-on-Don.

The aircraft involved was a Next-Generation Boeing 737-800."
UPDATE (4:16am EDT) Crew and passenger list of flight FZ981 released by Russian Emergency Ministry.
This is a developing story. Stay tuned for updates as they are available. Our thoughts are with those affected by this incident. 
AirlineGeeks.com began in February, 2013 as a one-man (er… teenager, rather) show. Since then, we've grown to have 20 active team members, and yes, we're still growing. Some of us are looking to work in the aviation industry as professionals when we grow older. Some of us are still trying to decide what we want to do. That's okay though, because we're all here for the same reason: we love the airlines. We're the youngest team of airline industry journalists out there.
Latest posts by AirlineGeeks.com Staff (see all)