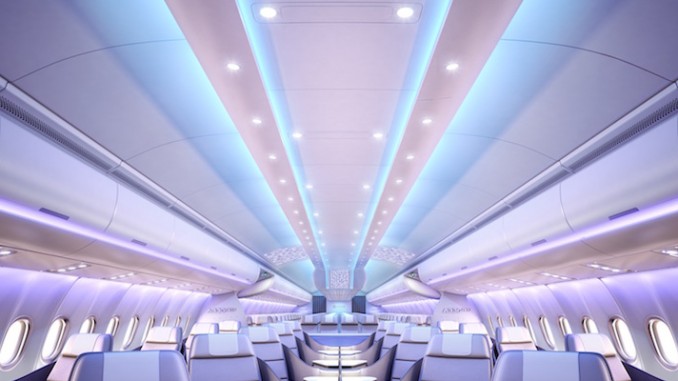 On March 23, 2016, Airbus announced the launch of their new cabin brand, "Airspace by Airbus." The design will be first implemented on the A330neo. According to the company, the cabin will overall be more spacious than other designs, including larger overhead bins and wider aisles and seats.
"Airbus' history of success is down to innovation – which has always included the cabin as a key driver. With the great passenger feedback on the A350 XWB, and our application of A350 cabin technology and features to the A330neo, we are proud to embrace our cabin design principles through our new brand – Airspace by Airbus," stated Airbus Executive Vice President of Strategy and Marketing Dr. Kiran Rao.
He continued, "The new A330neo is the launch vehicle for this brand, which along with the A350 XWB begins a new family of Airbus cabins. These will inspire and empower airlines to build the next generation of personalized flying experience for their passengers, while and at the same time optimizing the economic performance of their aircraft space."
According to Airbus, the four elements of their new cabin design are ambience, service, comfort, and design. Ambience comprises of improved mood lighting and spaciousness, while service includes elements such as connectivity, contemporary features, and an enhanced crew work environment. Design features include appealing and customizable cabins, and Airbus' goal for comfort is to provide more relaxing space.
"The A380 already offers the best comfort of any aircraft, and the A320 is the top in its single-aisle category," he explained. "Airspace is another step forward, reflecting our decision to bring consistency on our two best-selling widebody aircraft: the A350 XWB and A330neo," Rao added.
"Such signature details and iconic elements will add to passengers' enjoyment of flight, while offering a flexible canvas to which the airlines can project their own brand."
Ashley is currently a senior in high school and plans on pursuing a career in aviation or journalism. Her favorite airplanes include the Boeing 777, 737MAX, and Airbus A350. She enjoys taking flights on various airlines to different airports and planespotting at her local airports.
Latest posts by Ashley Magoon (see all)