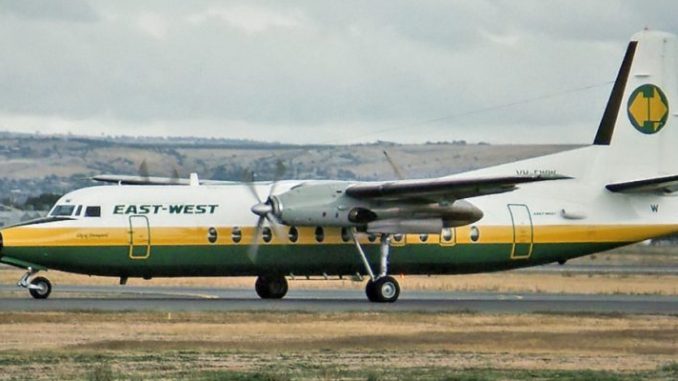 Australian regional carrier East-West Airlines first took flight in 1947 from Tamworth, New South Wales, and charted a long course for success. Within the decade prior to its downfall, the airline had become the third largest domestic carrier in the country. The carrier's first service was operated with a Tiger Moth aircraft, which operated scheduled air mail service throughout Australia. Soon after, a larger Avro Anson airplane was integrated into the fleet.
Over the course of its history, East-West's fleet was comprised of primarily Fokker F27 Friendships, along with Fokker F28 Fellowships, BAe 146s, DC-3s, Lockheed Hudsons, Boeing 727s, and a DHC-6 Twin Otter. Their routes include Melbourne to Sydney via Albury, and Sydney to Brisbane via Newcastle and Coolangatta.
A persistent problem for the carrier was the Two Airline policy, which made it impossible for any carrier other than Ansett Airlines and Trans Australia Airlines to operate flights between major cities in Australia. In order to avoid the policy and fly on these routes, East-West would operate strange routes, such as performing a touch-and-go at an airport along the way. However, they were soon banned from doing this. Eventually, its aggressive "Third Airline" campaign resulted in the policy being eliminated entirely.
East-West offered competitive fees that were often lower than the competitors. This drew in countless passengers, and following the end of regulation that had kept airfares fairly high for years, other domestic airlines began to appear. In 1983, the carrier was sold to Perth-based Skywest Airlines, where East-West was retained as an independent carrier. Plans to merge fell through, however, in 1987, both companies were sold to Perron Group. then to Botas Pty Ltd. East-West Airlines officially ceased to exist in 1993, when it was entirely integrated into Ansett Airlines.
Ashley is currently a senior in high school and plans on pursuing a career in aviation or journalism. Her favorite airplanes include the Boeing 777, 737MAX, and Airbus A350. She enjoys taking flights on various airlines to different airports and planespotting at her local airports.
Latest posts by Ashley Magoon (see all)