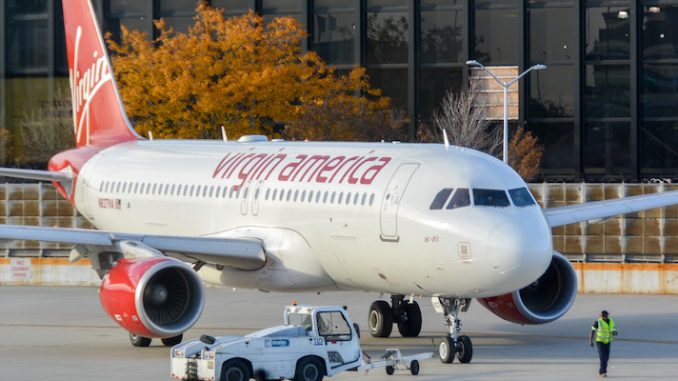 Outbound Trip
Flight Number: VX751
Tail Number: N624VA
Aircraft: A320-214
Route: SEA-SFO
Flight Time: 7AM-9:05AM
Prior to the pending merger with Alaska Airlines, I decided that I wanted to fly Virgin America at least once, so I waited for a day when the tickets were on sale. For $156, I flew roundtrip SEA-SFO and back on April 26, 2016.
The departure was perfectly on time, almost to the minute. The boarding process was extremely efficient, and once on board, the moodlighting was everything it is advertised as, even during daylight. Despite that I was in Boarding Group B, the last group to board, the overhead bin space was not a problem, as there was still plenty of room. I was seated in 18F, which, on the A320, was right behind the wing. Their famous #VXSafetyDance was played during taxi, which has been slightly modified from the version posted online to match their new rule that phones are allowed to remain on and in airplane mode during every part of the flight.
Virgin America offers in flight entertainment screens at every seat, each featuring on demand movies, music, and their ordering platform for snacks and drinks. I quickly ordered a $3 headset, which is actually high quality for the price. After take off, the flight attendants came around and offered complimentary drinks.
The flight was extremely smooth, and the airplane was definitely one of the most comfortable I have ever flown on. The flight itself was about an hour and a half. This was my first time on both Virgin America and it was fully worth the trip.
Return Trip
Flight Number: VX746
Tail Number: N527VA
Aircraft: A319-112
Route: SFO-SEA
Flight Time: 5PM-7PM
After a day of planespotting at SFO, I took the return flight back to SEA, this time on an A319. Even though I did not think it was possible at the time, this flight was better than the first. Once again, the departure was exactly on time. This time around, I was in Boarding Group A, and was basically the first to board after Elevate Gold and Silver members.
I was in seat 15A, which is also right behind the wing on the shorter airplane. For $5, I ordered Virgin's "Autopilot Kit", which is full of amentities that I did not intend to use, like ear plugs and an eye mask. The flight attendants were kind enough to give me the $20 blanket set for free when they somehow found out I was sort of flying as a belated birthday gift, along with some first class amentities, a birthday card, and a shout out over the public address system.
Afterwards, I was again let into the cockpit and able to talk with the pilots for few minutes. Then, I walked with the flight attendants out to the entrance of the airport.
Overall, Virgin America proved its worth for a unique, awesome airline, and I want to fly with them at least one more time before the merge is completely implemented. Everything was modern and comfortable, and I was far more than happy with the experience.
Ashley is currently a senior in high school and plans on pursuing a career in aviation or journalism. Her favorite airplanes include the Boeing 777, 737MAX, and Airbus A350. She enjoys taking flights on various airlines to different airports and planespotting at her local airports.
Latest posts by Ashley Magoon (see all)