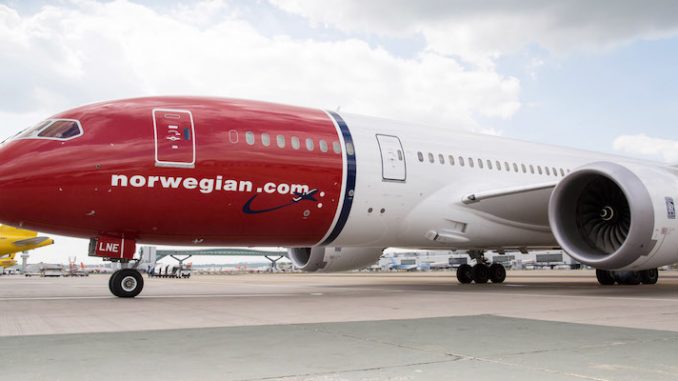 Over the past several years, Norwegian Air has begun rapidly expanding its long-haul operations, much to the disdain of the large airlines in the United States. The airline was offering rock-bottom fares to not just Oslo, but to other enormous markets in Europe such as London and Paris, with only having a short layover.
For airlines such as American, Delta, and United, the new entrant was threatening the transatlantic market, well known to be a very profitable segment for many airlines. The airlines in the U.S. have been worried for quite some time, but became increasingly alarmed when Norwegian announced its intention for one of its subsidiaries, Norwegian Air International, to begin launching direct service from other European cities to the United States, rather than just through their hub in Oslo.
Initial concerns did not seem to be rooted in competition, but rather in the way that Norwegian Air does business. Customers had begun complaining that 75% of the airline's flights from New York to Oslo were delayed, and little was done to compensate customers. Then there were the issues surrounding the airline's scheduling, as many felt as though the airline's scheduling of its Boeing 787 Dreamliner's was simply too tight, resulting in important repairs to be pushed off till a later date.
Then the news began rolling in on Norwegian Air's labor structure. Norwegian Air's long-haul operations are technically based in Ireland in order to take advantage of lower taxes, which many companies in the United States such as Apple do as well. What makes things interesting is that the airline also uses its Irish base to operate under different labor laws than it would if it were based in Norway. For example, the airline is able to hire flight attendants from Thailand for significantly less than it would in Norway, and all of the employees are contract based through a deal with Adecco. This labor issue is not just what the US airlines are fighting against, but also the labor unions such as the Airline Pilots Association (ALPA) and Association of Flight Attendants.
"They're circumventing the letter and intent of the open skies agreement," stated Captain Halli Mulei, a United pilot and member of the Air Line Pilots Association. Another pilot, Captain Dennis Taylor, added that Norwegian is "coming to the field with corked bats and a locker full of steroids," implying that by letting Norwegian use cheaper, foreign labor, they have an unfair advantage, just the same as baseball players do that are engaged in illegal enhancements.
Not everyone is against Norwegian further entering the US market with the creation of Norwegian Air International. In a recent article featured in the Economist, M.R. writes that if Norwegian Air International is blocked, it would be "a fantastic outcome for shareholders and employees. For everyone else—travelers, businesses, private-sector airlines and government treasuries—the move would be a depressing step backwards."
Other consumer groups have written about how Norwegian currently operates only 2% of all traffic across the Atlantic, and would offer increased options for travelers on both sides of the Atlantic to travel safely at a fair price. Norwegian Air International has fired back, saying that even though it is incorporated in Ireland, it has no intention of using contracted labor from Asia on its routes to the U.S. Rather, it hopes that its new aircraft on order, such as the Boeing 737 MAX can provide enough capacity to fill a market currently with a void between large non-hub cities on the East Coast and major cities in Europe.
With a final decision on Norwegian Air International expected by US Department of Transportation at the end of the month, and a new bill created by the House of Representatives to block the airline, only time will tell what the eventual results will be for the low-cost airline.

Joe joined AirlineGeeks in 2014, and in his current role as Editor-in-Chief manages a growing team of writers both in North America and Europe. He enjoys spending the bulk of his time researching, learning and analyzing the latest trends in the airline industry, all while mentoring new members of the AirlineGeeks team who seek to do the same. Areas of research include revenue management, codeshare and alliance partnerships and airline financial results.

Latest posts by Joe Pesek (see all)