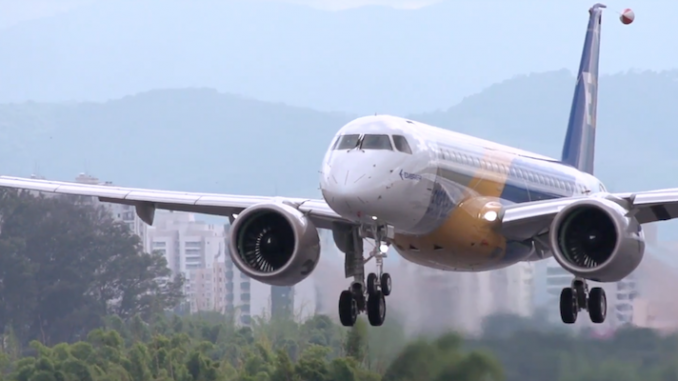 As of May 23, 2016, Embraer's latest aircraft, the E190-E2, successfully completed its first flight ahead of schedule. The new airplane rolled out from the factory about three months ago, and the flight is the beginning of the E190-E2's certification campaign.
"A first flight is always an emotional occasion, no matter how many you witness over the years. In this particular case, we are not only keeping our promises to the market, we are going beyond by being a few months ahead of schedule. I want to thank each and every Embraer employee who is participating in this project," said Embraer President and CEO Frederico Fleury Curado.
The takeoff occurred at 1:06PM from São José dos Campos and was followed by a three hour, 20 minute test flight. The airplane was handled by Captain Mozart Louzada, First Officer Gerson de Oliveira Mendes, and Flight Test Engineers Alexandre Figueiredo and Carlos Silveira.
"There are always a lot of expectations with a first flight and todays' was no exception," said Captain Louzada. "The flight was very smooth. We were able to significantly open the flight envelope by flying at mach 0.82, climbing to 41,000 feet and retracting the landing gear and flaps, and engaging the fly-by-wire in normal mode. All of these demonstrate that the E190-E2 project is very mature and robust, and exceed all performance targets."
This particular aircraft is the first of four prototypes set to be used in the E190-E2 certification campaign. This generation of aircraft is scheduled to enter into service in 2018. Additional test airplanes will be added for the E195-E2 and E175-E2 programs, which will enter service in the next two years.
"What a first flight! Today, all of us at Embraer should be proud and thrilled of this remarkable achievement. Watching the first E190-E2 take to the skies means we are paving the way for a bright future in commercial aviation. I'm certain that the market will show even greater interest not only for E190-E2, but also for the other E2s as well," said Paulo Cesar Silva, President & CEO, Embraer Commercial Aviation.
Embraer launched the E-Jets E2 program in 2013, and since then, it has obtained 640 commitments from various leasing companies and airlines. The second generation airplanes feature new designs such as 4th generation fly-by-wire flight controls, aerodynamically-advanced wings, improved avionics and systems, along with other changes, which will lower costs significantly.
The E190-E2 has 400 additional nautical miles of range compared to the current E190, allowing for the capacity to fly up to 2,800 nautical miles in total. It has the same number of seats as the current model, and can be configured with 97 seats in dual class or 106 seats in single class.
Ashley is currently a senior in high school and plans on pursuing a career in aviation or journalism. Her favorite airplanes include the Boeing 777, 737MAX, and Airbus A350. She enjoys taking flights on various airlines to different airports and planespotting at her local airports.
Latest posts by Ashley Magoon (see all)